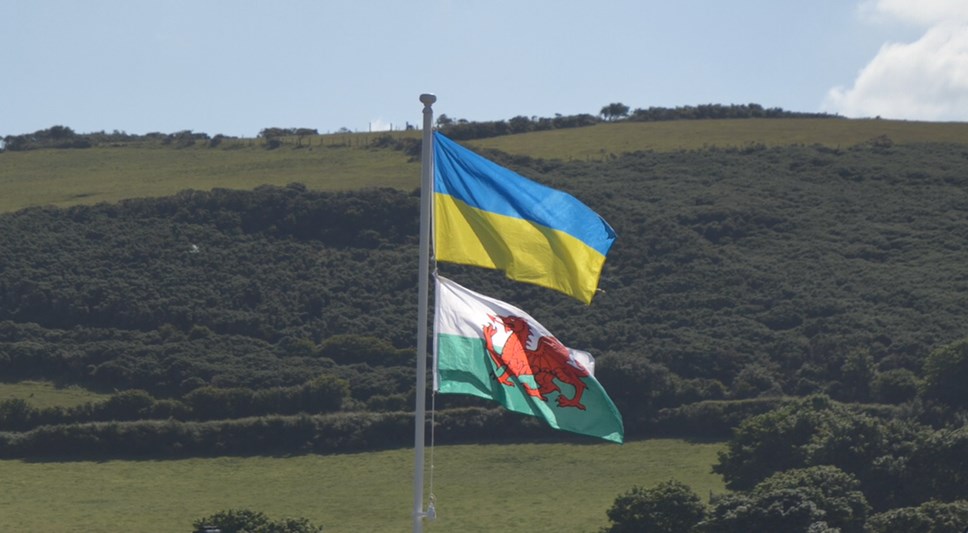 Promoting support for Ukrainians in Wales on anniversary of super sponsor route
On the one-year anniversary of the Welsh Government's Homes for Ukraine super sponsor route opening, Jane Hutt and Mick Antoniw have restated the Welsh Government's commitment to supporting people fleeing the illegal war.
It comes following the 'Support for Ukraine' conference yesterday [Friday 24th March] which focused on ensuring Ukrainians are well supported.
In the last year more than 6,500 people with sponsors in Wales have escaped the Russian invasion, including more than 3,000 through the Welsh Government's super sponsor route.
Last week the Welsh Government confirmed how an additional £40m of investment to support people from Ukraine in 2023-24 will be spent.
Jane Hutt, the Welsh Government's Minister for Social Justice, said:
"Our commitment to being a Nation of Sanctuary is stronger than ever. Our super sponsor route has provided a lifeline to almost 3,100 people who have arrived in Wales to escape war.

"We have to help people fleeing desperate circumstances. We will continue to do all we can to help people both in the short-term and in the long-term."
The 'Support for Ukraine' Wales conference was organised by the Welsh Government in partnership with Counter Terrorism Policing and the Wales and Chester Circuit of the Bar.
It brought key organisations together, from housing, healthcare, local government, international child protection, the legal sector and not for profit advice sector, and counter terrorism policing, to ensure those arriving in Wales are well supported.
Sessions focused on war crimes, support services and advice for Ukrainians who have sought sanctuary in Wales, and schemes to support Ukrainian lawyers.
Mick Antoniw, the Counsel General and Minister for the Constitution, gave the opening address and closing remarks to the conference. He said:
"As Wales steps up to support people who've experienced unspeakable trauma it's absolutely crucial we share expertise to help the thousands of people who have already been welcomed to Wales.

"Crucially the conference also brought together colleagues in the legal sector so we can better understand how we can provide legal support and information to Ukrainians in Wales."
Notes to editors
Organisations represented by contributors to the conference included:
Counter Terrorism Policing in Wales and the Metropolitan Police
Crown Prosecution Service
Welsh Local Government Association
Public Health Wales
Children and Families Across Borders
Housing Justice Cymru
Apex Chambers
9 Park Place Chambers
The Bar Council
Ukraine Project Cymru
Advocate
LawWorks Cymru
DLA Piper