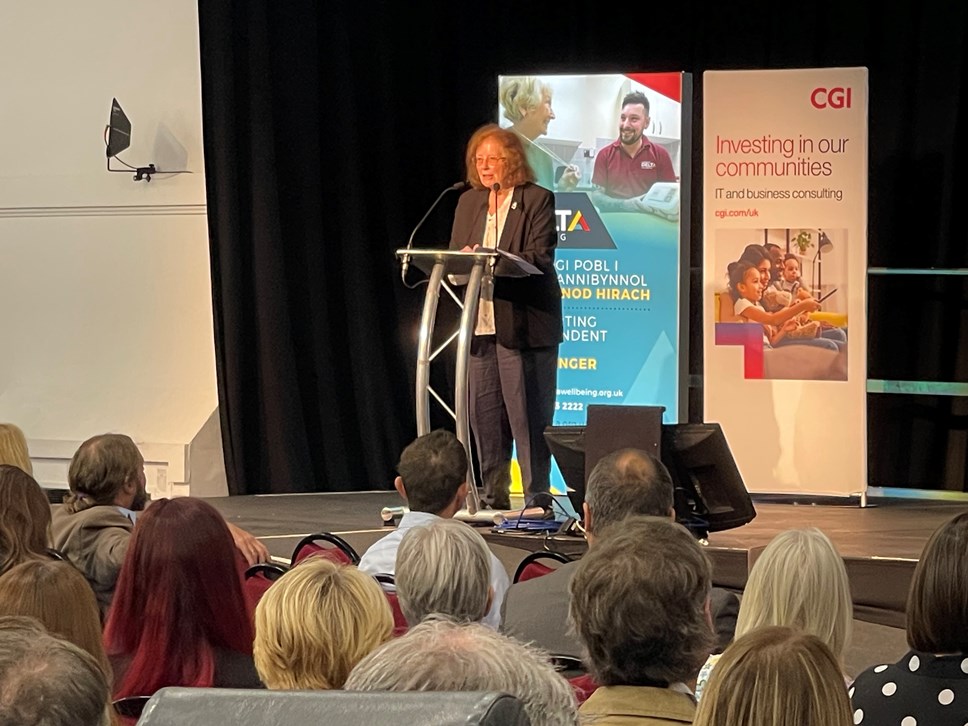 'You've really got to care, to care': Deputy Minister praises social care workforce
The Deputy Minister for Social Services Julie Morgan has praised Wales' dedicated social care workforce at the Association of Directors of Social Services Cymru national conference.
Reflecting on her nearly five years as the Welsh Government Deputy Minister for social care, and on her own experience as a social worker before that, she thanked and commended social care workers for their devotion.
Speaking at the conference, which represents local government's top leadership in social care services, she said:
"It's hard to find the words to do justice to the complete commitment social care staff across Wales show to the people they work with, in order to help them live the best possible life.

"I'm so impressed with the respect that people are treated with by our social care teams.

"You've really got to care, to do what our social care workforce do.

"The very best of the sector shone through during the most difficult phases of the covid pandemic.

"I will never grow weary of thanking everyone in the social care sector who worked tirelessly through that period for everything they did. Amongst the tragic loss of life, the outcomes would have been worse for many people were it not for their enduring commitment, collaboration and expertise."
The Welsh Government is currently working to reform the social care sector. A consultation on was held over the summer on 'Rebalancing Care and Support' as part of work to strengthen social care arrangements at a national level.
Last November an Expert Panel set up to explore the establishment of a National Care Service published their recommendations, marking a key commitment in the Co-operation Agreement between the Welsh Government and Plaid Cymru.
Later this year the Welsh Government intends to publish an implementation plan which will set out how the Expert Panel's recommendations will be taken forward. Part of the National Care Service implementation plan will be further extensive engagement with organisations and the public.
The Deputy Minister for Social Services added:

"Wales already has the largest proportion of older population in the UK, with more than one in five people aged 65 or over, and that proportion is only going to get bigger.

"With more adults of all ages needing care and support to maintain their independence, and increased challenges in supporting the wellbeing of children, we need to radically rethink how we care for our older population if we are to have a system that is fit for the future."