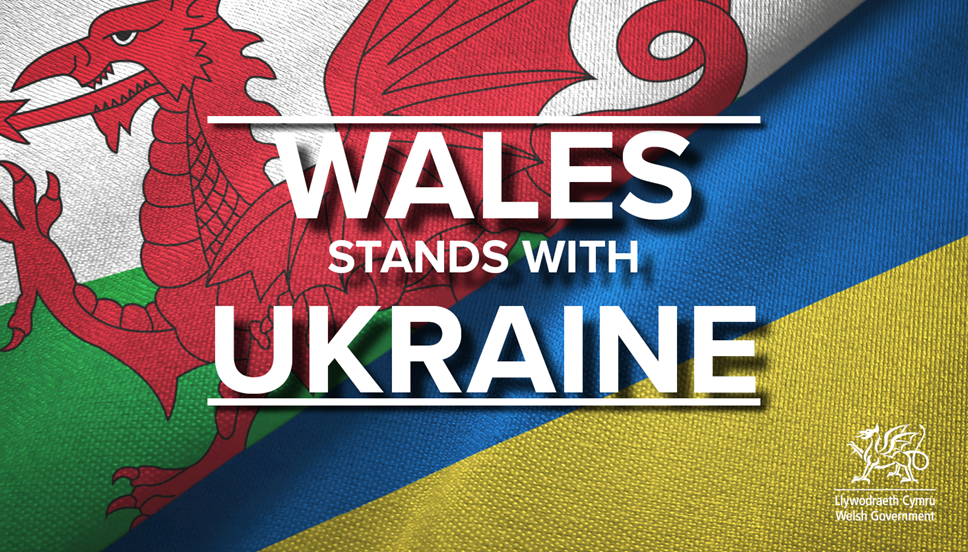 Ukrainian hosts see uplift in 'thank you' payments as Wales continues to prove itself as a Nation of Sanctuary
Almost one year since the Homes for Ukraine scheme opened, the Welsh Government has today (Thursday, March 16) announced how it will continue to support people fleeing the war and support those already in Wales to move into longer-term accommodation.
Over 6,500 people with sponsors in Wales have escaped Russia's full-scale invasion of Ukraine in the last year, including over 3,000 through the Welsh Government's super sponsor scheme. It has been a huge Team Cymru response to a terrible and ongoing conflict.
The Welsh Government budget, which was passed in the Senedd last week, outlined £40m of investment to support people from Ukraine settling into Wales in the next financial year.
Among the ways the £40m will be spent includes £2.5m to allow local authorities to increase 'thank you' payments to people in Wales hosting Ukrainian guests – up from the current £350 to £500 per month.
Minister for Social Justice, Jane Hutt, said the move recognises the "enormity of their kindness" as well as the impact the unprecedented cost of living crisis is having on hosts. The increased payments will be given to all hosts from April regardless of how long guests have been in Wales.
The 'Welcome Ticket', which provides Ukrainian guests with visas access to free public transport for six months, will also be extended into the next financial year.
It is a move welcomed by hosts like Hollie Webster, who – along with her husband – is hosting Ukrainian guest Lydiia, as well as her two cats at their home in Holyhead. Hollie said:
"My husband and I are environmentally conscious and will make every effort to keep an eye on the smart meter. Although when Lydiia first arrived back last year, we didn't see our bills go up, the cost of living is now having an impact so it's excellent to know the amount of support offered to hosts like us is going up.

"The extra £150 a month will help cushion those increases and provide us with a comfortable safety net to support Lydiia for however long she wants to stay with us."
The emphasis over the next year will be on helping Ukrainian guests move into longer-term accommodation with nearly 1,000 super sponsor arrivals already settled in Wales and more than 500 finding alternative accommodation in other parts of the UK. However, support for people staying in initial accommodation will also continue with their wraparound costs covered.
Minister for Social Justice, Jane Hutt said:
"People from all over Wales have stepped up, showed true compassion and been there for families forced to flee their homes.

"I'm so proud of the sanctuary we're providing and many of our guests have told us how thankful they are for the support Wales has offered.

"Now, as Putin's war regrettably continues, we must ensure our guests are able to settle into longer term accommodation, which means we will progress with the phased move on of guests from our initial accommodation.

"While the UK Government has chosen to make a cut in vital funding needed by local authorities to levels far below what can be managed, we're determined to support councils to help everyone who needs a home in Wales."
The £89m Transitional Accommodation Capital Programme, which was announced last year, will increase good quality longer term accommodation to help everyone in housing need in Wales. It will see over 1,300 additional homes delivered within the next 18 months.
£2m of financial support will also now be provided to support move on, providing local authorities with funding to help Ukrainians into longer term accommodation and provide targeted support for more complex cases. Councils – who know their local needs best – will be given flexibility in how to use the money on a case-by-case basis.
This is in addition to just under £2m, which will also be available in the form of a discretionary fund for councils to fund local pressures such as education, education language lessons and employability programmes to create more personal independence and help people to resettle.
The Minister added:
"We are working with local authorities, social landlords and partners to increase capacity of high-quality accommodation options, including providing more host accommodation.

"Those seeking safety will continue to find an inclusive welcome here."