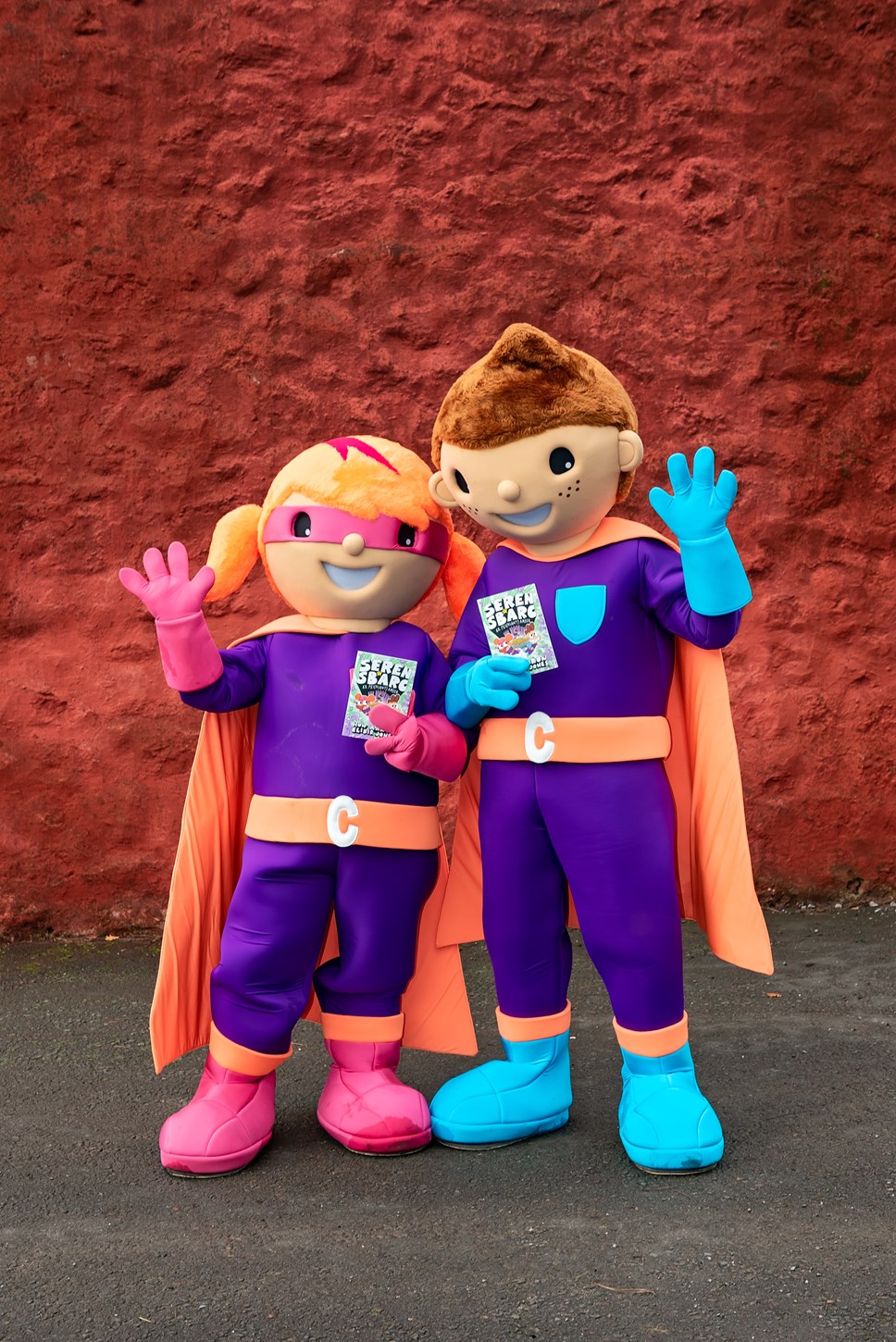 Seren a Sbarc find the recipe for a trip through Welsh history
Siarter Iaith characters Seren a Sbarc are back with a new book which sees them on a time-travelling trip through Welsh history.
Seren a Sbarc a'r Pei(riant) Amser is the second book featuring the characters familiar to primary school aged children written by authors Huw Aaron and Elidr Jones, who held a reading of the new story for school children at St Fagans Museum National Museum of History this week.
Released in partnership between the Welsh Government and Amgueddfa Cymru - National Museum Wales, six copies will be given to each primary school in Wales.
Seren a Sbarc are the popular Siarter Iaith characters who encourage primary school children to use more Welsh and feel proud of their language, history and culture. This new release sees the heroic characters travelling through time to meet dinosaurs, pirates, princes and Welsh heroes, as well as experiencing the historical periods and industries reflected in National Museum Wales locations and collections.
Minister for Education and Welsh Language, Jeremy Miles said:
"I'm delighted to see the return of the popular Seren a Sbarc characters in this new adventure. The Welsh language belongs to us all and it's really important that children feel empowered to use Welsh from an early age so that they develop bilingual skills for life. This new book is a great way of inspiring the next generation of Welsh speakers and engaging children in a fun way as they learn about Welsh history and feel confident to use our language."
Eleri Evans, Head of Learning and Interpretation, Amgueddfa Cymru, said,
"I have seen how interacting with people, objects and buildings in museums can really inspire children and young people. Amgueddfa Cymru works with schools across Wales both in our museums and online, and it will be fantastic to know that children have been introduced to some of these sites through Seren a Sbarc. Learning Welsh through Museum interaction, objects and spaces also provides such a rich resource for language learning which we support through our offer to schools."
The book is the second in a series of three from the Welsh language heroes. It follows the success of Seren a Sbarc yn Achub (Cwpan) y Bydysawd which was released in partnership with the WRU in 2019 to coincide with the Rugby World Cup and is now available to buy. A third book will be released soon.