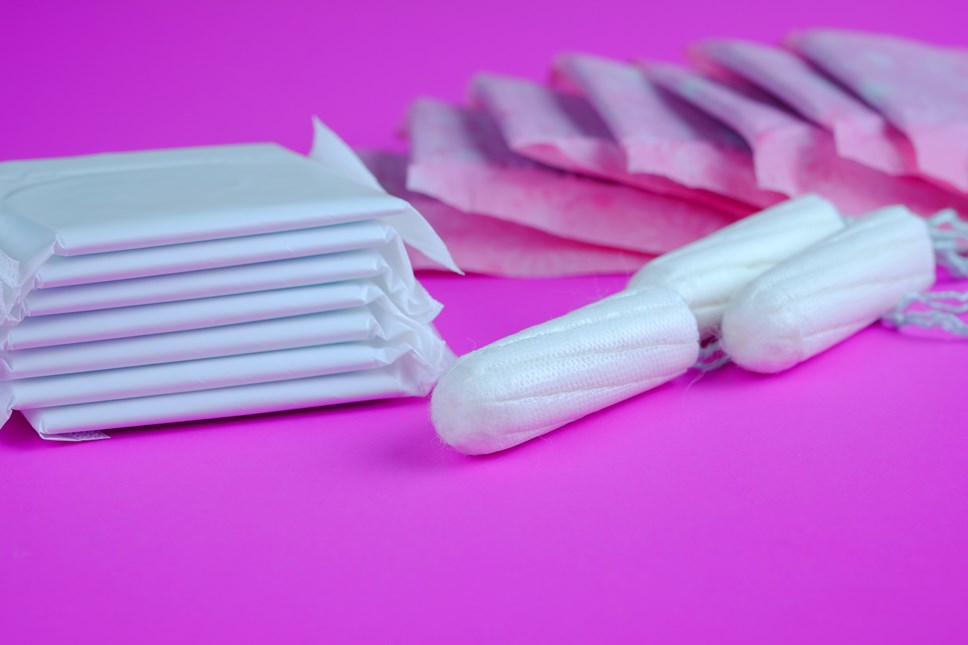 'Period products are not a luxury and access to them is even more important during a cost-of-living crisis' – vows Minister for Social Justice
Period products should not be seen as a luxury item and available to more people struggling during the cost-of-living crisis, Minister for Social Justice Jane Hutt has vowed.
Improving the availability and accessibility of menstrual products is a cornerstone of the Welsh Government's newly published A Period Proud Wales plan.
The plan outlines how everyone should have access to period products, whenever they are needed. Those who are struggling to afford menstrual products are being urged to have the confidence to seek the support they need, with free period products available in more places than ever before.
Minister for Social Justice Jane Hutt said: "Period products are not a luxury item and should be available to everyone who needs them. This is more important than ever as many struggle during the cost-of-living crisis.

"We want to ensure that having a period does not lead to missed education, absences from employment or withdrawal from sport and social activities due to period poverty."
More than £12m has been invested in improving access to free period products for children, young people and those on low incomes in Wales over the last five years.
Free period products are available in every school in Wales and across a range of community venues including (but not limited to) foodbanks, libraries, leisure centres, family centres, community hubs and youth services. Sport, cultural venues and employers are also being encouraged to provide free products for staff and visitors.
It is hoped this will eradicate period poverty and ensure those who are the most vulnerable have access to period products.
Dee Dickens struggled to afford menstrual products when she was growing up and felt ashamed of herself when she was on her period, constantly worried that people would notice.

"I would use toilet paper in the school toilet," she said.

"Until I left home I spent every period worrying people could smell me and that was the shame in it. That's one of the reasons why I'm talking about it now, as I don't want anyone else to go through this."

She added: "When I left home I was in charge of my own budget, but even then I would run out and still I wouldn't go out and buy more as I had this inbred guilt and it was back to the toilet roll in the knickers. It's taken years of therapy for me to realise that I deserve nice things and I shouldn't really be thinking of sanitary products as nice things."
Normalising having a period and removing any sense of shame or stigma around periods is a key priority of the plan.
The plan also aims to raise awareness and understanding of both menstrual cycles and the menopause, so people have the confidence to speak openly about them, so they don't negatively impact on their lives.
Minister for Social Justice Jane Hutt said "A Period Proud Wales sets out our ambitions to ensure period dignity and eradicate period poverty for women, girls and people who have periods.

"In order to do this we need to improve access to period products, remove the stigma or taboo around talking about periods and improve understanding of the impact of periods on people's lives."

She added: "We know broader socio-economic and environmental factors will affect our ability to meet this vision, but we are striving to start a conversation and begin a cultural change that will benefit generations to come."
Notes to editors
A copy of the plan is available here:
https://www.gov.wales/period-proud-wales-action-plan
https://www.llyw.cymru/cynllun-gweithredu-cymru-syn-falch-or-mislif
By 2027 we will live in a Wales where:
periods are fully understood, accepted and a normalised topic of conversation. It is widely recognised that periods are not a choice and period products are not a luxury
women, girls and those who have periods have easy, respectful and open access to good quality and safe products of their choice, when and where necessary
equitable access to provision across Wales exists, whilst allowing for local arrangements
the stigma, taboos and myths which exist have been challenged through provision of information and educational resources. No-one is ashamed or embarrassed about periods and can speak openly and confidently about them, whether they have periods or do not
understanding of periods will extend beyond the bleeding part of the cycle to the whole menstrual cycle, recognising that people who menstruate experience cycle-related impacts (physical and psychological) and needs throughout their cycles
the potential impact of periods and how they may change during the peri-menopause, menopause and as a result of broader health issues is widely understood and
this impact is responded to safely and non-judgmentally within education, employment and health based settings
women, girls and people who menstruate feel able to access health-based services around their period and related matters and are confident that these services will be sensitive and informed by sex and gender
a broader range of period products are in use, limiting the negative environmental impact of many disposable products
women, girls and all those who have periods:

o fully understand their period and know what is normal for them
o are confident to seek help and medical advice, if necessary
o do not face health inequalities when seeking medical advice or help
o know how best to manage their period to ensure it does not negatively impact on their life
o have an understanding of the different types of products available, their correct use and disposal, and can choose the most appropriate product for them
o have access to appropriate facilities to enable them to manage their period in privacy, with dignity and in a healthy way.

the historic normalisation of what might be medically concerning symptoms in relation to periods is challenged