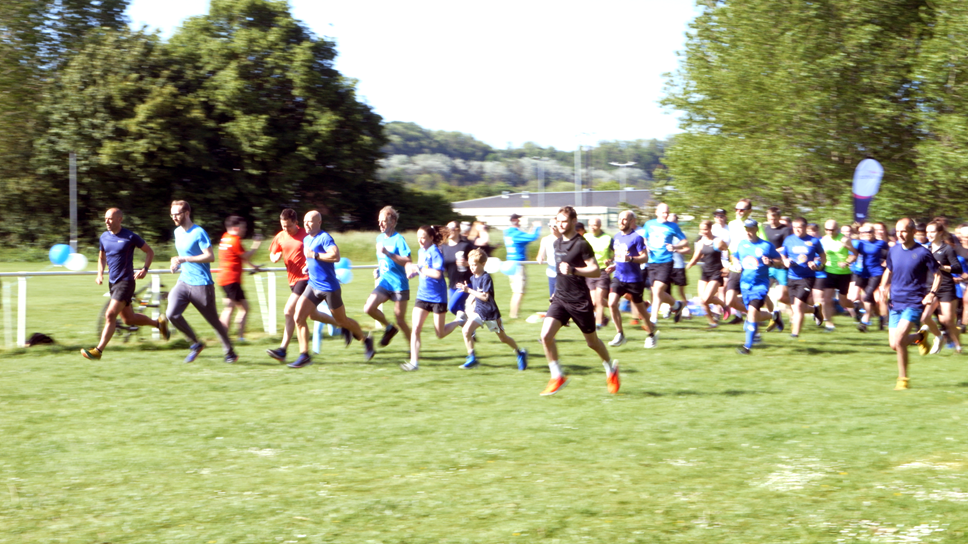 Park run for NHS Wales
Get involved with your local parkrun or junior parkrun and join the thousands of people walking, running or volunteering in 'parkrun for the NHS' to celebrate NHS75.
Tens of thousands of people are expected to parkrun for the NHS on Saturday 8 July and junior parkrun events on Sunday 9 July to celebrate the NHS' 75 birthday.
Wales was the birthplace of the NHS and the free event is an opportunity for people to acknowledge the huge contribution NHS Wales and its staff make to Welsh communities.
Parkrun is a UK-based global health and wellbeing charity that encourages movement in the company of others, in the outdoors, whether that's through walking, jogging, running, volunteering or coming along to cheer and socialise. There is no time limit and no one finishes last. Everyone is welcome to come along.
Event organisers are encouraging everyone to dress in the NHS' trademark colours, blue and gold, or fancy dress and NHS teams will be there to take part, provide information about the NHS and signpost to all the ways people can help support the service.
Launching parkrun for the NHS in Wales at Trelai parkrun, First Minister Mark Drakeford said:
"Keeping fit is one of the best ways we can all show our support for the NHS and improve our physical and mental health. Parkrun is a great way to do this and are part of many people's weekly calendar. I'd encourage as many people as possible to mark NHS 75 by taking part in their local parkrun.

"In July, it will be 75 years since Aneurin Bevan created our NHS, with a pledge to provide free healthcare for all. As we commemorate the 75th anniversary of the NHS, we thank all those who work tirelessly to care for us in our health and care services and think about how we can help ourselves to stay well."
Chief Medical Officer for Wales Sir Frank Atherton said:
"NHS75 is a great opportunity for people to celebrate the huge impact that the NHS has on all our lives."

"By walking, running or volunteering in a local parkrun in Wales individuals will be taking a big step towards improving their health and fitness, leaving a great legacy for NHS75."
Chrissie Wellington, Global Head of Health and Wellbeing at parkrun, said:
"We are thrilled to be joining forces with the NHS across the UK to celebrate its 75th anniversary. We know that participating in parkrun is incredibly beneficial to people's mental and physical health, and best of all the events are local, they are accessible, they are free, and they are fun! They're also there every week, and we'd love to see those taking part continue to join us in the future. 'parkrun for the NHS' is the perfect way for us to increase awareness of parkrun across the health sector while at the same time paying tribute to the enormous and incredibly valuable contribution of NHS staff and volunteers to the health of our nation."
ENDS
Notes to editors
Notes
The 75th anniversary of the NHS is on 5 July 2023.
See here for more information about parkrun. Find your local parkrun or junior parkrun event here. parkruns are open to all - people can walk, jog, run or volunteer. Please register beforehand here.