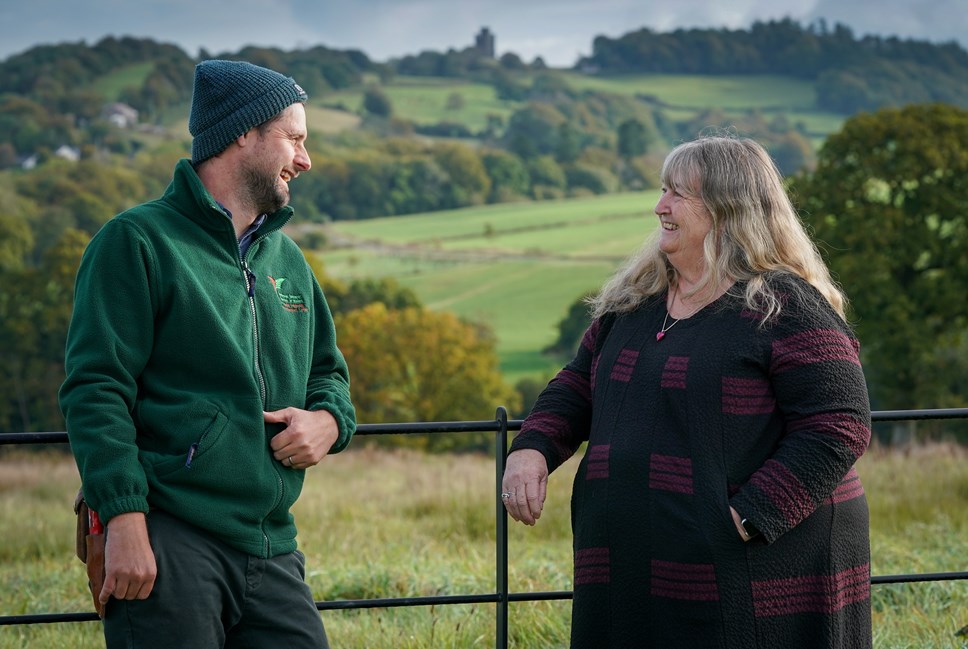 NEW Biodiversity Deep Dive prompts Welsh Government to triple peatland restoration in nature recovery promise
TODAY an expert led 'Biodiversity Deep Dive'- commissioned by Welsh Government to assess how nature recovery across land and sea can best be accelerated- has set out its recommendations. In quick response, Welsh Government tripled its peatland restoration targets while promising further action to restore Wales' wildlife and plants.
Biodiversity loss and ecosystem collapse is a leading threat to humanity. The restoration of our natural world is essential for the free services that complex ecosystems provide us- whether that's fresh water to drink or healthy soils for our food to grow.
Like much of the developed world, in Wales, the loss of forests, the plundering of seas, and the pollution caused by human activity has led to the vanishing of around half of Wales' animal and plant life.
To address this, the recommendations centre around the United Nation's '30 by 30' goal, which aims to protect and effectively manage 30% of the planet's marine and 30% of the planet's terrestrial environment by 2030. The Deep Dive is released ahead of a landmark UN Conference of the Parties (COP15) in Canada in December, where global leaders will meet to agree targets to combat the nature emergency.
The Minister also announced today the establishment of an independent expert working group to monitor Wales' progress against the targets.
The Biodiversity Deep Dive sets the following recommendations:
Transform Wales' protected sites portfolio so that it is better, bigger, and more effectively connected so that plants and wildlife are able to travel and adapt to climate change
Create a network of Nature Recovery Exemplar Areas across a range of different semi-natural habitats and identify opportunity of Other Effective Area-based Conservation Measures (OECMs)
Increase the footprint of the Marine Protected Areas network
Unlock the potential of designated landscapes (National Parks and Areas of Outstanding Natural Beauty) so they deliver more for nature
Ensure land and marine planning decisions consider biodiversity and that good decisions are incentivised
Build a strong foundation for future delivery through capacity building, behaviour change, awareness raising and skills development
Develop and adapt monitoring and evidence frameworks to measure progress against 30 by 30
Speaking from Wales' National Botanical Gardens where a panel of the country's top nature academics and practitioners met to discuss the Deep Dive, Minister for Climate Change, Julie James promised to turn advice into action, as she called for a 'Team Wales' effort to hit the '30 by 30' target.
Minister for Climate Change Julie James said:
"If we give nature a helping hand it returns the gift in the bucket-load.
"Today's Biodiversity Deep Dive helps us urgently rethink our relationship with the natural world and how to make the next best choices which benefits us and the future generations of Wales.
"That's why, with the Minister for Rural Affairs, we are tripling our peatlands restoration targets to boost our insect and bird life and bring security to our fresh water supply in Wales.
The United Nations has said that urgent action taken over the next decade will determine the seriousness of the climate and nature emergencies.
The Minister continued: "We need a Team Wales effort to drive a decade of decisive action so we can put the breaks on the biodiversity decline and jump-start the restoration of our ecosystems to their former glory. Our health, happiness and future depend on it."
RSPB Cymru and biodiversity deep dive panel member Sharon Thompson, said:
"As we approach the COP15 Biodiversity Summit in Montreal in December, where we want global leaders to agree to ambitious targets to restore nature, this Deep Dive couldn't have come at a more important time. We are in a Nature and Climate Emergency, and with the potential of really significant threats to nature elsewhere, making sure the recommendations of the Deep Dive are urgently turned in action in Wales is critical."
Notes to editors
EVENT: Wales Biodiversity Partnership Conference 2022: https://www.biodiversitywales.org.uk/Conference
THIS LINK WILL NOT BE LIVE UNTIL 9AM on MONDAY 3 OCTOBER: Biodiversity Deep Dive - https://gov.wales/biodiversity-deep-dive-recommendations / https://llyw.cymru/plymio-dwfn-bioamrywiaeth-argymhellion
How restoring Wales' bogs is improving water and wildfire security during dry weather (gov.wales)
The world's most comprehensive biodiversity report by IPBES predicts we are on track to hit the 1 million species extinction mark over the next few decades unless urgent action is taken.
BIODIVERSITY DEEP DIVE PANEL MEMBERS:
Ms Ceri Davies - Natural Resources Wales, Executive Director for Evidence, Policy and Permitting.
Dr Sharon Thompson Head of Policy and Advocacy at RSPB Cymru
Dr Richard Unsworth - Associate Professor, Biosciences at Swansea University
Founding director of Project-Seagrass, senior scientist at SeagrassWatchHQ. Expertise lies in the ecological structuring processes of marine systems and the implications of such systems for society. Focuses primarily on the interrelationships between foundation species, habitat, and associated productive fauna (mainly fish). He is particularly interested in the consequences of cross-scale environmental changes on seagrass meadows functioning and the implications of this for global food security and other ecosystem services.
Dr Paul Sinnadurai FCIEEM - Senior Ecologist for Brecon Beacons National Park Authority.
Previously held the posts of Natural Resources Manager, Conservation Manager, Senior Ecologist and Policy Advisor and Ecologist and has worked here for over 20 years. Former Conservation Officer for English Nature for seven years and prior to that, a professional ballet dancer. Paul is currently a Supervisor for the BES Review of Protected Areas 2021 and on the Academic Advisory and Land Mgmt Advisory Boards for Black Mountains College.
Dr Tim Pagella - Senior Lecturer in Forestry at Bangor University.
Primary interest in agroforestry systems. In particular his research focuses on the capacity of trees outside woodland to deliver ecosystem services, resilience and sustainable intensification. He is interested in how livelihood and wellbeing benefits from these systems are distributed across scales (in both tropical and temperate systems).
Dr Philippa Pearson - Head of water services science, Dŵr Cymru Welsh Water.
Responsible for developing and implementing Welsh Water's multi-award winning "WaterSource" Catchment Management approach. Doctor of Philosophy (PhD) from the University of Wales, Aberystwyth, Chartered Scientist (CSci) and Chartered Environmentalist (CEnv).
Professor Steve Ormerod - Professor in Ecology at Cardiff University.
Over 40 years' experience as an academic ecologist working mostly on the effects of global change on ecosystem structure, function and services in streams, rivers and lakes. He co-directs the University's Water Research Institute. He is also involved in the application of ecology as Deputy Chairman of Natural Resources Wales, a member of the UK Joint Nature Conservation Committee, Chairman of Buglife (Europe's Invertebrate Charity) and Vice President of the RSPB.
Dr Katie Medcalf - Environment Director at Environment Systems.
Background in environmental science, monitoring, mapping, modelling, field ecology and remote sensing. Katie developed, and leads, Environment Systems environmental opportunities and risk modelling and the SENCE (Spatial Evidence for Natural Capital Evaluation) tool. SENCE is an award-winning tool which considers natural capital and the impact of climate change as a means of supporting action on the ground
Chartered Environmentalist and full member of the Chartered Institute of Ecology and Environmental management where she is convenor of the Overseas Territories Special Interest group. In addition, Katie is a full member of the British Society of Soil Science and the British Ecological Society.
Hilary Kehoe - Wales Chair at Nature Friendly Farming Network.
Also, PONT Coordinator and North Wales Regional Development Officer (PONT's aim is to collaborate with those in the farming, conservation, local communities and other interest groups to help deliver practical grazing solutions that benefit the various interests in an integrated manner.)
Mike Elliott- Professor Mike Elliott | University of Hull