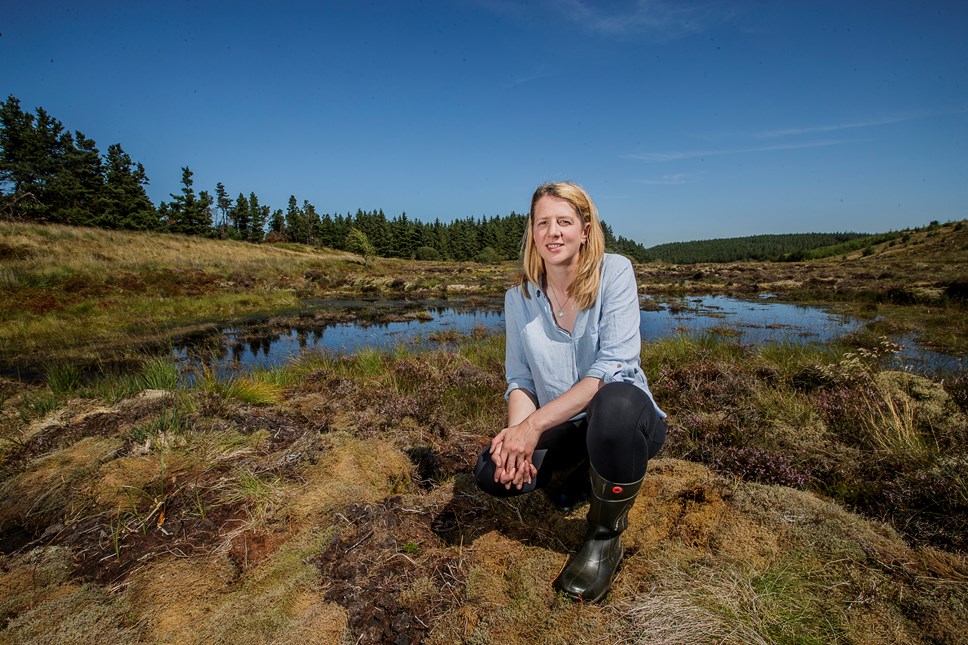 How restoring Wales' bogs is improving water and wildfire security during dry weather
Today, a new Natural Resources Wales report highlights how action to restore the degraded peatland of Wales accelerated at record pace during 2021/22 – even surpassing expectations.
Wales' peatlands – also attractively known as bogs, mires or moors – are an unlikely hero whose health is essential for our water security, as we prepare for a future of hotter summers and wetter winters under climate change.
The report says the Welsh Government annual target to restore 650 hectares of peatland was surpassed by restoration action on over 1000 hectares, the equivalent of 1400 football pitches.
Given that 70% of UK's drinking water comes from upland areas dominated by peatlands, the need for their restoration is clear following a month [July] where Wales has received only 56% of its expected rainfall.
What's more, wet bogs contain up to 90% water meaning that they act as a natural barrier to spreading wildfires and reduce the risk of floods further downstream.
They are also an incredibly efficient carbon store, retaining more carbon in the soil than the equivalent capacity of a forest of trees. The 4% of Wales covered by peat stores up to 30% of Wales' soil carbon. However, damaged peatlands are releasing this carbon into the atmosphere, contributing to speeding up climate change.
As droughts, wildfires and floods are predicted to exacerbate in the coming years, Welsh Government set up National Peatland Action Programme after recognising the essential role peatlands play in fighting the climate and nature emergencies.
Climate Change Minister, Julie James said:
"Bogs might not sound very glamorous, but they are Wales' unsung heroes – especially during prolonged periods of dry or wet weather, like we have seen recently.

"When peat bogs are in a good state of repair, they are our most efficient terrestrial carbon sinks; they are home to a wide range of wildlife and plants, and even help purify our drinking and bathing water.

"Their restoration is vital to our response to the nature and climate emergencies so this report by NRW is very welcome news and I want to thank them for their hard work in accelerating their efforts to peat the target!

"We must ensure we continue to protect and cherish our valuable peatland ecosystem."
National Peatland Action Programme Project Manager, Dr Rhoswen Leonard explained:
"Our success in delivering restoration activity on over 1000 hectares of peatland in a year reflects the collective passion of the NPAP team and our partners to achieve high nature, low carbon targets for the benefit of the people of Wales.

"In support, Welsh Government inspires the urgency and Natural Resources Wales and our partners provide the momentum and joined-up capacity to make this Programme a success.

"Peatland restoration is a big growth area to address the climate and nature emergencies, so we're very grateful to our partners, for their impressive successes in re-wetting peat, and to the innovative contractors who adapted techniques and equipment to address the challenges on site."
One of the reasons for the success of the restoration is flexibility in agreements and funding to ensure peatland restoration goes ahead in a range of landowning circumstances.
To check out how peatlands restoration is doing and the role they play in fighting the climate and nature emergencies, go to Wales Peatland Data Portal.
Notes to editors
Feedback from stakeholders in 2020/21, requesting more help at the planning stage, resulted in April 2022 launch of the first round of peatland restoration development grants.
The National Peatland Action Programme is an example of a Wales-based initiative in response to the challenges and opportunities our natural resources provide. In general, Wales Peatland Action is a growth area for careers, contractor opportunities, and academic research.
Natural Resources Wales is a Welsh Government Sponsored Body. Its purpose is to ensure that the natural resources of Wales are sustainably maintained, enhanced and used, now and in the future
NPAP's partners in achieving the Wales Peatland Action 2021/22 targets included Snowdonia National Park, the National Trust, the RSPB, Pembrokeshire Coast National Park Authority, Radnorshire Wildlife Trust, North Wales Wildlife Trust, Coetir Anian, Clwydian Range ANOB, and Wye Valley AONB. Examples of partnership work conducted directly with landowners, through land management agreements, can be seen at Cors y Sarnau, Waen Rydd and at the Brecon Beacons SSSI. NPAP also restored or managed peatland through direct delivery on NRW-managed sites such as in the Tywi Forest area and on the Anglesey fens. Through a Memorandum of Understanding agreement, further work was also conducted on a cross-border site at Fenn's and Whixhall.
Re-wetting peatland is a comparatively simple solution to both increase carbon storage and re-establish biodiversity, as habitats are restored for mosses, insects, birds, and other creatures to thrive. Farmers play an important role in peatland restoration as they help identify the breeds, often traditional breeds, that thrive best on restored peatland and, through discussion with ecologists, establish the best stock rate for different seasons.
For more information www.naturalresourceswales.gov.uk
Supplementary Facts
Peatlands - General
Peatlands extend over at least 4% of the Welsh landscape and comprise one of our principal natural resources. It is estimated that no more than 10% by area of the near-natural and modified peatland resource is likely to be in favourable condition. The most prevalent deterioration issues include: drainage, erosion, afforestation, nutrient pollution, under-grazing or over-grazing often coupled with lack of management, and problematic native or non-native species.
How does Wales Peatland Action restore peatland?
The aim is to restore the natural water levels by using various techniques such as contour bunding (low level peat banks) and peat dams (to block historic drainage ditches). In fact, the Programme has identified over 100 different techniques to improve peatland condition.
Fire
Wet bogs and fens don't burn easily and only superficially if they do. However, on drained and dry sites, surface vegetation fire can ignite the peat, a natural fuel, resulting in deep smouldering fires. These fires are difficult to extinguish and can go on for weeks, releasing a devastating amount of carbon.
Water
Flood mitigation and quality: Healthy peat contains up to 90% water. It's a natural flood mitigator, as its impressive water-retention capacity allows for a more gradual water release in our landscape. Sphagnum moss is key to the water retention and formation of peat. It can hold up to 20 times its mass in water and its slow decomposition under waterlogged conditions forms dark brown peat soils. A meter depth of peat represents a millennium of peat accumulation.
Quality: Water derived from healthy peatlands is high in quality and low in pollutants and nutrients, allowing for more effective water treatment. 70% of UK drinking water comes from upland areas dominated by peatlands. (Source: Peatland_Leaflet_ONLINE_V2.pdf (iucn-uk-peatlandprogramme.org)
Water security: Peat restoration is important for water security because healthy re-wetted peatland helps sustain baseflow to river and stream headwaters during periods of drought and subsequent low flows. This is because restoration increases the retention of water within the peat body and slows the rate at which it is lost through artificial drainage features. Source: Flood Management | IUCN UK Peatland Programme (iucn-uk-peatlandprogramme.org