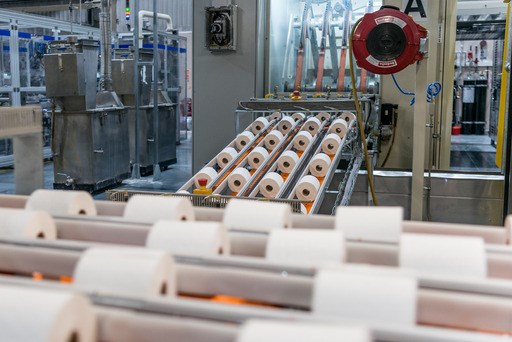 £6m Welsh Government investment in leading paper production firm in Maesteg
The Welsh Government is providing £6m to support WEPA UK's expansion plans, which will see 54 new jobs created and hundreds protected at its site in Maesteg.
Economy Minister Ken Skates said the funding from the Welsh Government's Economy Futures Fund will be crucial in seeing the firm's site developed into a fully integrated papermill, doubling production.
A new paper machine will enable the company, which is one of the leading suppliers of household paper in the UK, to produce an additional 65,000 tons a year of toilet paper and kitchen towels for the British market.
The announcement comes as the Welsh Government this week launched its Economic Resilience and Reconstruction Mission which sets out how it will work to rebuild Wales' post Covid economy so that it values and prioritises wellbeing, drives prosperity, is environmentally sound, and helps every person in Wales to realise their potential.
Economy Minister Ken Skates said: "WEPA is a vitally important employer in the region, and the £6m the Welsh Government is investing will be crucial in supporting the local economy at what continues to be an incredibly difficult time.

"I am delighted that our investment will help the business create good-quality jobs as the volume and variety of products produced by the business increases.

"This week, I launched our Economic Reconstruction and Resilience Mission which sets out how we will rebuild and reconstruct the Welsh economy post pandemic. We are clear that supporting businesses like WEPA to innovate and make maximum use of cutting edge technology will be key to Wales' future economic success.

"Today's announcement further demonstrates our determination to pursue prosperity for all and help our firms to succeed and thrive."

Tony Curtis, joint managing director of WEPA UK Ltd, said: "WEPA UK Ltd has worked with the Welsh Government on this major project since the concept was first considered and we are grateful for the continuous support we have received.

"During such unprecedented times as these, this is a fantastic development for our UK business, particularly for the local community in which we operate, our UK-wide customers and our employees who can now plan for the future with increased confidence.

"This investment provides state of the art additional production capacity with an important quality upgrade to our product offering; it will also drive our site operations to the leading edge of sustainability in our industry.

"The project offers employment protection for our existing workforce of over 270 Bridgend employees and also creates more than 50 additional jobs at the site.

"WEPA has also engaged a local principal contractor based in South Wales for project construction."

Martin Krengel, CEO of the WEPA Group: "Our willingness to invest in state-of-the-art technology is an important part of our future-oriented Group strategy. UK remains an important growth market for us in Europe despite COVID-19 and Brexit. With the planned investments we will be able to meet our customers' expectations in terms of product quality and sustainability even better in the future. It is important to us to produce for our customers in the UK in their own country. For the Bridgend site this means a doubling of production capacity."