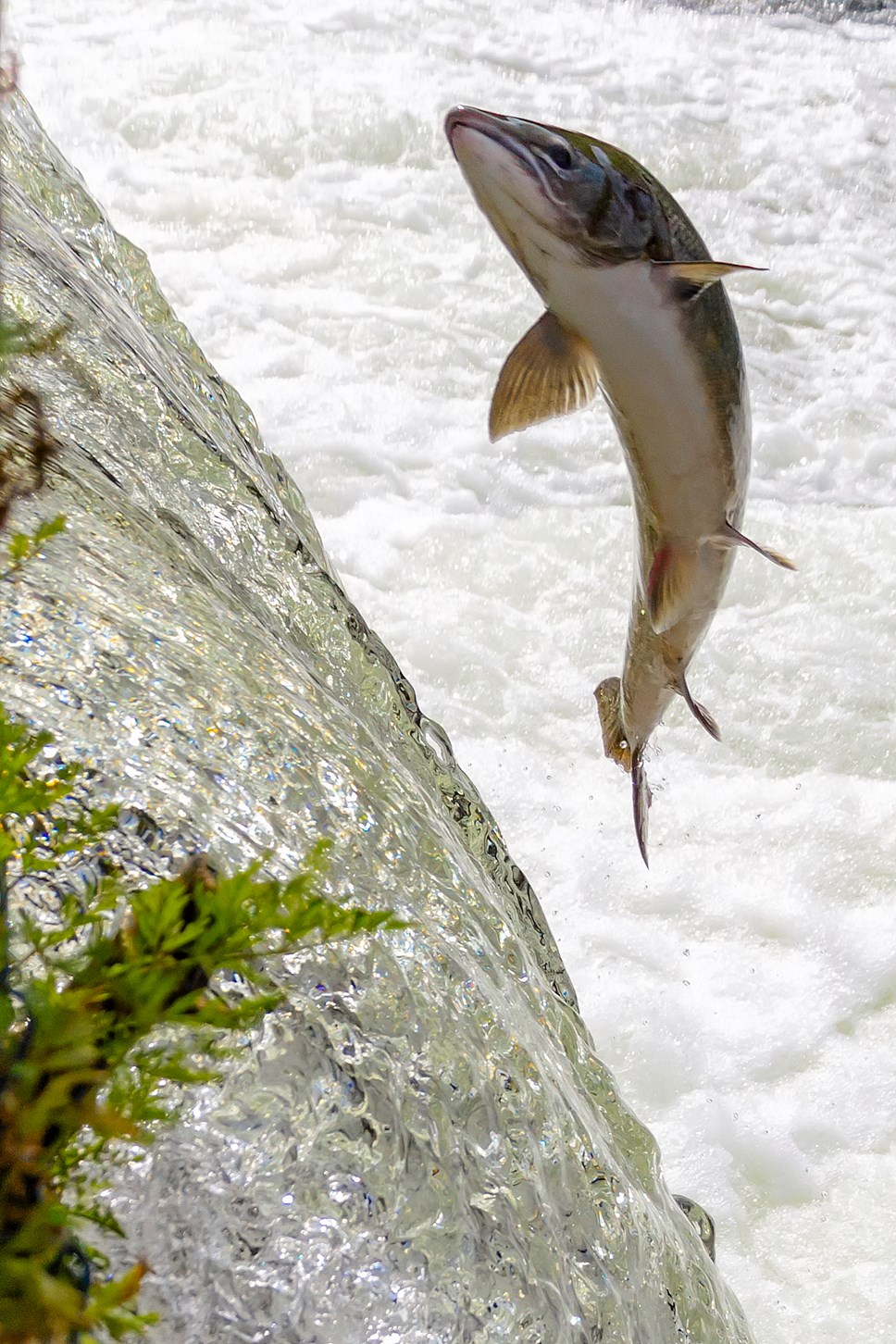 £11m for conservation projects to help Wales' endangered wildlife
Minister for Climate Change Julie James has announced a pot of nearly £11m to help curb the decline of Wales' wildlife today, as she met with scientists working to save the Atlantic wild salmon. Experts say the ancient fish could disappear from Welsh rivers by the next two decades.
The Minister named nine new large and 17 medium projects who will benefit from the latest round of Nature Networks funding, to strengthen the resilience of Wales' seas, forests and disappearing grasslands.
These are home to some of Wales' most iconic species, including the curlew, otter and bottlenose dolphin.
Over centuries, physical barriers such as roads, development and farmland have left animals and plants stranded on unconnected 'islands', blocking migration routes and thus decreasing the gene pool and health of animal and plant populations.
These broken up habitats have left salmon and other species fighting for survival.
In response, Welsh Government set up the Nature Networks Programme to build 'wildlife corridors' throughout Wales, whilst enlisting local people in its efforts, as it calls for Team Wales action to tackle the global nature emergency.
Led by Swansea University, 'Reconnecting the Salmon rivers of Wales' has benefitted from more than £600k from the first round of the Nature Network Fund, which awarded £7m to 29 projects.
Its aim is to remove physical barriers that have blocked migration routes for wild Atlantic salmon and other species in the West Cleddau, EastCleddau, Usk, Tywi, and Teifi rivers.
Wild Atlantic salmon return to the river they were born just once in a lifetime to spawn.
To do so, they make an epic journey from the high seas to swim against currents as they mission upstream.
But now, this ancient fish featured so much in Welsh folklore, is met with culverts, dams and weirs that trap them in lower areas of the river.
Visiting the River Usk- which has seen the steepest decline of Atlantic salmon and where the project is working with stakeholders to redesign barriers that help fish move freely up and down stream, Minister for Climate Change, Julie James said:
"We all want a Wales that we are proud to pass onto our future generations. Currently they are facing quite a different world if we don't stand up and act quickly in a Team Wales effort to tackle the climate and nature emergencies.
"Whilst we must do all we can to protect our precious Atlantic wild salmon- healthy, free-flowing rivers will benefit all of our physical and mental wellbeing.
"A thriving population of salmon indicates a clean and well oxygenated river where other species can flourish and tourism can boom. Whether you're a bather, toe-dipper, twitcher, angler or kayaker – a healthy river means a more enjoyable countryside experience."
Professor Carlos Garcia de Leaniz, coordinator of the Reconnecting the Salmon Rivers of Wales project said:
"People in Wales have been fortunate enough to enjoy the presence of iconic migratory fish like the Atlantic salmon, the sewin, the sea lamprey, the European eel or the shad for millennia.
"These form part of Welsh culture and are an integral part of Wales' heritage and natural capital. But the UK has also some of the most fragmented, polluted, and dirtiest rivers in Europe, and the future of our native migratory fish is now under serious threat of extinction.
"A recent report indicates that if nothing is done Atlantic salmon may disappear from most Welsh rivers in as little as 20 or 30 years. We cannot let this happen.
"Our project [reconnecting the Salmon Rivers of Wales] will restore 141 km of fragmented river habitat. Healthy rivers are free-flowing rivers, and it is hoped that this and similar initiatives will make our rivers free-flowing again and help reverse the decline of Atlantic salmon."
Andrew White, Director of The National Lottery Heritage Fund in Wales said:
"This impressive variety of projects demonstrates both the ambition of the Nature Networks Fund and the scale of the challenge facing us all.
"It's a priority for The National Lottery Heritage Fund in Wales to protect the environment.
"This is why we support initiatives that help us meet our national nature recovery targets and mitigate the effects of climate change on heritage.
"Through partnerships such as this, we invest in work that helps halt and reverse the loss and decline of habitats and species and allow people to connect with our unique natural heritage."
The Nature Network Programme is key in helping Welsh Government deliver the United Nations 30 by 30 goal, which aims to protect and effectively manage 30% of the planet's marine and 30% of the planet's terrestrial environment by 2030.
The Nature Networks Fund is a programme delivered in partnership by Welsh Government, National Lottery Heritage Fund and NRW to strengthen the resilience of Wales' network of protected land and marine sites, supporting nature's recovery while actively encouraging community engagement.
Notes to editors
Notes to editors
A recent Natural Resources Wales report says that without urgent action Atlantic salmon may disappear from most Welsh rivers in as little as 20 or 30 years.
£3.78million for protected sites and species across Wales | The National Lottery Heritage Fund
29 new projects that will help 'Team Wales' tackle climate and nature emergencies (gov.wales)
The NNF project, Reconnecting the Salmon Rivers of Wales, is led by Swansea University, is working with Afonydd Cymru, Dŵr Cymru Welsh Water, the West Wales Rivers Trust, the Wye and Usk Foundation, the Afan Valley Angling and Conservation Club, and Natural Resources Wales to tackle river fragmentation by removing or mitigating the impact of 17 river barriers (mostly disused weirs) in five rivers.
European Barrier Atlas (amber.international) which includes details of the barriers in Wales, gathered to date: (see images)
Nature Networks Fund 2 grants announced on 28 April:
Wales-wide
Plantlife International
Plantlife International - The Wild Plant Conservation Charity, is receiving £1,000,000 for the 'Glaswelltiroedd Gwydn/ Networks Wales' project. More than 90 per cent of Wales' species-rich grasslands have disappeared during the late 20th Century and only 20 per cent of our Sites of Special Scientific Interest are in a 'favourable' condition. These sites need to be restored to help reverse the devastating decline of our wildflowers and wildlife. The project is aiming to reverse this decline which will also help support pollinators, enable healthy livestock and sustainable agriculture, combat the effects of climate change and pollution and re-establish the connection between grasslands and our communities.
North Wales
National Trust Cymru
National Trust Cymru is getting £642,662 to roll out the 'Prosiect Uwch Conwy' project. The project is based in the Uwch Conwy area and covers the Migneint-Dduallt-Arennig Special Area of Conservation (SAC). The project will aim to protect these important designated sites and restore a diverse, connected and resilient upland landscape which connects nature and is accessible to people. Restoring the natural hydrology of the blanket bogs - which store carbon, help prevent flooding and are home to rare species, is a priority for National Trust Cymru with this project.
Cyngor Gwynedd
Cyngor Gwynedd's 'Partnership Delivery of MPA (Marine Protected Areas) Improvements in Wales' project is getting £391,600. It will improve the resilience of five large Marine Protected Areas across Wales which are sections of ocean where activities that can damage the environment are restricted to help nature thrive. The project is a partnership involving Cyngor Gwynedd and the Welsh Partnership of MPAs and local people. It has seven overall aims including delivering a water quality programme; rolling out a coastal otter programme and data analysis project; providing a marine litter support and guidance programme and running a programme to help local people to reduce disturbance to native species.
North Wales and Mid Wales
The Game and Wildlife Conservation Trust
In North Wales, Brecon and Montgomeryshire, the Game and Wildlife Conservation Trust has been awarded £999,600 to roll out the 'Wales Curlew Connections, Cysylltu Gylfinir Cymru' project. In Wales breeding curlew is predicted to be on the brink of extinction within the next decade unless action is taken. The Game and Wildlife Conservation Trust will work with the Clwydian Range and Dee Valley AONB, Curlew Country and the Brecon Beacons National Park Authority to deliver this project. The project will up to seven Important Curlew Areas (ICAs) where there are opportunities to maximise curlew recovery including the Mynydd Hiraethog Site of Specical Scientific Interest (SSSI), Migneint-Arenig- Dduallt SSSI, Ruabon / Llantysilio Mountains and Minera SSSI.
Mid Wales
Freshwater Habitats Trust
The Freshwater Habitats Trust has secured £719,908 for the 'River Irfon catchment: Helping communities develop nature networks to protect and restore freshwater biodiversity' project in Powys. It is setting out to substantially increase the resilience of the freshwater biodiversity network in the River Irfon catchment in Powys and protect critical freshwater sites and species. The project is also aiming to give local people more opportunities to get involved with nature and to make sure that it can continue to meet all these goals in the long term. It will cover the River Irfon Special Area of Conservation and three of its tributaries - Tirabad Dulas, Garth Dulas and Chwefru.
North and West Wales
The Zoological Society of London
ZSL (Zoological Society of London) is receiving £849,322 for 'Project SIARC (Sharks Inspiring Action and Research with Communities) Phase 2' - a multidisciplinary project co-led by ZSL and Natural Resources Wales. Through working closely with fishers and diverse local communities, it will fill critical data gaps for six species of shark, skate and ray, overcome barriers to achieve greater equity, diversity and inclusion in marine conservation and inspire the next generation through showcasing Wales' marine environment. The project will focus on two Special Areas of Conservation - Pen Llŷn a'r Sarnau (PLAS) and Carmarthen Bay and Estuaries (CBAE).
West Wales
The Wildlife Trust of South and West Wales Limited
The Wildlife Trust of South and West Wales Limited has been awarded £562,578 for its 'Marine Indicator Species' project. This project focuses on the globally important seabird species and bottlenose dolphins within the Skomer, Skokholm and the Seas off Pembrokeshire Special Protection Area (SPA), and the Cardigan Bay Special Area of Conservation (SAC). There will be annual monitoring of the breeding seabird populations of the Site of Special Scientific Interest (SSSI) and National Nature Reserves (NNR) islands of Skomer and Skokholm. The project will be the only one of its kind in Welsh waters to use acoustic recorders to measure the presence of dolphins.
South Wales
Vale of Glamorgan Council
The Vale of Glamorgan Council is getting £844,828 to deliver the 'Restore the Thaw Landscape Project' project. Working alongside a wide range of partners, the project will deliver a range of biodiversity improvements along the River Thaw, its tributaries and surrounding landscapes and involve a wide range of people in nature recovery projects. The project area contains a network of protected sites including seven Sites of Special Scientific Interest (SSSI) and 120 Sites of Importance for Nature Conservation (SINC). It will concentrate on increasing tree cover through hedgerow and tree planting and natural regeneration and improving water quality by creating and restoring ponds and wildlife links and refuges.
South East Wales
Gwent Green Grid
The Gwent Green Grid Partnership has been awarded £999,095 to promote resilient ecological networks in landscapes across Gwent. Local people, schools and communities will have the opportunity to connect with nature, and the project will build upon the successful work of the Gwent Green Grid; a partnership led by Monmouthshire County Council working in collaboration with Blaenau Gwent, Caerphilly, Newport, and Torfaen local authorities and Natural Resources Wales as well as other partners. The project will deliver targeted high-quality green infrastructure improvements, raise nature and climate awareness opportunities and boost the resilience of ecosystems in and around our protected sites.