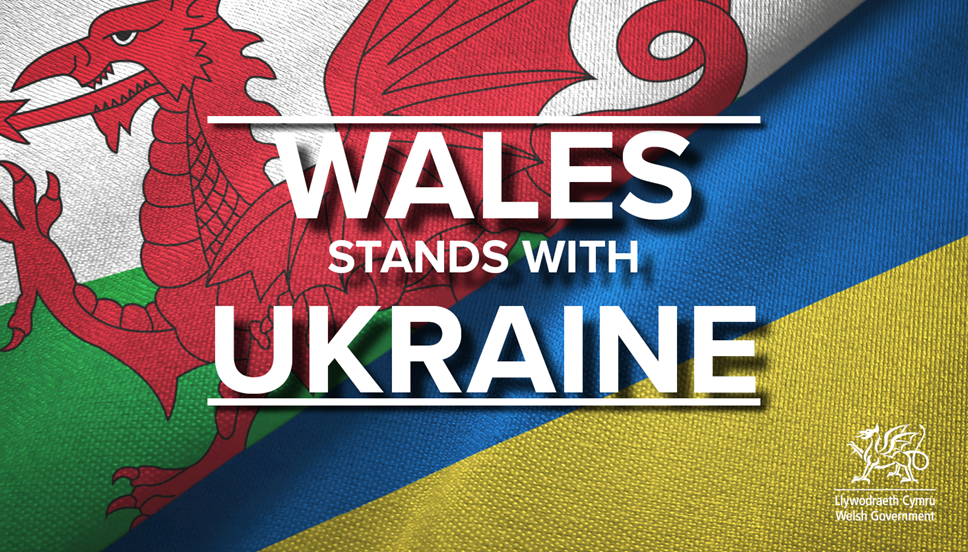 Welsh Nation of Sanctuary in Action
Minister for Social Justice Jane Hutt today outlined the progress of the Homes for Ukraine scheme in Wales and highlighted the further support Welsh Government have provided to the humanitarian crisis.
Minister for Social Justice Jane Hutt said:
"We have seen an overwhelming response from people in Wales as they have signed up in their thousands to the UK Government's Homes for Ukraine scheme to act as a potential sponsor for someone fleeing the war and to open their homes to them.

This really is our Welsh Nation of Sanctuary in action.

Those expressions of interest are now turning into completed visa applications based on the generous offers of accommodation from people in Wales via the Homes for Ukraine scheme.

Welsh Government is now directly sponsoring people from Ukraine and enabling people to complete visa applications and be accommodated and receive structured support in one of the Welcome Centre we are delivering in partnership with local government and others.

Yesterday, we launched a dedicated helpline for people arriving in Wales from Ukraine and for people who are acting as sponsors to provide advice and guidance. People can get in touch to find out more about what it means to be a sponsor and applicants can access information about our sponsorship scheme."
Outlining the further support package for the humanitarian effort, the Minister announced a further donation of £1m to Community Foundation Wales' Nation of Sanctuary Croeso Fund and appealed to businesses and organisations for help in providing support services.
The Minister said:
"The Disasters Emergency Committee has set up a Ukraine humanitarian appeal, which is helping to provide food, water, shelter, healthcare and protection to people fleeing the conflict.

The Welsh Government has donated £4m to the DEC appeal and has also sent a shipment of medical supplies to Poland, from where they will be sent to Ukraine. Further medical supplies are ready to be shipped.

I have today confirmed we will be donating £1m to the Nation of Sanctuary Croeso Fund, which has been established by the Community Foundation Wales.

This fund is open to the public and to organisations and works with people seeking sanctuary in Wales. We are proud to donate to the fund and to the Community Foundation Wales' initiative to support people from Ukraine arriving in Wales and to support other refugees and asylum seekers in Wales.

And we also are asking businesses or organisations for help providing:

- Large scale accommodation

- Transport to take people to their new homes

- Supplies such as food, clothes and sanitary products

- Translators and interpreters."
Finally the Minister said:
"The invasion of Ukraine by Putin was a dark day for world peace. But the overwhelming desire shown by people across Wales to help shows there is hope even in the most desperate of times."
Notes to editors
Helpline information:
The helpline is available for anyone who has is interested in applying to be a sponsor and those who have applied to come to Wales under the Homes for Ukraine scheme. Contact details are:
Freephone within the UK- 0808 175 1508
Outside the UK- 0204 5425671
The helpline will be available from 9am to 5pm, 7 days a week.
Welsh Government Nation of Sanctuary webpage- Sanctuary | Choose a path (gov.wales)