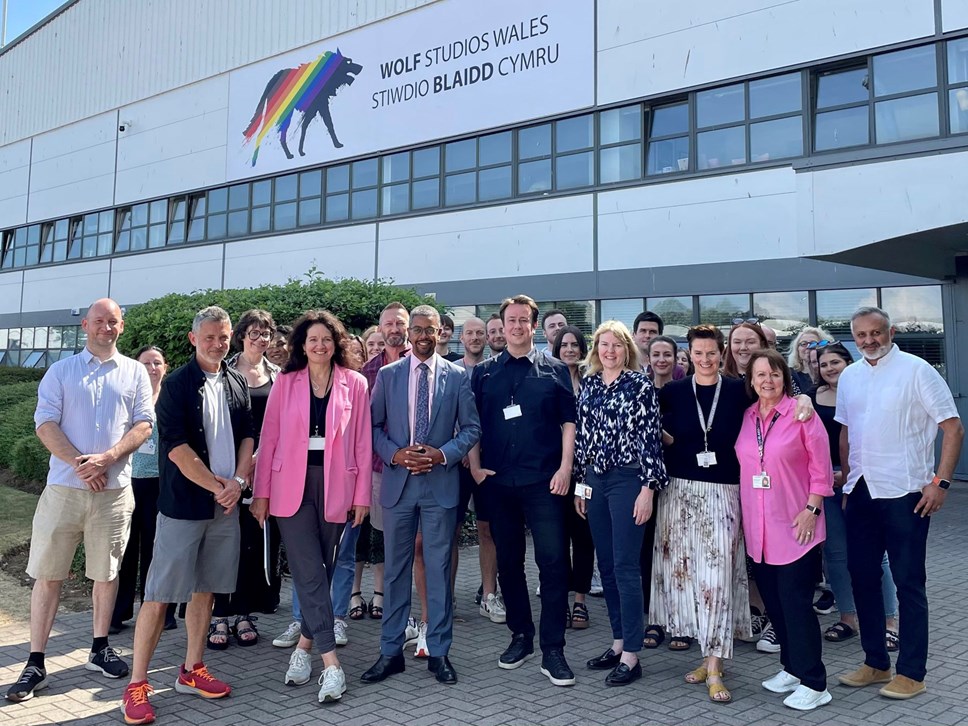 Economy Minister calls on employers to 'listen and act' to tackle LGBTQ+ discrimination in Welsh workplaces
"No one should be held back at work for being themselves" - those were the words of Economy Minister, Vaughan Gething today who was speaking at the culmination of Pride Month, outlining the actions the Welsh Government is taking to promote inclusive workplaces.
The Welsh Government is working with Welsh businesses to improve workplace equality and inclusion as part of an ambitious plan to make Wales the most LGBTQ+ friendly nation in Europe.
Earlier this year, the Deputy Minister for Social Partnership, Hannah Blythyn, published the Welsh Government's LGBTQ+ Action Plan for Wales: Together in Pride, as part of the Co-operation Agreement with Plaid Cymru.
The Plan commits all Ministers to work in social partnership with trade unions, employers and other partners to safeguard LGBTQ+ workers from discrimination, promote best practice, and improve information, advice and guidance.
It follows research undertaken during development of the Action Plan which showed that LGBTQ+ people are twice as likely to experience harassment or bullying than their heterosexual peers, while almost a quarter had been outed in the workplace.
When visiting Bad Wolf, the production company responsible for His Dark Materials, Industry, I Hate Suzie, A Discovery of Witches and Doctor Who at Wolf Studios Wales in Cardiff Bay, the Economy Minister met with staff and crew members, including those from the LGBTQ+community and those responsible for the company's Equality, Diversity and Inclusion pledge, to discuss the workplace policies and practice that provide an environment in which LGBTQ+ workers are able to thrive.
Economy Minister, Vaughan Gething said:
"No one should be held back at work for being themselves and it is unacceptable that LGBTQ+ people are twice as likely to face discrimination compared with their heterosexual peers.

"The Welsh Government has set out a commitment to make Wales the most LGBTQ+ friendly nation in Europe. Equality and inclusion is fundamental to our vision of a fairer economy and I urge businesses in Wales to listen and act on the discrimination too many workers still face.

"Pioneering businesses like Bad Wolf are demonstrating how placing equality and inclusivity at the heart of workforce strategy can unlock the talent of all Welsh workers.

"People from all communities have been celebrating at Pride events right across Wales in the last few weeks. I'm determined to see that inclusive spirit of celebration translate into more equal workplaces, where LGBTQ+ staff feel safe, respected, and valued, working with businesses, trade unions and other key partners."
The Minister for Economy and Deputy Minister for Social Partnership also launched the Retail Action Plan in May 2023. The Plan includes actions to promote Fair Work and workforce equality, diversity, and inclusion.
Deputy Minister for Social Partnership, Hannah Blythyn, said:
"Nobody should feel they have to hide who they really are. We want to see a Wales where everyone is able to live their lives as their authentic selves, free from fear and discrimination.

"Unfortunately, we're in an age where it can feel like our rights are at risk of being rolled back which is why, through our LGBTQ+ Action Plan, we are committed to meaningful change for LGBTQ+ communities.

"That includes stamping out discrimination so workers feel safe, supported and ultimately happy at work, which improves health, leads to better working relationships and can boost creativity and productivity."
The Welsh Government supports the Wales TUC (Trades Union Congress) 10 steps towards LGBTQ+ inclusive workplaces action plan published in May 2023.
Shavanah Taj, General Secretary of the Wales TUC said:
"All workers deserve to feel safe, respected and valued at work. LGBTQ+ people are more likely to face hatred in the forms of transphobia, homophobia, biphobia or other forms of hatred and discrimination. This can negatively impact on their mental health, their ability to progress and performance at work. Also, many trans, intersex and gender non-conforming people report persistent transphobia, negative treatment, and aggression whilst in or searching for work.

"The trade union movement in Wales is committed to fighting for the rights of all workers. We want all LGBTQ+ workers, including those with intersectional identities to be proud and safe at work. Everyone deserves to work in an inclusive, respectful and safe environment. We welcome the Welsh Government LGBTQ+ action plan and have produced guidance helping union reps and employers to implement it. We will continue to work in social partnership to ensure LGBTQ+ workers are able to be proudly themselves at work."
CEO of Bad Wolf, Jane Tranter said:
"Bad Wolf is a company built on the belief that diversity and inclusivity must be at the heart of everything we do, and we were very pleased to be able to welcome the Minister and explain how we have built the company over the last 8 years with that strong ethos in mind. Creativity and inclusivity should always go hand in hand and Bad Wolf strives to be a place where both can thrive in equal measure. We have huge pride in the work that we do and in the diverse teams who bring their very best to the studio and our productions every day."
Notes to editors
The LGBTQ+ Action Plan commits the Welsh Government to:
Encourage employers to adopt equalities policies and procedures that safeguard against LGBTQ+ discrimination.
Promote, share and adopt best practice in relation to inclusive workplaces, including the dissemination of case studies.
Improve access to information, advice, guidance and support for employers on employing LGBTQ+ workers including information on legal responsibilities.
Provide guidance to employers on the importance of collecting diversity data and its use in promoting inclusion.
Ensuring LGBTQ+ people understand and use pathways for reporting LGBTQ+ discrimination in Welsh workplaces.
Photo caption: Minister for Economy, Vaughan Gething, with Bad Wolf senior management, staff and crew at Wolf Studios Wales.