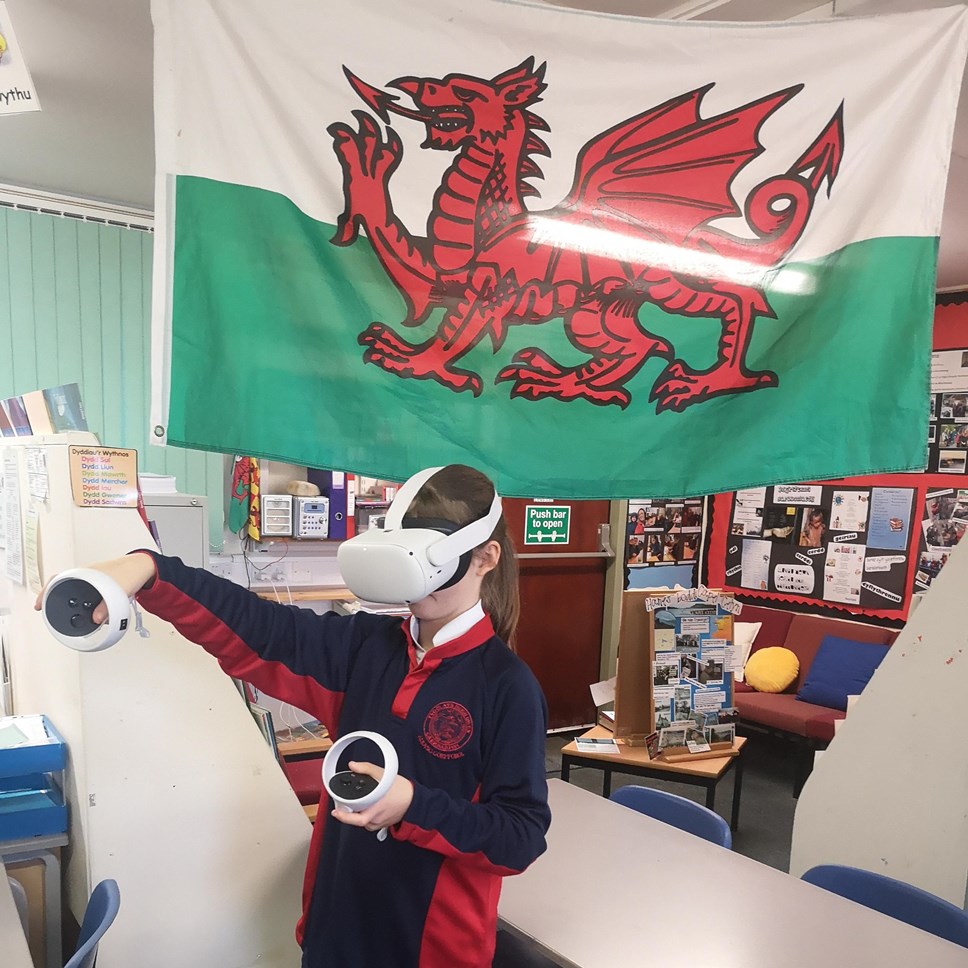 Croeso i Aberwla: the virtual village helping pupils learn Welsh
The Welsh Government has invested £6.6m over 3 years to support Welsh-medium late immersion provision across Wales. The project, which aims to bring the educational virtual reality (VR) game to pupils learning Welsh across Wales, is part of this investment.
The project was established by Cyngor Gwynedd for pupils in Welsh-language late immersion centres to develop their language skills. The council worked with former Welsh-language Children's Laureate Anni Llŷn and Anglesey-based company Animated Technologies to create a game, Aberwla, tailored to the needs of pupils aged 7 to 14 who are learning Welsh.
Pupils use a VR headset, create a character, and explore the virtual village of Aberwla. They can visit the local supermarket where they must use their Welsh language skills to complete tasks and communicate with characters in the game.
The game is currently rolled out in five Welsh language immersion centres in Gwynedd, but soon other schools and immersion centres in other local authority areas across Wales will benefit from it. The funding will also help develop more locations in Aberwla for pupils to interact with – including a garage, a farm, and a gadget shop. Each location will have different characters with their own unique backgrounds, who teach different language patterns.
Immersion learning offers pupils who don't speak Welsh the opportunity to learn the language and enter Welsh-medium education. Aberwla demonstrates the innovative ways Welsh language learning is being developed to reach a million Welsh speakers by 2050.
The Minister for Education and Welsh language, Jeremy Miles said:
"Children and young people are the future of the Welsh language, so it's great to see developments like Aberwla which put their needs and interests first.
"It is my ambition for Wales to become an international leader in using digital technology to create a modern, bilingual society. Aberwla is an exciting development that allows pupils to learn Welsh through gaming. I look forward to seeing its rollout across Wales."
Head of Cyngor Gwynedd's Welsh Immersion Education System, Rhys Meredydd Glyn said:
"When language centres were established here in Gwynedd forty years ago it was an innovative practice. Children new to the county spent one term in a language unit learning Welsh while taking an intensive immersion course. The Council's vision is equally innovative today in up-to-date immersive provision to ensure that our children and young people have rich, relevant, interesting experiences while getting to grips with the Welsh language."
Notes to editors
Case study available at Eifionydd Secondary Language Unit in Gwynedd, which is currently using the game. Reporters and camera operators are invited to attend on Monday December 5th. Interviews with the centre will also be available. Please contact alys.jones045@gov.wales to arrange.