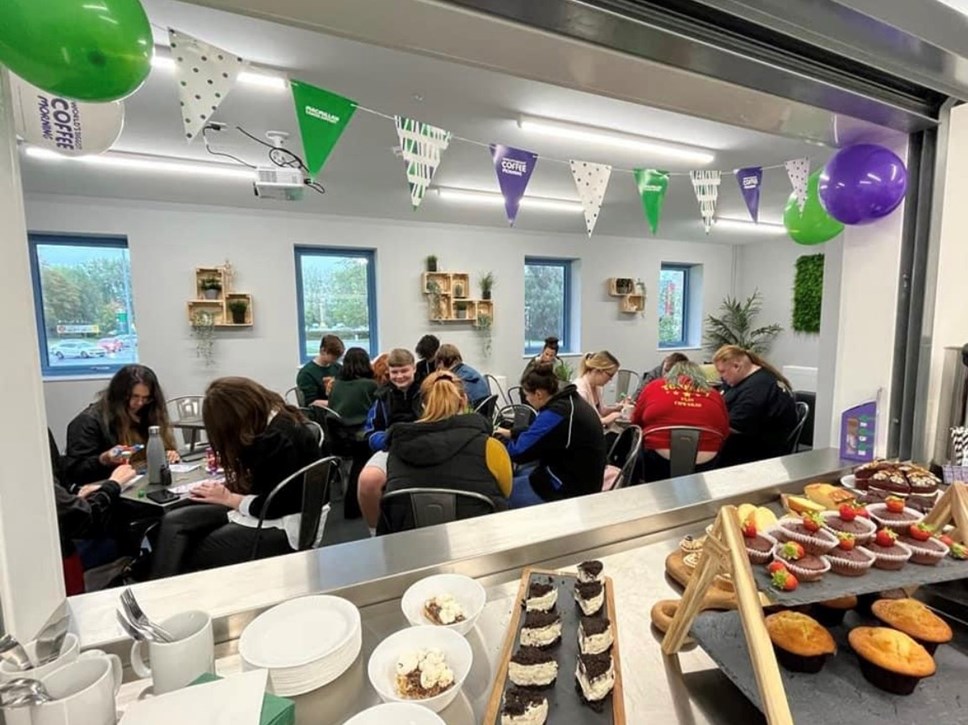 'Community centres across East Wales play a crucial role in supporting the most vulnerable members of our society'
Community centres across East Wales play a pivotal role in supporting the most vulnerable members of our society, Minister for Social Justice has declared at the opening of a community centre that benefitted from Welsh Government funding.
Funding from the Community Facilities Programme has helped community centres – as well as a range of other facilities - to make improvements, repairs and redevelopments across Wales.
Each year projects can apply for larger grants up to £300,000 to cover the cost of upgrades to their community facilities, as well as small grants up to £25,000.
In the financial year 2021/22, 71 projects across Wales were awarded grants totalling nearly £7.7m.
The CFP funds the purchase and improvement of facilities which provide opportunities for local people to improve their day to day lives.
Projects that have benefitted in East Wales include Cwmbran Centre for Young People in Torfaen being awarded £148,556 to cover the cost of creating a community café, community garden, a wellbeing/counselling room, a gymnasium and a recreational area; Groundworks Caerphilly being awarded £25,000 for the refurbishment of the building, including replacement doors and sash windows and repair to damage caused by water ingress; Pillgwenlly Millennium Trust in Newport being awarded £25,000 to update and refurbish the building to include sports hall, toilets, changing rooms, entrance and foyer, LED lighting and windows and doors; Wye Gymnastics & Galaxy Cheerleading in Monmouthshire being awarded £78,683 to create a community café including accessible toilets and ramp; and Basecamp Co-op in Chepstow being awarded £9,699 to provide a safe space for young people in the community to gather and engage in activities.
Earlier today (April 21) the Minister for Social Justice visited the official opening of Llanrumney Hall Community Trust's Roundhouse Health & Wellbeing Centre.
The Trust received a grant of £250,000 in 2012/22 to purchase and install the community centre, which they refer to as the Roundhouse, that is now benefitting a wide range of people.
The project has helped people become more physically active, tackled loneliness and increased volunteering opportunities.
The Trust works with a variety of groups benefitting the local community, including a knitting club, gardening clubs, more than 50 classes and return to fitness programmes.
Minister for Social Justice Jane Hutt said: "I am so pleased that the Community Facilities Programme has been able to help deliver Llanrumney Hall Community Trust's vision for the future and know it will make a massive difference supporting the health & wellbeing of the local community.

"We understand that spaces like this are vital to the local community, providing somewhere that clubs can meet, health and fitness programmes can run from and classes people can learn from.

"Community centres play a pivotal role in supporting the most vulnerable members of our society and we are committed to supporting them, through the likes of our Community Facilities Programme, so they can continue providing a vital service to communities across Wales."

David Nicholson, speaking about Cwmbran Centre for Young People, said: "The grant has helped us to totally revolutionise the Centre in many ways and gives us the potential to generate more income on our road to sustainability. It has enabled us to bring the Centre into the 21st century building wise and turn under utilised areas into our new community hubs.

He added: "We have seen a massive increase in usage, whether it be during our drop-in sessions during the evenings and enabled us to put in place a range of training and health and wellbeing programs and activities that wouldn't have been possible before. The money helped create our community hubs, giving us five new hubs.

"The changes have proved to be extremely popular with young people, staff and the community alike."
Notes to editors
Pic captions
Minister for Social Justice Jane Hutt, Director of of Llanrumney Hall Community Trust Steve Borley and Development Manager Mary Harris officially opening Llanrumney Hall Community Trust's Roundhouse Health & Wellbeing Centre
Llanrumney Hall Community Trust's Roundhouse Health & Wellbeing Centre
SPACE community hub hosting an event at Cwmbran Centre for Young People in Torfaen
ESCAPE wellbeing room at Cwmbran Centre for Young People in Torfaen
For information about other projects awarded Community Facilities Programme funding in Wales, see: Community Facilities Programme: grants awarded 2015 to 2026 | GOV.WALES