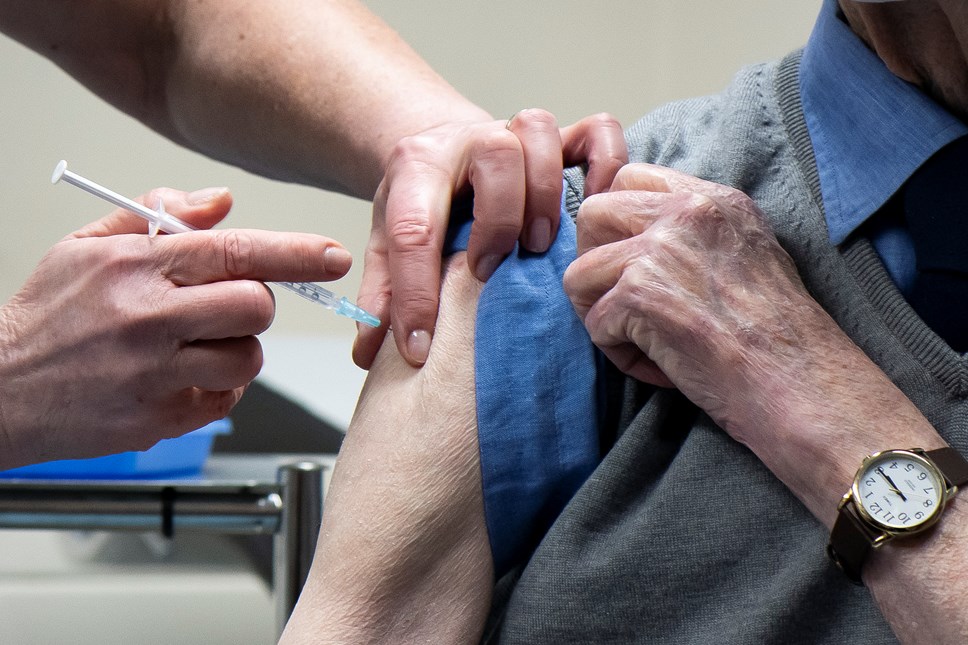 Clinically vulnerable encouraged to get their winter vaccines.
The Chief Medical Officer for Wales has called on people with clinical vulnerabilities to come forward for their winter vaccinations to protect themselves and the health service.
With just over a third of all those eligible having received their COVID-19 booster vaccination, Dr Frank Atherton said it was vital those most at risk of winter illnesses took up the offer of a COVID or flu vaccine when they are invited.
The most recent data from Public Health Wales shows that while uptake has been steady amongst those aged 65 and over, those in clinical risk groups have been slow to come forward.
Thousands of people in Wales are hospitalised with respiratory illnesses every winter. With demand on NHS Wales remaining high, vaccinations remain one of the best ways of helping reduce the pressure on the NHS this winter.
The Winter Respiratory Vaccination Programme was launched on 11 September 2023 and offers free COVID-19 and flu vaccines to people who are over 65 and younger people with clinical vulnerabilities.
Frontline health and social care workers have also been encouraged to come forward for a winter vaccine.
The Chief Medical Officer, Dr Frank Atherton said:
"Vaccination is the safest and most effective way of protecting those who are particularly susceptible to respiratory viruses or at risk of being hospitalised. This is why I want to encourage everyone who is eligible for a free COVID-19 and flu vaccine to take up the offer. Getting vaccinated is the best action everyone can take to protect themselves and help prevent our health service becoming overwhelmed this winter.

"I want to thank all those who have come forward so far, and to encourage those who haven't come forward yet, to get protected before the peak of the flu season, which often coincides with the greatest pressures on our hospitals and families getting together for the festive season."
Health and Social Services Minister Eluned Mogan said:
"I want to thank our immunisation teams in health boards and in Primary Care who are working so hard to deliver the Winter Respiratory Vaccination Programme. They have already delivered more than a million winter vaccinations in Wales this season. But if you are eligible and you haven't come forward yet, now is the time to get protected."
Dr Christopher Johnson, Consultant Epidemiologist and Head of Public Health Wales' Vaccine Preventable Disease Programme explains:
"Vaccination remains our best line of defence against serious disease. In the UK, each vaccine has gone through a rigorous safety approval process.

"Respiratory viruses thrive in the winter, with the very young, those with a health condition and the very old are particularly vulnerable. As the weather gets colder, viruses like flu are more easily spread. No-one wants to be ill over Christmas and New Year so it really is worth getting your vaccine.

"Any side effects from the vaccinations are normally mild and don't last long. The chances of becoming seriously ill with flu or COVID-19 are greatly reduced by vaccination. Vaccines are safe, effective and save lives. I would encourage those who are eligible to take up their offer as soon as they are invited."
ENDS
Notes to editors
Notes
Information on eligibility and where you can get a vaccine can be found here
WRVP 23/24Flu
59.9% of people aged 65+ have received a flu vaccine
26.6% of people aged >65 at clinical risk have received a flu vaccine
COVID-19
80% of care home residents have received a COVID-19 booster