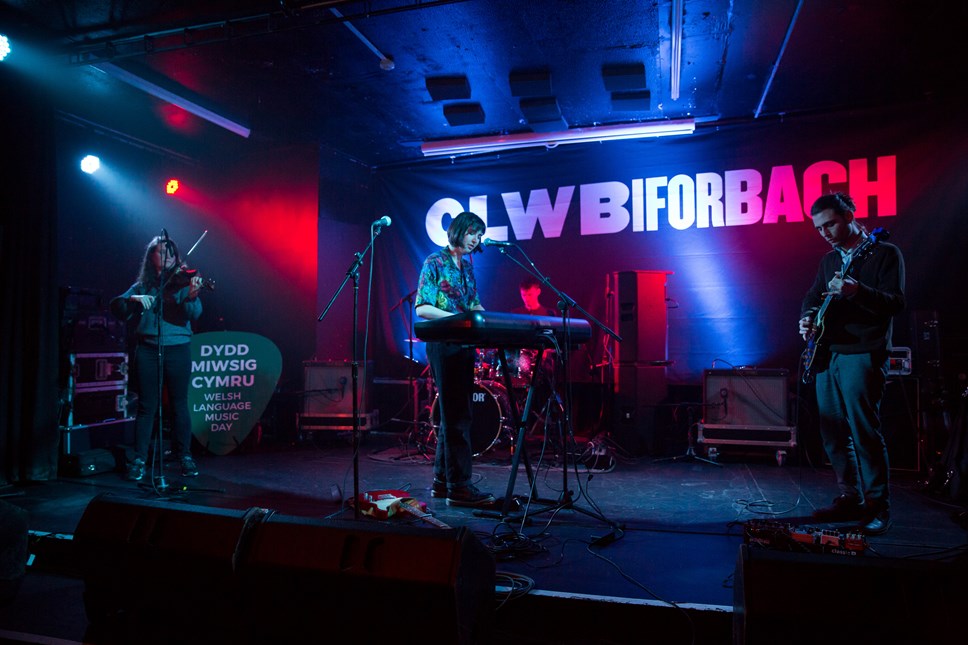 Celebrating Dydd Miwsig Cymru: £100,000 for grassroots Welsh language music
As gigs and events take place across the country on the eighth annual Welsh Language Music Day, the Welsh Government has announced extra funding so people enjoy even more Miwsig.
The day aims to bring people together to celebrate music being made in Welsh and the artists making waves at home and internationally. This year is all about music in our own communities, with big gigs happening in small venues like community-owned pubs.
The extra funding will create a grants scheme to bring people together, with the money targeting grassroots music, local promoters, and small venues. This support will help more people to bring gigs to their local communities, making sure everyone gets a chance to enjoy Welsh music and use their Cymraeg.
The grant scheme will focus on developing communities' skills and ability to hold live music events. Mentoring and skills-sharing will be a key component of the scheme. Further details on how communities can benefit from the grant scheme will be released in the coming months.
The Minister for Education and Welsh Language, Jeremy Miles, said: "Dydd Miwsig Cymru hapus! Cymraeg belongs to us all; everyone across Wales should have the chance to use it and also experience the joy of Welsh language music. This funding is important to make sure people can get together in Welsh and enjoy Welsh language music in their local area."
On Dydd Miwsig Cymru, local gigs will take place in pubs across Wales. This includes a special performance by Dafydd Iwan at the Iorwerth Arms. One of its volunteer directors, Neville Evans, said:
"Anglesey's only community pub, the Iorwerth Arms, is extremely proud to be part of Welsh Language Music Day. Dafydd Iwan and his band and a young local singer, Meryl Elin, will entertain an audience of over 200, with all tickets sold out within a day and a half. Everyone locally is looking forward to this gig!"
Lois Elis Roberts is a committee member of Tafarn y Fic, Europe's oldest co-operative community village pub, running since 1988. They will continue the celebrations on Saturday with Meinir Gwilym playing there.
She said: "It is great to welcome Meinir Gwilym to Tafarn y Fic, Llithfaen, following the Wales v Scotland rugby match. Meinir will entertain everyone free of charge as part of the Welsh Language Music Day celebrations. We look forward to extending a warm welcome to all ages to enjoy an evening with Meinir. Come and join us!"
Notes to editors
The following community gigs will take place:
| | | |
| --- | --- | --- |
| Iorwerth Arms | Bryngwran | 10/02/23 |
| Tafarn y Plu | Llanymstundwy | 10/02/23 |
| Pengwern | Llan Ffestiniog | 11/02/23 |
| Tafarn y Vale | Dyffryn Aeron | 10/02/23 |
| Tafarn Sinc | Preseli | 10/02/23 |
| Saith Seren | Wrecsam | 10/02/23 |
| Tafarn y Fic | Llithfaen | 11/02/23 |
Available for interview:
Jeremy Miles MS, Minister for Education and the Welsh Language.
BBC presenter and Dydd Miwsig Cymru ambassador Huw Stephens.
Sound of Miwsig 23 winners Dom and Lloyd and shortlisted Mali Hâf, Tara Bandito, Sachasom and Sage Todz
Minty, of Minty's Gig Guide, grassroots venues campaigner and Welsh learner