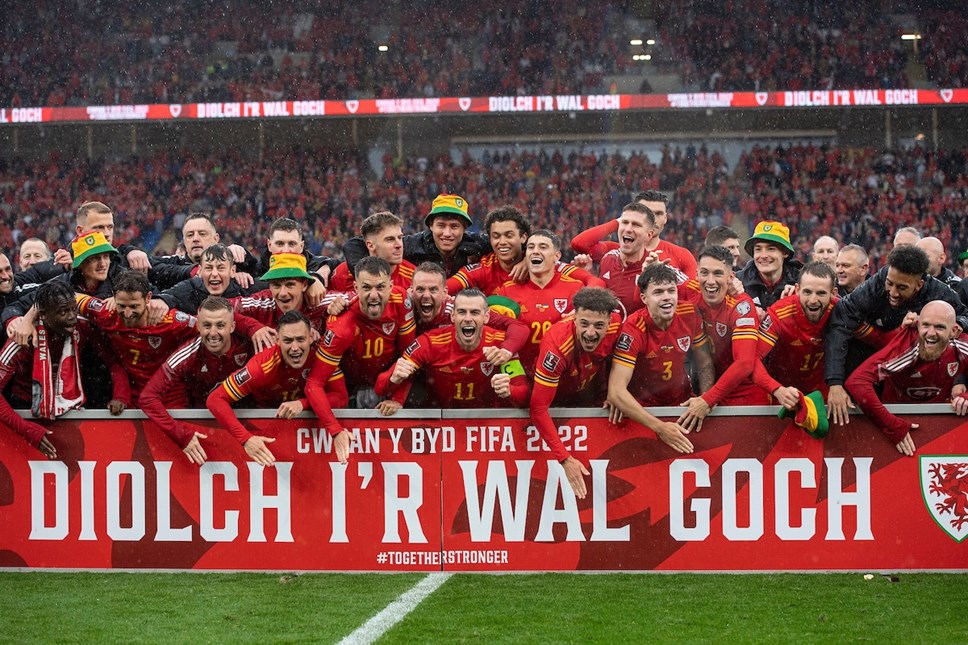 Welsh Government strategy to promote Wales to the World during 2022 FIFA World Cup hailed as success – report
The Welsh Government's Tîm Cymru approach to the 2022 FIFA World Cup in Qatar increased the visibility and profile of Wales on the international stage during and after the competition, new research published today shows.
According to the report , Welsh Government-funded activities through a Tîm Cymru approach have facilitated new partnerships, strengthened networks and enhanced economic, educational and cultural international relations.
A Partnership Support Fund worth £1.8m across 19 projects was funded by Welsh Government to support activities around the World Cup. The report highlighted over 320,000 people participated or attended over 2,200 PSF events and associated activities which reached an audience of over 5 million.
Furthermore, Welsh Government-funded PR activity led to 540 pieces of media coverage globally. This created an estimated 8 billion 'opportunities to see' this coverage.
The report found that the visibility of Wales at the World Cup had increased awareness of the country among the audiences around the world.
The Welsh Government-funded World Cup activity comprised:
The PSF which funded 19 culture, sport and education organisations to deliver activities to celebrate Wales in the World Cup.
An enhanced marketing campaign, which focused on core target international markets across the Cymru Wales brand, business and tourism as well as a strong in-Wales campaign presence. The campaign's target markets included Wales, USA, parts of Europe, UK, and in Qatar.
Lleisiau Cymru World Cup Ambassadors – a new initiative consisting of a group of four individuals who worked to raise Wales' profile internationally and to help create long-lasting positive perceptions and building strong relationships with key partners.
International events organised by the Welsh Government's overseas offices, particularly in Qatar and the USA.
It also found that this had all been achieved in the short time available between Wales' qualification in June 2022 and the start of the tournament in November.
Stakeholders reported that the Tîm Cymru approach had brought organisations together with a strategic and coordinated focus and highlighted the Welsh Government approach of combining sporting and cultural activities as being particularly effective in showcasing Wales internationally as a distinct nation.
The report found strong evidence that these activities have reached a wide audience, both domestic and internationally:
Welcoming the publication of the report, the Economy Minister, Vaughan Gething said:
"The Welsh Government established an ambitious and exciting range of activities to make the most of the unique opportunity offered by the Cymru men's football team's participation in the 2022 FIFA World Cup.

"Our objective was to promote Wales, project our values of inclusivity and diversity, ensure the safety of Welsh citizens at the tournament, and secure a positive and lasting legacy. The report published today demonstrates that we've exceeded our goals and are well on our way to achieving a lasting legacy.

"Our £1.8m Partner Support Fund has propelled Welsh talent across the world, facilitated new partnerships and strengthened networks in business, science and the arts.

"Thanks to our Tîm Cymru approach, bringing together a wide range of partners, the Welsh Government has built an effective and replicable model to support future strategies such as the potential joint hosting of the UEFA European Football Championship in 2028."
Lleisiau Cymru's Laura McAllister said:
"The World Cup offered an unprecedented opportunity for us to raise the profile of Cymru whilst also staying firm to and promoting our values of diversity, inclusivity and respect for human rights. I'm delighted at the success of our presence at the World Cup and we will build on its legacy and ensure we maximise this unique opportunity for Wales, for football and beyond."
The full Evaluation of Welsh Government-funded World Cup Activities report can be found here.
ENDS
Notes to editors
Further findings include:
The enhanced marketing campaign activities delivered by Welsh Government under the Cymru Wales brand have generated over 150 million opportunities to see content relating to Wales (49% above the target set).
48 million views of videos relating to the Cymru Wales brand was also observed (50% above the target set).
Traffic to the wales.com website increased by 600 per cent during November and December 2022.
Mentions of Wales online were 40 per cent higher globally in the second half of 2022 compared to the first half of the year.
Stakeholders described other emerging economic outcomes including ongoing discussions with potential overseas investors about creating new jobs in Wales; these organisations had been engaged during the Welsh Government-funded World Cup events in the USA.
Some stakeholders provided examples of specific artists and musicians who had capitalised on their participation in PSF activities and been successful in gaining new work or commissions as a result.