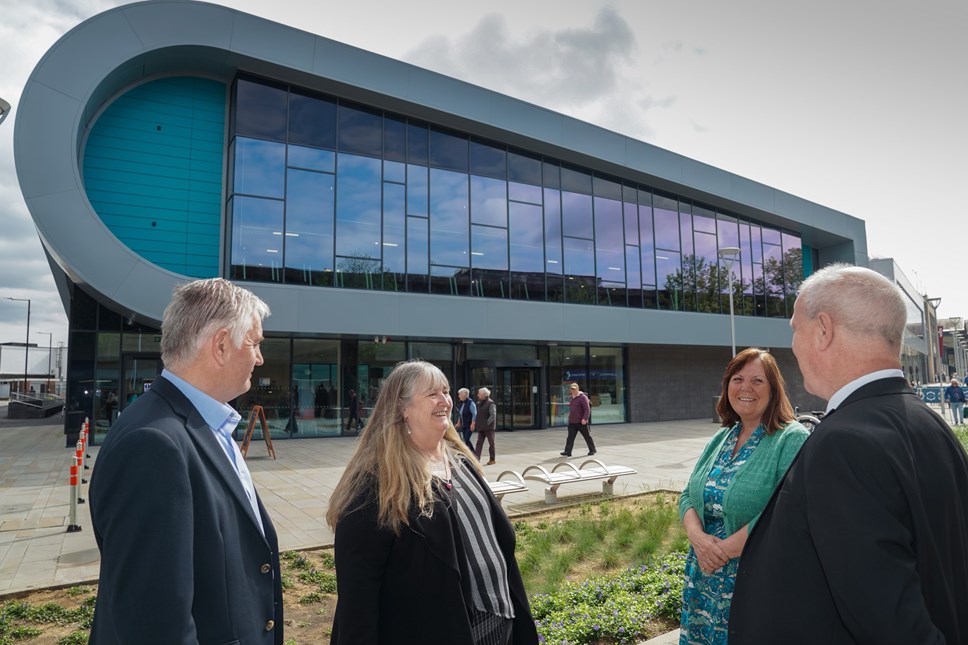 Welsh Government shines light on next steps for transforming town centres
Julie James, Minister for Climate Change in the Welsh Government, has visited Neath to see how regeneration can help support town centres to thrive.
It comes as the Welsh Government publishes a Town Centres Position Statement, setting out the key challenges facing town centres across Wales and a series of actions aimed at addressing them.
The Minister visited the new leisure centre in Neath which opened earlier this year. The site includes a library and retail space as well as a swimming pool, gym and health suite. The development is an example of the 'Town Centre First' policy in action, with library and leisure facilities moving from the periphery of town to a more central position, helping attract people to the town centre.
The cost of the project was around £16m, with a £6.5m contribution from the Welsh Government's Transforming Towns regeneration programme.
The leisure centre is in close proximity to a housing development at Lon Shufflebotham and refurbished office accommodation at Wind Street, which have also both been supported by the Welsh Government. Taken together, these projects are bringing new homes, businesses and services into the town to increase vibrancy and footfall, helping drive the reinvention of town centres.
Julie James, Minister for Climate Change, said:

"We want towns across Wales to be the beating heart of Welsh communities, where people can access services, shops, communal and cultural space.

"Regenerating our town centres is complex and will only happen if we have a joint understanding of the issues they face. These include the increase in out-of-town development reliant on private car transport, the growth in online shopping, and the withdrawal of essential services.

"Our Transforming Towns programme is designed to help reverse this decline, with £100m over the next three years to reinvent towns across Wales. Today's statement will contribute to these efforts and we will continue to work with local authorities and town centre stakeholders to regenerate and transform towns across Wales."
The position statement follows discussion between government and key town centre stakeholders, as well as the publication of the Foundational Economy Research 'Small Towns, Big Issues' report and the Audit Wales 'Regenerating Town Centres in Wales' report
Professor Karel Williams - Manchester Business School and author of the Small Towns, Big Issues report – commented:

"Our initial report outlined the issues facing town centres in Wales and set down the challenge for meaningful action to be taken. The Welsh Government's Town Centres Position Statement takes this on board and shows what can be achieved through collaborative working and thinking. On the basis of a shared understanding of the issues, the Statement proposes a coherent set of actions which will drive change. I look forward to seeing things turn around for towns across Wales as these actions begin to produce transformative change."
The actions outlined in the position statement cover a range of areas including public service locations, transport and car use, public sector investment, planning policy, town centre living and green infrastructure. It stresses that the collaborative approach to developing the position statement will need to be continued when taking forward its actions.
Councillor Rob Stewart, WLGA's Deputy Leader and Economy Spokesperson said:

"I welcome this statement. Over recent years, town centres have suffered from reduced footfall, impacting on businesses and resulting in closures and empty spaces. However, town centres remain important to our sense of place and identity. They can act as a focal point for sustainable transport networks. Our challenge is to support activities that revitalise these centres, by attracting a variety of leisure, cultural, and other community activities and help sustain retail outlets.

"The statement calls for all parts of Welsh Government to look at ways they can contribute to this effort and the same applies to local government. Many council services can contribute to the quality of residents' experiences in town centres. Opportunities to locate council offices, government functions, and other public sector activities in town centres can also help increase footfall and generate demand for businesses. All councils are working hard to regenerate their town centres and will, I am sure, will be supportive and rise to the challenge".

Jen Heal, Design Advisor, Design Commission for Wales said, "The Design Commission recognises the important role that town centres play as places of social interaction, business, culture, community and wellbeing.

"The priority and focus given to town centres through the actions set out in this statement demonstrate continued commitment and highlights how the success of town centres is integral and common to a range of policy areas. We support this joined up, placemaking approach to the planning and design of town centres and welcome the opportunity for further involvement with both the public and private sector in its delivery."