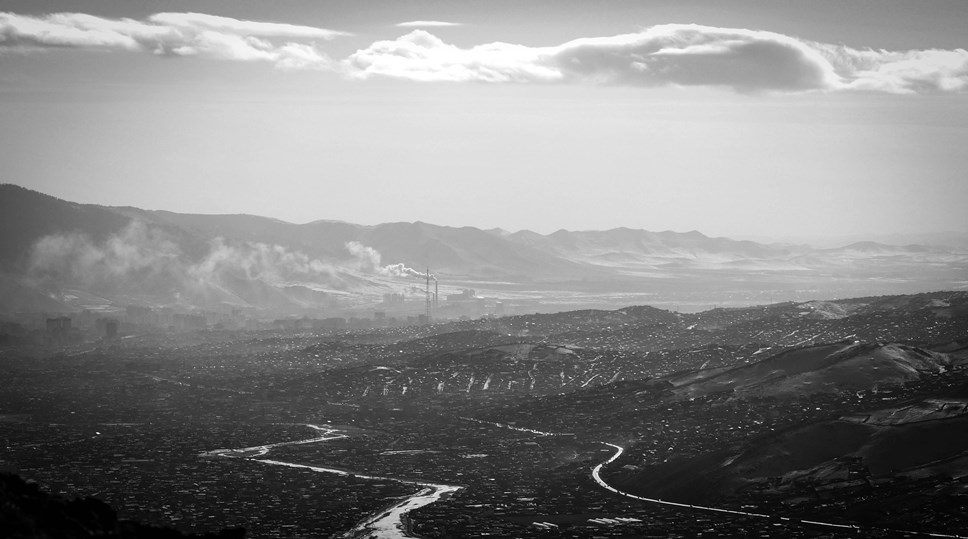 Welsh Government launches Clean Air White Paper and report on impact of lockdown on air quality
The Welsh Government has today published a White Paper setting out its bold plans for a Clean Air (Wales) Bill, which will protect the health of the nation and defend our ecosystems from pollutants in our atmosphere, in law.
It is currently estimated poor air quality contributes to a reduced life expectancy and death, tallying an equivalent of between 1,000 and 1,400 deaths in Wales each year. The World Health Organisation (WHO) states air pollution as the single largest environmental health risk, globally.
A report on the pandemic's impact on air quality from March – October 2020, which investigates the science of anecdotal claims that lockdown led to cleaner air enjoyed in towns and cities throughout Wales, was also published today. A Consultation on Reducing Emissions from Domestic Burning of Solid Fuels has also been launched.
The report paints a complicated picture: the first two months of lockdown saw significant decreases in some pollutant levels, consistent with reduced traffic. However, other pollutant levels increased.
While less cars on the road meant a decrease of 36% and 49% in nitrogen dioxide and nitrogen oxides concentrations, respectively, at Wales' roadsides between March and May, a change of weather pattern brought polluting fine particulate matter (PM2.5) from continental Europe. Continued analysis of the longer term changes in air pollution due to lockdown measures will continue as data emerges.
In Wales, poor air quality has an especially pronounced impact on the health of the most vulnerable – such as the very young or very old, or people with cardiovascular diseases and respiratory conditions like asthma and Chronic Obstructive Pulmonary Disease (COPD).
What's more, air pollution is having a profound negative impact on our natural world, with more nitrogen and pollutants in the atmosphere being a leading factor in the threat of extinction of Wales' plants and animals.
Lesley Griffiths, the Minister for Environment, Energy and Rural Affairs, said:
"Breathing clean air and having access to a healthy environment is a right, not a privilege. We must take decisive and lasting action now to enable our future generations to lead healthy lives.
"Welsh Government's number one priority remains keeping our communities safe and supporting families and businesses through the COVID-19 pandemic.
"But just like COVID, air pollution disproportionately impacts the most disadvantaged and vulnerable in our society. We know from the report published today that the situation is not straight forward. I welcome views from the public, academics, charities and businesses alike, to help us paint a clear picture of how we will improve our air quality and collaboratively build our path to a greener and healthier Wales."
Dr Sarah Jones, Consultant in Public Health at Public Health Wales said:
"We welcome the publication of the Clean Air White Paper. It makes a strong connection between health and air quality, and recognises that it is often the most disadvantaged communities that live with higher levels of pollution. The White Paper strengthens and supports our work to protect and improve the health of the people of Wales."
The White Paper is the next stage in the process of creating a Clean Air (Wales) Act – a key commitment of First Minister Mark Drakeford. Consultation on the White Paper begins today, and will run until 7 April.
The Welsh Government is also consulting on approaches to reduce emissions from domestic burning of solid fuels, and is proposing similar restrictions to those passed by UK Government for England. The restrictions consider the types of fuel used in the home, and would ban the sale of house coal and restrict the sales of wet wood. These are two of the most polluting forms of solid fuel used in households in Wales.
A spokesperson for the Welsh Government said:
"This is not an attempt to ban the use of wood as a fuel, or to ban the use of wood burning stoves. We do, however, aim to inform the public of the hazards posed from fine particulate matter and other air pollution released from burning in any form, and the harm that it does to the health and wellbeing of the people of Wales."
Notes to editors
Download The White Paper on the Clean Air (Wales) Bill (Download Welsh version)
Download The Clean Air Advisory Panel report on the 'Impacts of the COVID-19 pandemic on air quality in Wales: March to October 2020' (Download Welsh version)
Download Reducing Emissions from Domestic Burning of Solid Fuels Consultation (Download welsh version)
The White Paper sets out how the Welsh Government will:-
Set air quality targets, including for particulate matter, which accounts for the latest scientific evidence and international standards, including WHO guidelines.
Subject targets to regular review with scrutiny from independent experts to ensure they meet the highest possible standards and achieve the greatest benefit for the wellbeing of the people of Wales.
Set a requirement for a Clean Air Plan or Strategy to be reviewed in full at least every 5 years.
Make Local Air Quality Management regulation more effective. This includes requiring projected compliance dates for Air Quality Management Areas and giving powers to Local Authorities to bring together partnerships with other organisations to develop and implement solutions collaboratively.
Better enable the implementation of Clean Air Zones and Low Emission Zones where they are needed.
Give Local Authorities more powers to tackle idling vehicles, including outside schools and healthcare settings, and increase the penalties they can apply.
Enable Local Authorities to better manage and enforce unlawful burning of unauthorised fuels through strengthened smoke control powers.
Place a duty on public and private organisations across sectors to help the public understand the risks of air pollution, including through increased provision of monitoring, to encourage positive behaviour change to reduce air pollution at source.
Support greater use of nature based approaches where they have a proven ability to contribute to air quality improvement.
The domestic burning consultation requests views on:
A prohibition on the sale of bituminous or traditional house coal.
A restriction on volume of sales of wet wood.
Improved regulation of manufactured solid fuels to ensure Particulate Matter concentrations are factored into testing and approval.
Ensuing only the most efficient and least polluting appliances are available to buy and install.
Introducing a requirement to ensure appliances and fireplaces are adequately maintained.
Extension of the use of Smoke Control Areas.
Mechanisms to protect households from fuel poverty arising from any restriction on fuels available.
The White Paper follows the commitments outlined in the Clean Air Plan for Wales: Healthy Air, Healthy Wales, which underwent consultation in December 2019, and was published in August last year.
The Plan explores Wales' 10-year pathway towards improved air quality, through a number of methods.
One of its key commitments was to develop a Clean Air Act for Wales, giving a new, fit-for-purpose basis to legislate on, monitor and regulate air quality.
The Clean Air Plan for Wales: Healthy Air, Healthy Wales is available to view at https://gov.wales/sites/default/files/publications/2020-08/clean-air-plan-for-wales-healthy-air-healthy-wales.pdf