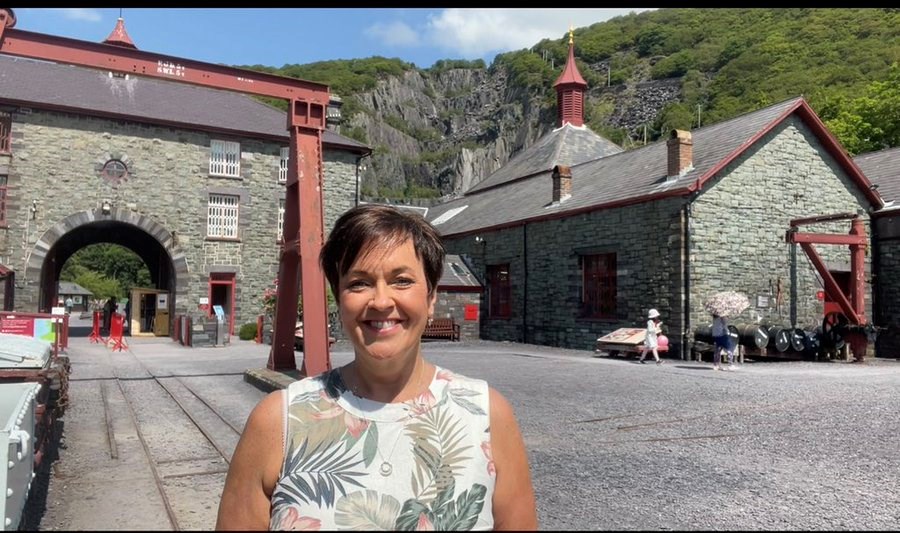 Deputy Minister thanks team effort ahead of UNESCO decision
As the UNESCO World Heritage Committee convenes in in Fuzhou, China and virtually on-line for the first time in its history, the decision on whether the bid for the slate landscape of north-west Wales will be awarded World Heritage Site Status will be made this week.
If accepted, the landscape will earn its place as the fourth UNESCO World Heritage Site in Wales.
Deputy Minister for Arts and Sport, Dawn Bowden recently visited the National Slate Museum, and said: "We now eagerly await the decision on whether the slate landscape of north west Wales will gain World Heritage Site Status. Working on - and submitting the bid has been a real team effort - and I'd like to thank everyone who has been involved.
"Being here in Llanberis gives a real sense of pride in how the slate industry has shaped the communities, landscapes and heritage of area. Gaining World Heritage Site Status would be an excellent celebration of the pride in our slate communities - and a driver for future regeneration. We have our fingers crossed!"
The application includes the communities of Dyffryn Ogwen; Dinorwig; Dyffryn Nantlle; Cwmystradllyn and Cwm Pennant; Ffestiniog and Porthmadog; Abergynolwyn and Tywyn. The bid - led by Gwynedd Council - is a partnership between a number of organisations including Snowdonia National Park, the National Trust, Bangor University, the Welsh Government, Cadw, Royal Commission on the Ancient and Historical Monuments of Wales and the National Museum.
Councillor Gareth Thomas, Gwynedd Council's Cabinet Member for the Economy and Community, said: "The nomination of the Slate Landscape of Northwest Wales for World Heritage status is about recognising and celebrating what has been achieved here in our slate valleys on a global level.
"We are delighted that all the hard work involved in the application has reached this exciting stage of the process and we're looking forward to the final decision this week.
"As part of the bid, our aim is to regenerate our communities and to help provide a better understanding of the significance of the Welsh slate industry and its role not only in shaping our communities, language and culture but also in roofing the world and exporting technologies and people all over the world. It is an integral part of our history and heritage that deserves international recognition."
Alongside the nomination process, Gwynedd Council has secured funding through the Heritage Lottery Fund Great Place Scheme, Arloesi Gwynedd Wledig and the Snowdonia Partnership to work across the county's quarrying communities to empower, reconnect and revitalise those communities – through the LleCHI (Your Place) project. This work includes projects focusing on interpretation, art, events, exhibitions and the creation of Young Ambassadors and Ambassadors in communities and businesses.