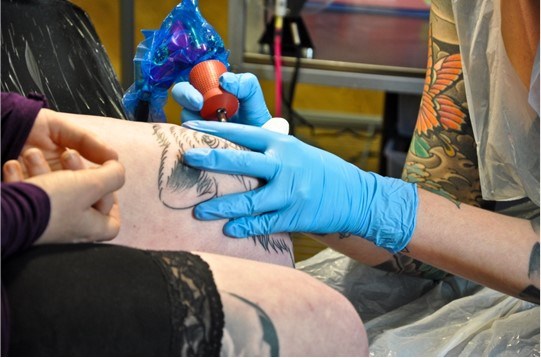 Wales to introduce UK-first mandatory national licensing scheme for special procedures such as tattoos
Wales is set to become the first UK nation to introduce a mandatory national licensing scheme for tattoo artists and those working in body piercing, semi-permanent make-up, acupuncture and electrolysis, Chief Medical Officer Frank Atherton has announced.
The scheme aims to reduce infections, eliminate poor working practices and will create a central public register for licensed practitioners and approved business premises.
It is the final phase of changes introduced under the Public Health (Wales) Act 2017 to improve standards of infection prevention and control in the industry.
There are an estimated 3,516 practitioners operating in Wales who will need to be licensed, and 1,868 premises that will require approval under the new mandatory licensing scheme. The pass rate for those practitioners who have so far voluntarily already undertaken the Level 2 Award in Infection Prevention and Control is 95%.
A 12-week consultation has been launched to seek the views of all stakeholders, including practitioners, local authorities and the public.
Chief Medical Officer Frank Atherton said:

"Good standards of hygiene and infection control by all special procedures practitioners and businesses is essential as these procedures are capable of causing harm if not carried out properly.

"This new compulsory licensing scheme will ensure that both clients and practitioners are adequately protected at all times. I am very pleased that these impending changes have been widely welcomed by practitioners in Wales, with many already volunteering to meet the new standards.

"We are keen to receive responses to the consultation from all stakeholders, but particularly from self-employed practitioners and those working as small businesses."

Tattooist Ash Davies, of Stronghold Tattoo, in Charles Street, Cardiff, has been part of the Welsh Government's practitioner engagement group since 2018, and has passed the Level 2 Award.

He said: "It is fantastic that Wales will be the first UK nation to introduce a national licensing scheme for our sector.

"We fully recognise and welcome the work Welsh Government has put in to develop this mandatory scheme to regulate industry practices, and its development of a bespoke regulated infection prevention and control qualification. This will raise standards and should be embraced."

Ffion Hughes, a permanent make up and paramedical tattooist based at Little Wren Beauty & Aesthetics, in Pool Street, Caernarfon, participated in the engagement conferences on the new scheme in 2019.

She said: "This mandatory scheme will provide a level playing field for reputable businesses in the industry.

"The Welsh Government has continued to engage with us throughout the development of this legislation and it is great to see our feedback has been considered and used to inform the consultation."
Notes to editors
Special procedures are procedures which are non-surgical, aesthetic, or therapeutic in nature. These procedures involve the perforation of an individual's tissue, skin, or mucous membrane, and the insertion of needles, jewellery, objects or permanent/semi-permanent ink or pigments into the tissue, skin or mucous membrane.
The Public Health (Wales) Act 2017 defines 'special procedures' as: acupuncture (including dry needling); body piercing; electrolysis, and tattooing (including semi-permanent make-up).
How to participate in the consultation:
Responses to this consultation can be submitted using the enclosed the applicable questionnaire which can be downloaded here: https://www.gov.wales/mandatory-licensing-special-procedures-wales
The questionnaire may also be completed online here: https://www.gov.wales/mandatory-licensing-special-procedures-wales
Responses by email to: SpecialProceduresMailbox@gov.wales
Responses by post to: Licensing of Special Procedures Consultation, Public Health Protection Priorities Division, Welsh Government, 4th Floor East, Cathays Park, Cardiff, CF10 3NQ
Individuals interested in attending a consultation workshops intended to support responses to this consultation can e-mail: SpecialProceduresMailbox@gov.wales