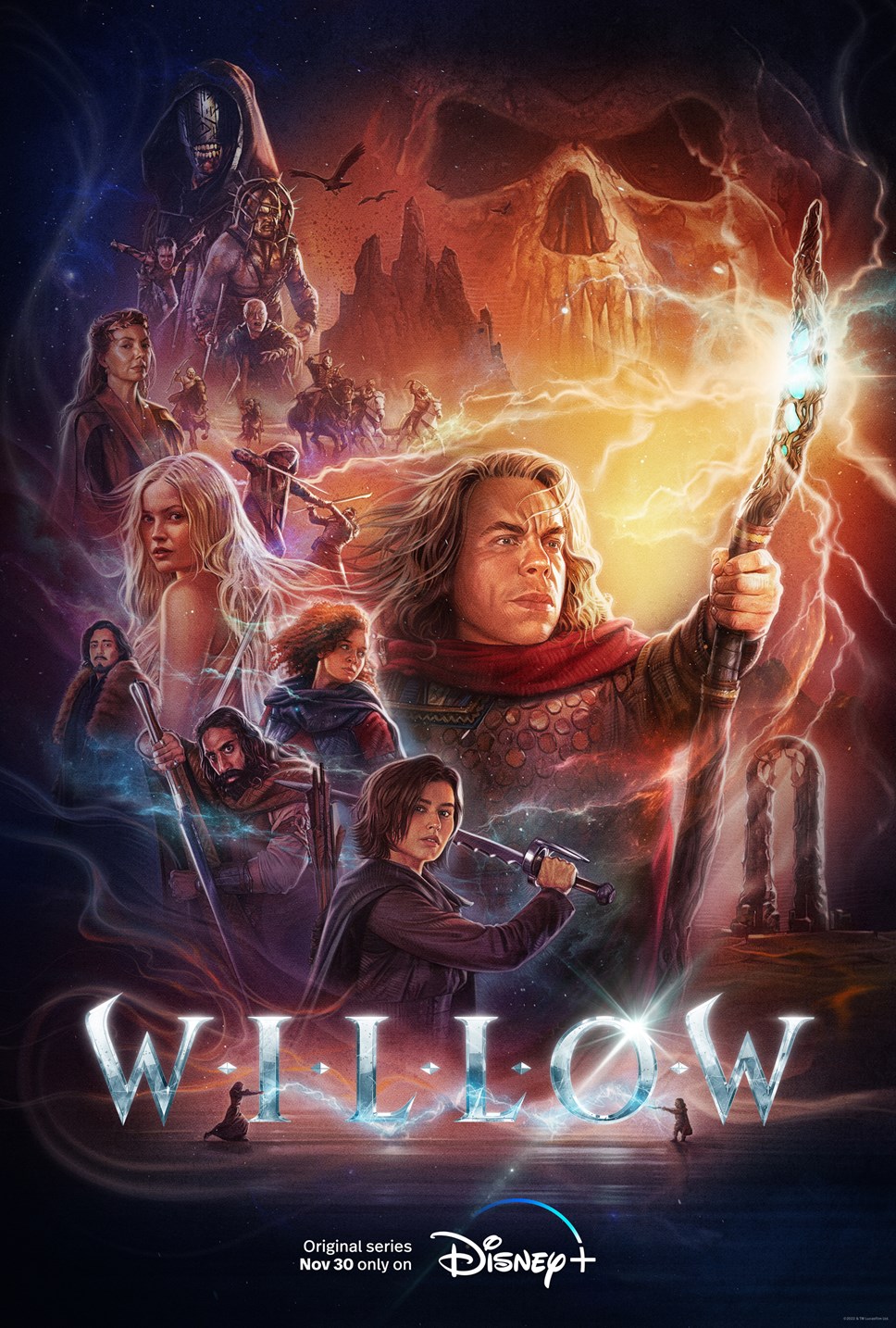 Wales star of the screen this Winter as Welsh creative economy booms
LucasFilm's much anticipated sequel to Willow prepares to hit screens on November 30th making it one in a string of productions to be filmed in Wales with support from Creative Wales.
With blockbuster productions from the world's biggest studios making Wales their home, Creative Wales has reported that spending from brands such as Lucasfilm, Netflix and Bad Wolf has attracted over 22 projects generating over £155.6m into the local economy since Creative Wales' was established in 2020.
Originally filmed in Wales in over 30 years ago, the new series is set to shine a light on some of country's most magical hidden spots - including picturesque Welsh villages, medieval ruins and one of the world's longest stretches of beach.
Lynwen Brennan, the Executive Vice President of Lucasfilm, recently said of filming Willow in Wales: "The industry is really booming right now, and Wales has this amazing combination of assets. We've got these great stage facilities, beautiful landscapes, and this great talent in Wales, which of course – me being Welsh – I was thrilled to see."
Wales is being tipped to compete on the world stage by international production and film houses due to its vast choice of filming locations, a combined 822,705 sq feet of shooting space split across the country's seven studios, and a skilled workforce.
Skills and training is a key priority for Creative Wales and investments in training and upskilling programmes have been implemented throughout the sector. On the production of Willow, Creative Wales enabled 25 trainees to take paid placements in crucial roles on set, providing additional funding to improve set accessibility and mental wellbeing support.
Lynwen Brennan, said: "With Creative Wales we [Lucasfilm] have the same goals. We want to grow the industry here; we want to grow skillset. There are many, many options in the film industry whatever your skillset is. Whatever you're interested in there's probably a place for you in the film industry. Keep knocking on that door, because it is available to you and it's available to you right here in Wales."
With shooting for big-budget films like Havoc which recently wrapped and Wales made series like Willow, His Dark Materials 3 and the fourth season of Sex Education poised to hit screens, the local creative economy is growing proportionally year-on-year. In the last two years alone, Wales Screen, Creative Wales' location service, has received over 900 production enquiries from film and TV crews wanting to take advantage of the country's world-class facilities.
In 2021 alone, the Welsh screen sector saw a turnover of £575 million, a 36% increase from the year before. The 2021 British Film Institute's Screen Report showed that investment in filmmaking from organisations like Creative Wales has resulted in a nine-fold increase in the country's economic output.
Deputy Minister for Arts and Sport, Dawn Bowden, said: "This eagerly awaited series offers another excellent opportunity to showcase Wales on a global level. I'm delighted we've been able to support LucasFilm to bring the production back to Wales. We can't wait for the world to see Wales on screen – and this has been such a fantastic opportunity for the trainees who have gained invaluable experience on a large-scale production."
Notes to editors
The following locations feature in Willow.
Pendine Sands / Traeth Pentywyn
This expansive, 7-mile beach was once used to test the world land speed record. The first driver to make an attempt there was Malcolm Campbell. In September 1924, he set a world land speed record of 146.16 mph; in June 2000, his grandson and nephew set the UK electric land speed record at Pendine Sands, reaching 137 mph. Speaking of Pendine, Amar Chadha-Patel, who plays Thraxus Boorman in the new series, said: "Pendine truly is the most remarkable location – just the biggest beach I've ever seen in my life. An endless sand bank. The locations we've been to have been stunning."
Llanddeusant
Set in the least developed area of the Brecon Beacons, Llanddeusant is a picturesque village in Carmarthenshire. Steeped in a rich history, the village's name, meaning "church of two saints", supposedly originates from the fact that Teilo and Saint David are believed to have met there. The village lies below the prominent and stunning Black Mountains and the 25 acre lake, Llyn y Fan Fach, a popular nesting site for a magnificent population of red kites. After shooting there, actress Ruby Cruz, who plays Kit, commented: "It's the most beautiful place. Wales is such a storybook country."
Neath Abbey / Abaty Nedd
Breath-taking medieval ruins now mark the spot of what was once the largest abbey in Wales. The abbey was established in 1129 AD, when Richard I de Grenville gave 8,000 acres of his estate in Glamorgan to Savigniac monks. The Afan Valley to the west is popular with cyclists and mountain bike enthusiasts across Britain as it offers some of most impressive mountain bike trails in the country.
Merthyr Mawr
Merthyr Mawr is an early 19th-century mansion built by Sir John Nicholl, set in an extensive park and grounds. Within the park is the Iron Age hillfort known as Chapel Hill Camp, and within the embankments is the now roofless 15th century chapel. Set on the South Wales coast, the nearby Merthyr Mawr Warren National Nature Reserve is home to the highest dune in Wales, known as the Big Dipper.
Taf Fechan Forest (Owl's Grove)
This peaceful forest walk leads ramblers alongside the river, before plunging them into the quiet woodland where only the sound of their own crunching steps can be heard. The short, circular walk leads to the gorgeous Blaen y Glyn waterfall, a perfect mid-morning lunch spot for visitors.
Penwyllt
This former quarrying village is located in the upper Swansea Valley which once produced quicklime and silica brick. Beneath Penwyllt and the surrounding area is the extensive limestone cave system. The caves can't be accessed by tourists, however the Dan-yr-Ogof National Showcaves Centre is just across the valley, offering three cave walks for families to explore.
Margam Country Park / Parc Gwledig Margam
Margam offers visitors surprises around every corner in its 1000 acres of glorious parkland, from the magnificent 18th Century Orangery that is the longest Orangery in Britain, an impressive and picturesque Tudor-Gothic style Victorian Mansion House, a 12th Century Chapter House, ornamental gardens and the best deer herd in Wales.
Morlais Quarry / Chwarel Morlais
The Quarry is actually a series of four limestone quarries situated on the west and north slopes of Morlais Hill. Each of the quarries offers its own atmosphere and secluded gathering points for large groups.
Bridgend / Pen-y-bont ar Ogwr
A market town since the 16th century, Bridgend has a lively mix of independent shops, cafés and high street names. Tourists are encouraged to explore St John's House – the oldest habitable building in the town – which offers great views of the town.