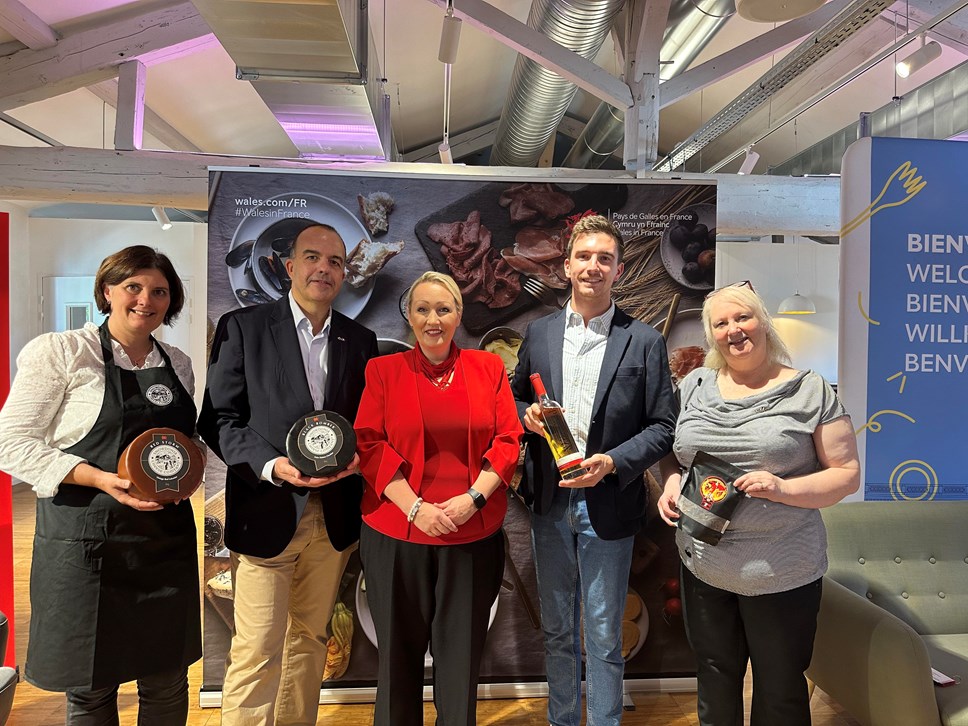 Wales celebrates 'destination numéro un' for food and drink exports with French culinary showcase
The Welsh Government has heralded France as 'destination numéro un' for Welsh food and drink exports at a gastronomic celebration in Lyon.
An industry valued at a delectable £150million to Wales's economy, the Welsh Government has joined forces with Hybu Cig Cymru, Food Innovation Wales and Welsh food and drink companies to host a delicious showcase event as part of their presence in France during the Rugby World Cup and the Welsh Government's 'Wales in France' initiative.
Wales in France is a year-long celebration of cultural, business and sporting events designed to strengthen existing links and forge new connections between the two countries. 
Today's event [Monday 25 September], which took place at the prestigious Cite Internationale de la Gastronomie in Lyon, brought together the best of Welsh cuisine, culinary and cultural talents, including producers such as Penderyn Distillery, Snowdonia Cheese Company and Cwm Farm Charcuterie.
Lyon is one of Welsh Government's focal cities during the Rugby World Cup thanks to the region's global gastro centre and status as France's second city. The area is also known for its similar values to Wales with an emphasis on inclusion, diversity and sustainability.
France is not only the number one destination for Wales' food and drink exports, but it is also Wales' second largest inward investor and fourth largest export destination for all goods. There are around 81 French-owned businesses in Wales employing over 10,000 people.
The Minister for Finance, Rebecca Evans presided over the event, which featured:
Gastronomic delights: a host of stalls showcased a wide range of Welsh food products which have found their way onto French dining tables. From cheeses to meats, attendees had the opportunity to sample and learn about these exceptional offerings
Culinary showcases: a live cooking demonstration, led by talented Welsh chef Elwen Roberts
Cultural arts: captivating performances by the renowned Urdd choir Cor Hafodwenog, and contemporary dance group Qwerin - both showing the rich diversity of Welsh culture.
Finance Minister Rebecca Evans said:
"This showcase is not just a celebration of our thriving food and drink industry but also a testament to the strong ties between Wales and France. It's a moment to savour the flavours of Wales and to build lasting connections that will further enhance our exports."
The Welsh Government will have a presence at a variety of cultural activities in France across the duration of the Rugby World Cup, as the world's third largest sporting event takes place in the country until the end of October.
Notes to editors
Notes
Other Welsh Government and partner events happening in Lyon include:
A cultural showcase in the rugby village from contemporary dance performers Qwerin and the Urdd National Eisteddfod 2023 finalists Carmarthenshire-based youth choir Hafodwennog. The 35-person strong choir will showcase both traditional Welsh songs and folk dance and introduce the Welsh language and culture to locals
Welsh performance and delegation at a prestigious international dance festival the Lyon Biennale
Youth engagement by the Urdd Gobaith Cymru at a local school
Food and Drink Wales
For further information on the Food and Drink Annual Export Bulletin please visit: Welsh Food and Drink Wales Bulletin 2022 (gov.wales)
For further information about Food and Drink Wales please visit: www.gov.wales/foodanddrinkwales
A 'Vision for the Food and Drink Industry' was launched in 2021 to build on the sector's success in Wales with the key aim of helping ensure a flourishing food and drink industry with a global reputation for excellence.
Food and drink exports to France were worth £150m in 2022, accounting for 19% of total food and drink exports. Exports increased by £50.5m from 2021, and £77m from 2016. These two figures are both the largest in the EU for their respective time periods.

Twitter: @FoodDrinkWales Facebook: FoodDrinkWales Instagram: Food_Drink_Wales LinkedIn page: Bwyd a Diod Cymru | Food and Drink Wales: Overview | LinkedIn
Food Innovation Wales – https://foodinnovation.wales
Based at three food centres across Wales, Food Innovation Wales provide technical and commercial support to help new and established food and drink companies grow, innovate, compete and reach new markets.