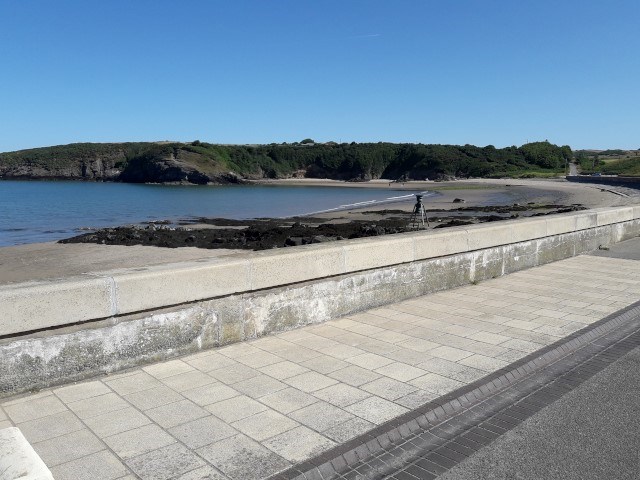 Wales' bathing waters deliver 100% compliance record for fourth year running
Beaches across Wales have achieved 100% compliance with high quality bathing water standards for the fourth consecutive year.
Of the 105 bathing waters sampled by Natural Resources Wales (NRW), 85 achieved the highest classification of excellent, 14 good and six sufficient ensuring that Wales' coastlines continue to meet some of the most stringent water quality standards in Europe.
A classification of excellent water quality is one of the main requirements for applying for a Blue Flag award for 2021.
As part of its Programme for Government the Welsh Government will be looking to replicate this level of success when it starts to designate more inland waters, for example lakes and rivers, as bathing waters in Wales.
Minister for Climate Change, Julie James said:
"I am delighted that for the fourth consecutive year Wales, which is internationally known for its stunning coastlines, continues to have some of the best bathing waters in Europe.
"I am extremely grateful to all those who have helped us achieve this continued success, in particular Natural Resources Wales, who, despite the difficulties posed by the pandemic have continued to deliver their testing programme to help maintain the highest of standards in our waters."
Vaughan Gething, Minister for Economy said:
"We know that many people decided to stay in Wales for their holidays this year – and as a result discovered what our amazing coastline has to offer. These results are an excellent sign of confidence in the quality of our bathing water, and in the team effort made by communities, regulators and other partners to safeguard our natural assets."
One of the biggest success stories coming out of this year's results is Cemaes Bay in the Isle of Anglesey. In 2017, water quality at Cemaes was classified as 'poor'. However, following a significant joint effort between the Council, Natural Resources Wales and the local community to improve bathing water quality, Cemaes Bay has seen year-on-year improvements and this year has reached the highest bathing water quality standard of 'excellent'.
Derek Owen, Chair of Llanbadrig Community Council, has been heavily involved in the work to improve bathing quality at Cemaes. He said:
"This improvement in bathing water quality is excellent news for the local economy as well as the obvious public health benefits of having a high quality environment.
"Coastal communities like ours rely heavily on tourism, and people come here to enjoy clean beaches and good bathing water. So, this year's rating of excellent will be very much welcomed by local businesses and people who live in Cemaes and the surrounding area."
Notes to editors
There are 105 designated bathing waters in Wales. In 2021 each one was tested at least 8 times; immediately before and throughout the season from 15 May to 30 September. The results are used to assess compliance with the Bathing Water Directive's standards. As 2015 was the first year that the stricter standards set in the revised directive were applied in Wales, our designated bathing waters must now achieve even tougher water quality targets.
The full list of bathing waters and the standards they reached can be found on the Welsh Government website (from 00:01hrs Saturday 20 November) .