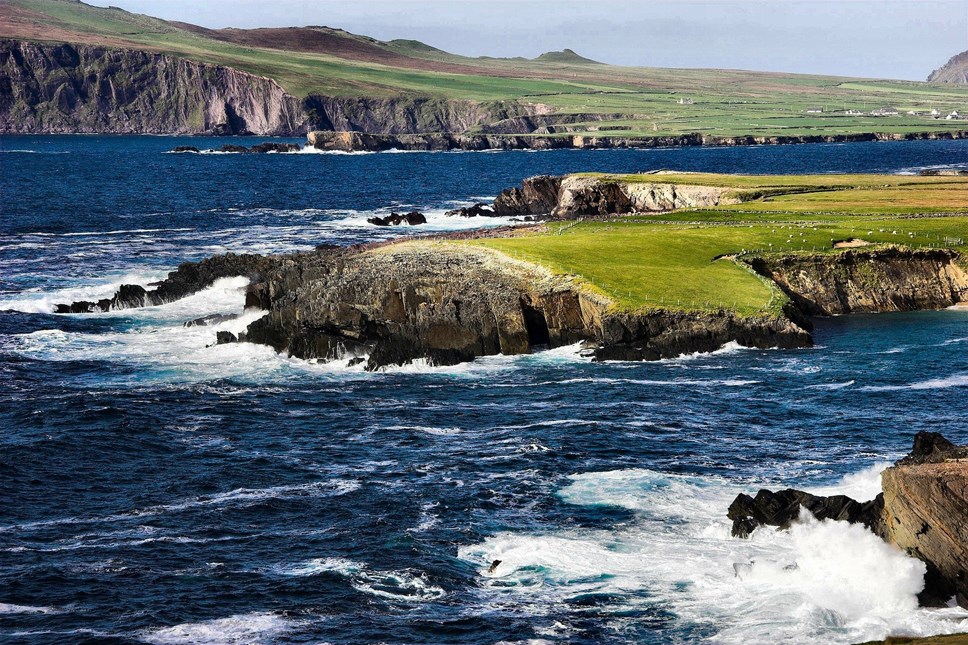 Wales and Ireland drive forward new collaboration
As Wales and Ireland face off in the Six Nations rugby today, Counsel General Jeremy Miles announced funding worth more than €6 million for three new projects aimed at strengthening ties between our two nations.
The Welsh and Irish Governments have been working together, supported by funds from the EU's European Territorial Co-operation (ETC) programme, to address areas of shared interest such as climate change, technological research, sustainable development and tourism since 2007.
The schemes announced today will:
Grow duckweed on agricultural waste waters to produce animal feed for the beef and dairy industry, while helping to kick coastal and freshwater pollution into touch;
Capitalise on the natural and cultural heritage of the Llŷn peninsula in Wales and Iveragh peninsula in Ireland to boost sustainable year-round eco-tourism opportunities in coastal communities;
Convert detailed study of the population and habitat of two species of water bird to better understand how climate change will affect coastal communities on each side of the Irish Sea.
Each of these projects emphasises the advantage of cross-border handling of shared concerns, linking projects and tackling shared interests to benefit communities and businesses on both sides of the Irish Sea.
Announcing the new funding, Mr Miles said "Wales remains an internationally connected nation. Our relationship with our near neighbours Ireland and Europe remains strong, and vital cross-border team work like this will continue to be an essential part our international strategy, launched last month.

"These are great projects which handle major issues in an imaginative and creative way. Welsh Government has a fantastic track record on helping push collaborative projects over the gainline, which is why it's so important that we're able to continue to invest funds like this in future in the regions of Wales which need it most.

"We are pressing the UK Government to make sure Wales and the UK remains part of the next phase of the ETC programme, so that we can stay onside and collaborate as part of major programmes working across borders on these issues. Our team work with Ireland through this programme, and with the rest of the European continent, is valuable and essential."

Eluned Morgan, Minister for International Relations and Welsh Language, commented, "These projects are a fantastic example of Wales' International Strategy, through which we aim to bring everyone together, ensuring that we are using our assets to work in partnership with others and protect the interests of the people of Wales.

"The Ireland-Wales programme is part of the European Territorial Co-operation (ETC) programme. It is vitally important that Wales and the UK are part of the next phase of ETC. We need to make sure that we are all pulling in the same direction, working together to maximise our efforts, and collaborating in major programmes working across borders to protect shared interests – both with Ireland, as we are through these projects, and with the rest of the European continent."
Notes to editors
BRAINWAVES aims to address the problem of pollution of freshwater and coastal water resources along the west coast of Wales and south-east coast of Ireland in a creative way – by growing duckweed.
Duckweeds grow naturally on waste streams and contain high quality protein including essential amino acids, which can be used in animal feeds for the beef and dairy industry. This creates a "reduce, reuse and recycle", full-circle use of nutrients, by using natural plant growth to create new nutrients to feed the agri-economy, and addressing pollution problems by minimising waste water.
Aberystwyth University and University College Cork will jointly receive €1.1m funds to research technological systems to maximise duckweed growth, and develop state-of-the-art demonstration systems.
Mr Miles said "This is a great way to help the transition to a sustainable, circular economy. Through cross-border collaboration, Wales and Ireland are taking a novel, innovative approach to preserving resources, creating local jobs – and treating waste water as a resource and an opportunity to create something good."
Contact details
Marcel Jansen, University College Cork, M.Jansen@ucc.ie, 00353 (0)87 260 7216
Dr Dylan Gwynn-Jones, Aberystwyth University, dyj@aber.ac.uk, 01970 622318.
ECHOES will deliver €2.7m to Aberystwyth University and University College Cork, together with partners Compass Informatics, the British Trust for Ornithology, and Geo Smart Decisions. The partnership will focus on a detailed study of two species of birds to better understand the impact of climate change on coastlines on both sides of the Irish Sea.
Surveys of grassland and marsh vegetation foraged by Greenland white-fronted geese, and open mud and sand flats used by curlews, will flag up vulnerable areas along Wales-Ireland coastlines. The evidence gained will be used to develop an online platform and tools to help landowners, farmers, policy-makers and residents adapt to and manage the impacts of climate change on the local region.
Contact details
Crona Hodges, Geo Smart Decisions, crona.hodges@geosmartdecisions.co.uk, 07717 826250
Fiona Cawkwell, University College Cork, f.cawkwell@ucc.ie
LIVE will develop a cooperative network focusing on the natural and cultural heritage of the Llŷn Peninsula in Wales, and western Iveragh, co Kerry in Ireland. Stakeholders of the Ecoamgueddfa in north Wales will share their knowledge and experience to support the establishment of an eco-museum in Ireland.
€2.66m funds will support University College Cork and partners Bangor University, Kerry County Council, South Kerry Development partnership, Gwynedd Council and the National Trust to maximise the cultural heritage of the Llŷn and Iveragh peninsulas and further develop sustainable year-round eco-tourism options in coastal communities.
Contact details
Dr Pat Meere, University College Cork, p.meere@ucc.ie 00353 (0)21 4903056
Dr Einir Young, Bangor University, e.m.young@bangor.ac.uk 01248 382316