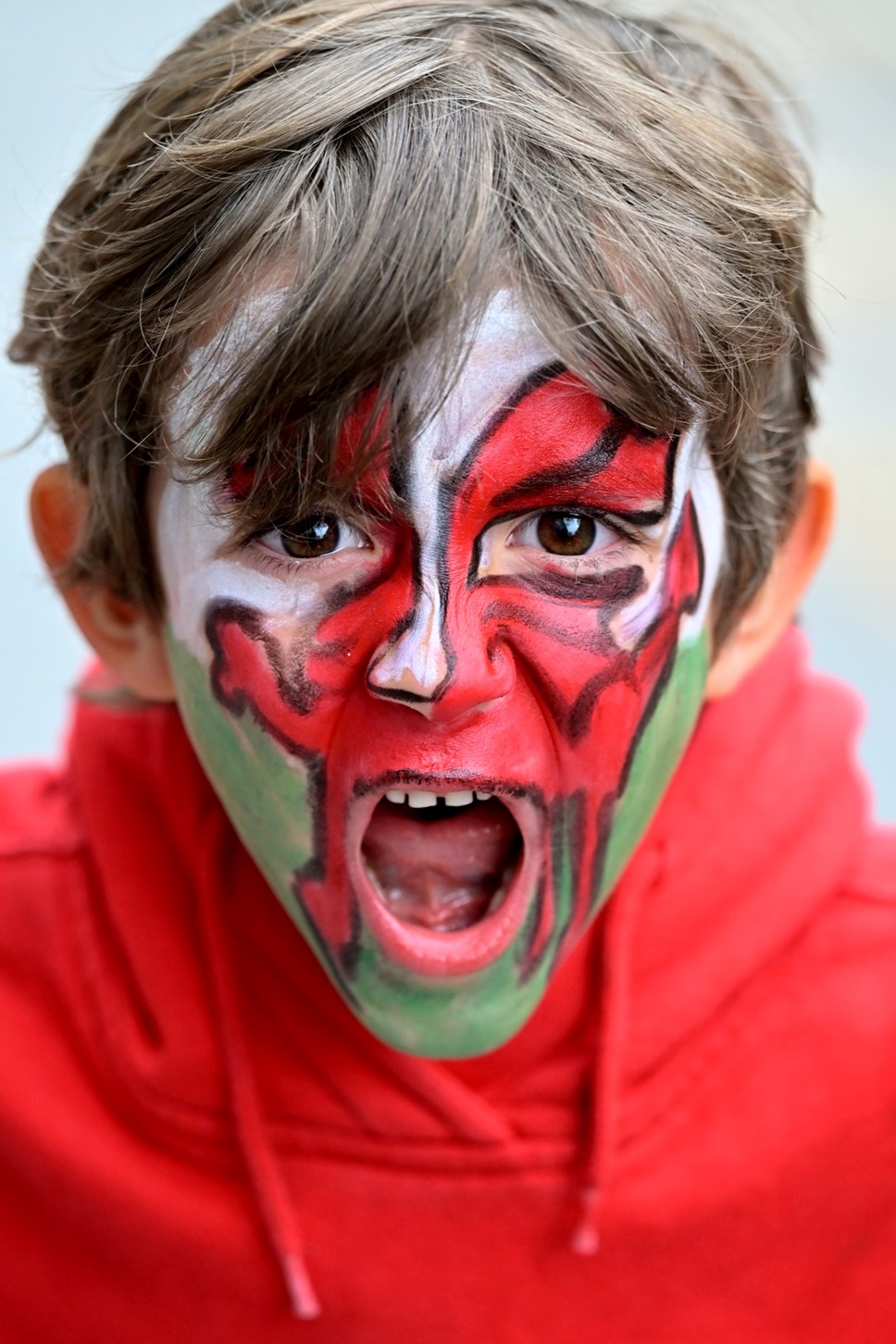 Vive Le Cymru! Welsh culture to wow Rugby World Cup fans in France
As the Rugby World Cup prepares for kick-off in France, Welsh Government and its partners have teamed up with some of Wales' finest artists, food and drink producers to showcase what Wales has to offer off-pitch. As part of the plans, Welsh legendary music venue Clwb Ifor Bach will take over Stereolux after Wales' head-to-head with Georgia on 7 October.
A stellar line-up of Welsh and French performances will see Carmarthen rock band and twice winners of Welsh Music Prize, Adwaith, headline the event. Neath based rap-singer and songwriter, Luke RV, will also take to the stage with UKG heavyweight Local and North Wales' Sage Todz.
With a view of the Eiffel Tower and the Arc de Triumph, Adwaith and Cardiff rapper Mace the Great will warm up rugby fans with performances at the official Rugby Village on Place de la Concorde, in Paris.
In Paris and Lyon Rugby Villages, Osian Meilir's contemporary dance performance Qwerin – a Welsh folk dance group which takes inspiration from Queer club culture – will entertain fans with showstopping performances. Sensational 2023 BBC Cardiff Singer of the World finalist, Jessica Robinson and Hafod Wennog Urdd Gobaith Cymru youth choir of 16 to 24-year-olds will also sing in Lyon as Wales play Australia.
The World Cup coincides with Wales in France, a year-long celebration of cultural, business and sporting events designed to strengthen existing links and forge new connections between the two countries.
Three Ministerial visits will bolster a programme of activity thanks to a collaborative effort between the Welsh Government, Food and Drink Wales, Cymraeg2050, Wales Arts International, Urdd Gobaith Cymru, S4C, the National Centre for Learning Welsh, Hybu Cig Cymru, Cardiff Council, and Clwb Ifor Bach.
With France and Wales sharing sister Celtic languages, Brezhoneg and Cymraeg, a tutor from the National Centre for Learning Welsh will provide Welsh language 'taster' sessions, while Urdd Gobaith Cymru's ambassadors will introduce the vibrant Welsh language and culture through song and play to the children and young people of Nantes and Lyon.
In French gastro capital Lyon, an event to showcase Wales' best food and drink produce delivered in partnership with Hybu Cig Cymru will follow Wales' penultimate group match against Australia, before the competition heats up for the quarter finals.
France is now the number one importer of Welsh food and drink goods, valued at £150m. There are more than 80 French-owned businesses in Wales employing more than 10,000 people.
This cultural activity sits alongside business and political engagements to engage some of Wales's major inward investors, strengthen economic collaboration in the decarbonisation and green energy spheres and undertake policy discussions on sustainability.
Looking forward to the tournament, First Minister Mark Drakeford said:
"Wales and France have a shared love of rugby, culture and history which are just some of the things we have in common as nations.
"We also share excellent business relations, which will only be strengthened by our collaborative touring showcase.
""From music to our best Welsh food, we'll be celebrating Wales both on and off the pitch during the tournament, and I welcome travelling fans and the people of France to enjoy our show-stopping itinerary."
Deputy Minister for Arts Sport and Tourism Dawn Bowden said:
"I'm delighted that we've been able to work with partners to deliver such an exciting showcase for Wales at the Rugby World Cup. This is an excellent platform for us to emphasise the valued connections between Wales and France and to also showcase our culture to the rest of the world – while we also wish our team every success in their efforts on the pitch. Pob lwc!"
Urdd CEO Siân Lewis said:
"Through our young ambassadors we will introduce the Welsh language and culture to audiences in Lyon, and through sport and play with the youth of Lorient and Nantes. We had an excellent response to our 'Chwarae yn Gymraeg' sessions in Doha and Dubai as part of Wales' campaign during the 2022 World Cup, and again in Dublin as part of this year's St David's Day celebrations. We are proud to help support the Welsh Government's work in raising Wales' profile world-wide."
Chair of Arts Council of Wales Maggie Russell said:
"Big sporting events like the Rugby World Cup and the Olympics offer exciting stages for artists from Wales to present their work to new audiences and to nurture new relationships with counterparts in France - and of course to raise the profile and the spirit of the Wales in France. Artists are great ambassadors for Wales and collectively we will promote our shared values of equality, diversity, language and inclusivity with our partners in France."
Adam Williams, Head of Music, Clwb Ifor Bach said: "We are delighted to be partnering with Welsh Government, Cardiff Council and Nantes venue Stereolux to showcase some of the best emerging talent across Wales and France on October 7th. The event will be Clwb Ifor Bach's first outside of the UK and represents the exciting beginning of our activity between the twinned cities."
Geraint Evans S4C Director of Content and Publishing Strategy said:
"S4C will be broadcasting every Wales game live from the Rugby World Cup.
"For in-depth well-informed coverage of the tournament, by a passionate team which will have Wales at its heart, then S4C is the channel to watch.
"We're looking forward to supporting Wales throughout the campaign."
To keep up to date with Wales' off-pitch offering in France throughout the Rugby World Cup tournament, please head to social media and follow #WalesinFrance.
Notes to editors
There are a whole host of potential interviewees ready to speak to media. Please see scheduled activity below.
Programme of activity
Bordeaux, Wales v Fiji, 10 September
The Deputy Minister for Arts, Sport and Tourism Dawn Bowden will attend the opening ceremony and the opening game of the tournament (France vs New Zealand) in Paris and hold meetings in Paris and Versailles focused on Wales in France and France's Olympic preparations. The Minister will also attend Wales' first match against Fiji as part of a programme in Bordeaux focused on sustainable tourism and the links between food and drink and tourism.
**Please send requests for Ministerial interview
Paris rugby village showcases (21, 22 September & 5 October)
Three Welsh artists will perform on different dates at the Paris fanzone, a 15,000-capacity venue on the Place de la Concorde – which overlooks the Eiffel Tower and Arc de Triumph.
The Welsh artists include;
Qwerin, 21 September
Mace the Great, 22 September
Adwaith, 5 October
**Artists available for interview
Lyon, Wales v Australia, 24 September  
Lyon is one of Wales in France's focal cities for the Rugby World Cup, this is partly due to the profile of the game and Lyon's status as the gastronomic capital of France, but also wider economic links in the Auvergne-Rhône-Alpes region, particularly in the creative industries and screen-based tech, which have marked Lyon and the region as a strategic area of growth in the Wales in France strategy.
Activity includes;
22 September – Welsh showcasing at Lyon Biennale festival
24 September – cultural showcasing at Lyon fanzone by Yr Urdd youth choir and Qwerin
25 September - a Welsh food and drink showcase event with Hybu Cig Cymru and Welsh goods exporters
25 September – schools outreach in Lyon led by Yr Urdd
**Chef and food producers available for interview, as well as spokespeople from the aforementioned organisations
Wales vs. Georgia, Nantes, 7 October 
Nantes is a focus city for activity due to unique, historical and linguistic ties and growing contemporary cooperations in research and innovation, education and green energy.
Activity includes;
2-7 October - Relationship building activity across Brittany in the week preceding led by Wales Arts International and Urdd Gobaith Cymru
4-5 October - Free Welsh lessons for Nantes locals, delivered by the National Centre for Learning Welsh
6 October - First Minister hosted networking event to develop relationships in the city and surrounding regions
6 October – The 80 strong Cor y Gleison Welsh language choir will perform a free concert in Nantes, in collaboration with Schola Cantorum de Nantes.
7 October - Clwb Ifor Bach curated showcase of Welsh music at Stereolux, Nantes
**First Minister, Luke RV, Adwaith, Cor y Gleison choir, performers of Qwerin and representatives of afore mentioned organisations available for interview
Tickets for the Clwb Ifor Bach takeover in Nantes can be bought from www.clwb.net
This activity is part of Wales in France, a year-long celebration of cultural, business and sporting events designed to strengthen existing links and forge new connections between our two countries.  Learn about Wales in France in 2023 | Wales