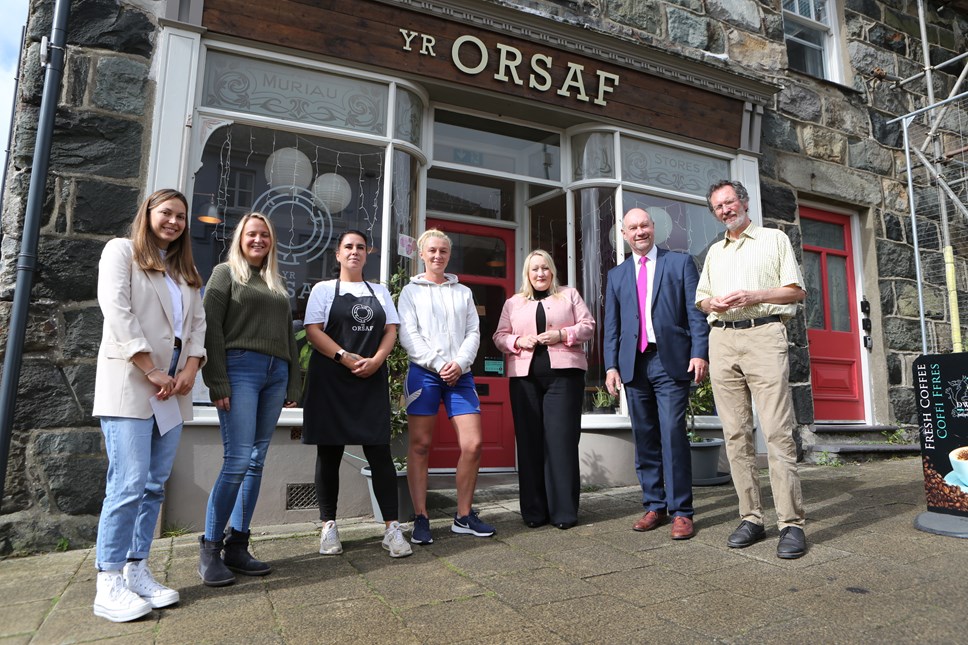 Visitor levy public discussions kick started
Finance Minister Rebecca Evans and Plaid Cymru Designated Member Cefin Campbell visited tourist sites in Portmeirion and Penygroes today to discuss proposals to give local authorities the powers to introduce a visitor levy.
The Welsh Government launched a consultation on the levy on Tuesday, which would be a small charge paid by people staying overnight in accommodation raising new money to be re-invested in local areas.
In the first of a series of planned visits across Wales during the consultation period, the Minister and Designated Member met with a group of community and tourism industry representatives in Portmeirion earlier this morning.
Following the consultation event in Portmeirion, they visited Yr Orsaf in Penygroes and were introduced to the work of Siop Griffiths, the community benefit society.
More than 40 countries and holiday destinations around the world have introduced a form of visitor levy, including Greece, France, Amsterdam, Barcelona, and California.
Rebecca Evans, Minister for Finance and Local Government, said:
"We want to continue to see a thriving tourism industry in North Wales and a strong recovery following the impact of COVID-19. Our intention with the levy is to bring about a sense of shared responsibility between residents and visitors, to protect, and invest in, our local areas. By asking visitors – whether they have travelled from within Wales or from further afield – to make a small contribution towards maintaining and enhancing the place they are visiting, we will encourage a more sustainable approach for tourism."
Proposals for a visitor levy have been progressed through Welsh Government's Co-operation agreement with Plaid Cymru. Plaid Cymru Designated Member Cefin Campbell said:
"It is vital we have sustainable, responsible tourism that works both for visitors and for the communities they are visiting. Should local authorities decide to implement a visitor levy, it could make a real difference in communities across Wales to help develop and protect local services and infrastructure."
Ben Gregory, Siop Griffiths board member, said:
"We are delighted to see the consultation on a visitor levy taking place. As a business that accepts visitors, we are in favour of the tax. The money from the tax will benefit visitors and residents if it helps improve local infrastructure, and tackles some of the challenges tourist areas face.

"For somewhere like Dyffryn Nantlle, where tourism is starting to develop, it is an opportunity to have a wider conversation about the pros and cons of tourism, and how community tourism can be developed for the benefit of our visitors and people living in the Valley."
The Consultation launched on Tuesday, September 20th:
https://gov.wales/visitor-levy | https://llyw.cymru/ardoll-ymwelwyr
Notes to editors
Captions
Cafe/kitchen pic: L-r: Shan Humphreys , waitress; Cefin Campbell MS; Rebecca Evans, Finance and Local Government Minister; Ben Gregory, Board Secretary
Bikes pic L-R: Elenid Roberts, coordinator community transport; Ben Gregory, board secretary; Rebecca Evans, Finance and Local Government Minister; Cefin Campbell MS
Yr Orsaf pic L-R: Greta Jams, manager; Llio Wyn, administrator; Shan Humphreys, waitress; Caryl Williams, housekeeping; Rebecca Evans, Finance and Local Government Minister; Cefin Campbell MS