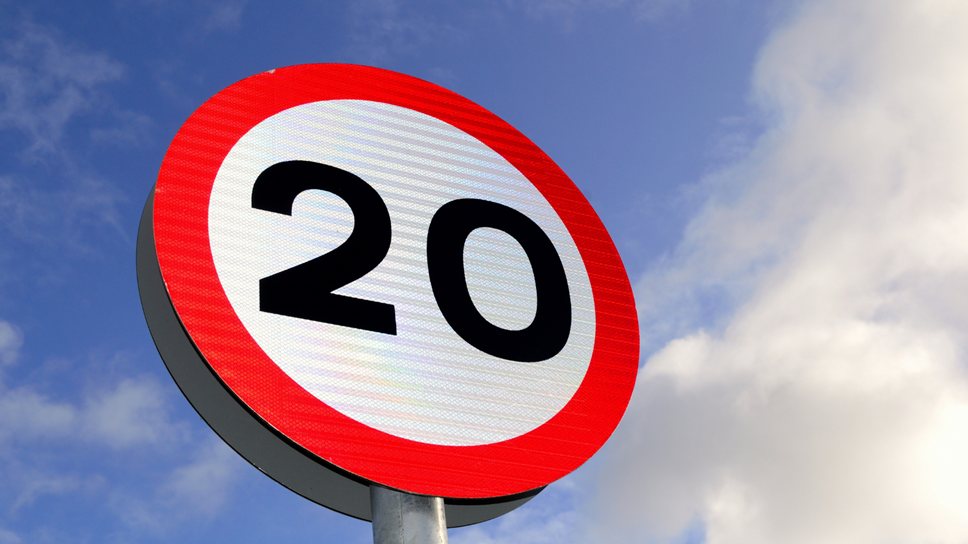 UK first – Welsh Senedd gives green light for 20mph legislation
Legislation to lower the default national speed limit on residential roads and busy pedestrian streets from 30mph to 20mph has been approved by the Senedd today.
Wales becomes the first UK nation to make the move - helping to save lives, develop safer communities, improve the quality of life and encourage more people to make more sustainable and active travel choices.
The new slower speed limits are currently being trialled in eight communities across Wales and will be rolled out nationally in September 2023.
The new legislation will not apply a blanket speed limit on all roads, it will simply make the default limit 20mph, leaving local authorities, who know their area best, to engage with the local community to decide which roads should remain at 30mph.
Currently, just 2.5% of Welsh roads have a speed limit of 20mph, but from next year this is expected to increase to approximately 35%, helping to create safer roads and communities across Wales.
Speaking after the vote, Minister for Climate Change, Julie James said:
"I am delighted that the move to 20mph has received cross-party support across the Welsh Parliament today.

"The evidence is clear, decreasing speeds not only reduces accidents and saves lives, but helps improve people's quality of life - making our streets and communities a safer and more welcoming place for cyclists and pedestrians, whilst helping reduce our environmental impact.

"We know this move won't be easy – it's as much about changing hearts and minds as it is about enforcement – but over time 20mph will become the norm, just like the restrictions we've introduced before on carrier bag charges and organ donation.

"Once again Wales is leading the way for other UK nations to follow."
Notes to editors
Public consultation
In July 2021 the Welsh Government commissioned a public consultation to seek views on the proposal to reduce the default speed limit on restricted roads from 30mph to 20mph in 2023.
The public consultation was part of the Welsh Government's commitment to consult on this proposal.
The Consultation ran until 1 October 2021 and was available online and in printed form for people to give their views. 6,018 online responses were received by the Welsh Government. A copy of the consultation results is available here [from 00:01hrs Friday 11 March].
Public Attitude Survey:
In November 2020 the Welsh Government funded a national public attitude survey of 1000 people living in Wales aged 16 or over to assess introducing a 20mph default speed on restricted roads in Wales. The findings of the report are published on the Welsh Government website. Findings show strong support for Welsh Government's plan to reduce speed limits in residential communities to 20mph, especially among parents or those with children in the household.
The Welsh Government recognises that making a significant change like 20mph won't be a quick fix, but will make a difference for future generations. For example, the Road Safety Act 1967 made it an offence to drive a vehicle with a blood alcohol concentration of over 80mg of alcohol per 100ml of blood - a limit which remains in place to this day. This was introduced in 1967 when the number of deaths were 1640 (UK), it took until 2015 to reduce this number to 200 (source UK Gov).
Statistics:
The World Health Organisation states that the most effective way to improve pedestrian safety is to reduce the speed of vehicles. 50% of casualties on our roads in 2018, occurred on 30mph roads. The Royal Society for the Prevention of Accidents (RoSPA) states that 45% of pedestrians get killed when struck by a car going at 30mph or less but only 5% when going at 20mph or less.
The risk of being killed is almost 5 times higher in collisions between a car and a pedestrian at 31mph compared to the same type of collisions at 18.6mph. See chart 7 on page 8 for more information: Reported Road Casualties Wales, 2020 (gov.wales).
In 2018 the OECD9 reported that research consistently shows that lower speeds reduce deaths and injuries, not least because there is more time to react
An Enforcement Strategy has been agreed with the Police and GoSafe, which will be trailed in the first phase.
2021 Accident Statistics show over half of all road accidents (53%) occurred on 30mph roads
Roads with a 20mph speed limit had the lowest proportion of accidents in 2021, accounting for 3% of all accidents. Roads with this speed limit have always had the lowest proportion of accidents in Wales since data collection began in 1979.
Pilot areas
Pembrokeshire (St Dogmaels)
Carmarthenshire (Llanelli North)
Vale of Glamorgan (St Brides Major)
Flintshire (Buckley)
Cardiff (NW Cardiff)
Neath/Port Talbot (Cilfrew Village)
Monmouthshire (Abergavenny & Severnside)