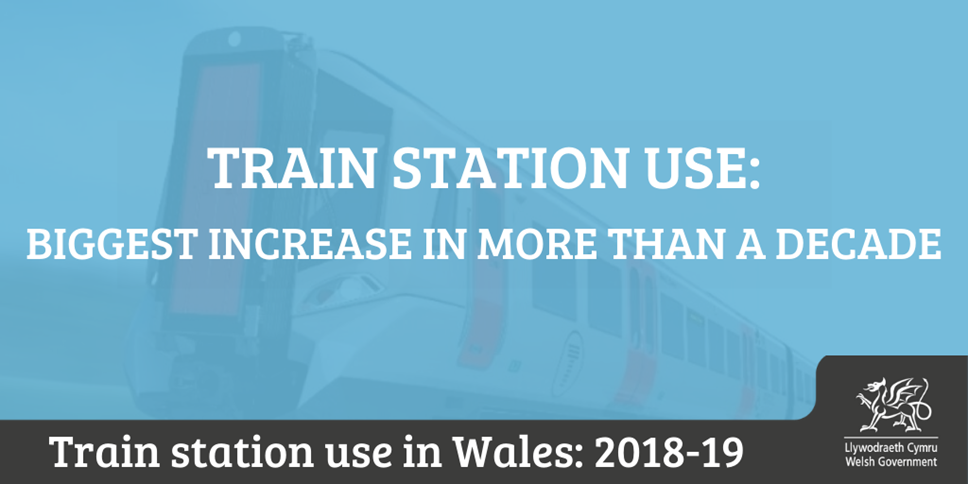 Train station use sees biggest growth in more than a decade
There was a 9.4% growth in the use of Welsh rail stations in 2018-19, the largest year on year increase in more than 10 years.
This was revealed in statistics published by the Welsh Government last week, which measure the number of station entries and exits across Wales. The statistics cover journeys run by all train operators in Wales.
Cardiff Central remained the busiest station in Wales, with more than 14 million uses representing around 25% of all station use. Newport, Swansea and Bridgend were the most commonly used stations outside of Cardiff, while Bangor and Rhyl were the most used in North Wales.
Of the 20 busiest stations more than half were on the Valley Lines network. In total there were more than 57 million station entries and exits in Wales in 2018-19, with the 9.4% annual growth the biggest percentage increase since 2007-08. It contributes to a 75% increase in station use since 2004-05.
Ken Skates, Economy, Transport and North Wales Minister, said:

"These numbers show increasing demand for rail services, and highlight the importance of our ambitious rail reform programme to meet that demand.

"We are determined to drive improvements to rail services and our £5bn investment will see more modern and more frequent trains, with Metro developments creating integrated transport systems that will make it easier to get around.

"What this also demonstrates is the need for the UK Government to address their £1bn underinvestment in stations and other infrastructure. We are investing nearly £200m to improve our stations, but the UK Government must live up to their responsibility as well."
In September 2019 Transport for Wales confirmed details of their station improvement vision, a £194m investment that will see improvements to all 247 stations on the Wales and Borders network.
Between January and March this year more than 100 stations are being given a deep clean as part of these plans to spruce up stations. Passengers will also benefit from new shelters, improved seating, additional cycle space, better signage and enhanced CCTV coverage.
[Transport for Wales representative] commented:
Notes to editors
The statistical release, including regional breakdowns, can be accessed here – https://gov.wales/rail-station-usage-april-2018-march-2019
Figures are based on ticket sales. Numbers are estimates and subject to error. Volatility in estimates is more common when numbers are low. Full quality information is available beginning on page 30.