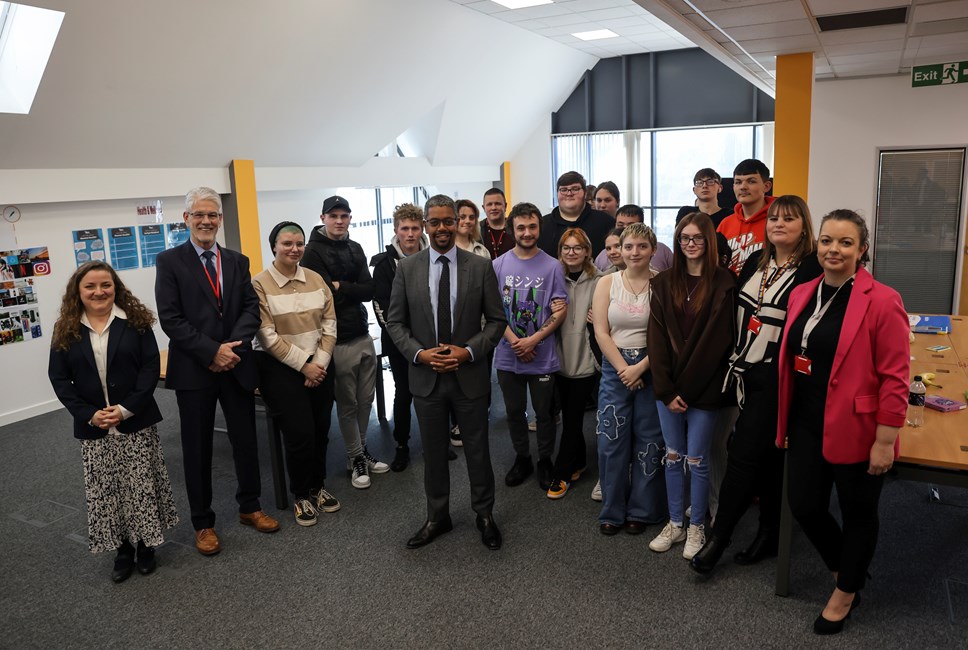 Thousands of young people in Wales helped to find work under flagship Welsh Government scheme
Economy Minister publishes annual report on first year of flagship Young Person's Guarantee, designed to help young people into work and reduce youth unemployment.
Minister confirms extra support for young people taking part in Jobs Growth Wales + programmes, that are struggling with the cost-of-living crisis – from extra support for traveling costs to free meals
More than 11,000 young people have been supported to find jobs during the first year of the Welsh Government's flagship youth employment programme, Economy Minister, Vaughan Gething confirmed today.
The Welsh Government's Young Person's Guarantee (YPG) provides under 25s in Wales with the offer of support to gain a place in education or training, find a job or become self-employed. Ministers have committed £1.4 billion a year to support young people across Wales under the YPG's wider range of programmes.
The YPG brings together a range of programmes and initiatives for young people that aim to enhance employability, enterprise, and skills provision to provide the right support, at the right time, for the diverse needs of young people across Wales.
Long term, the YPG is designed to ensure 90% of 16-24-year-olds are in education, employment, or training (EET) by 2050 – which is one of the Welsh Government's National Milestones for improving the well-being of the people of Wales.
The Minister is today publishing the 'Young Person's Guarantee – Annual Report 2022', the first in a series of Generation Z reports which will provide a progress update on one of the Welsh Government's key Programme for Government commitments.
The report shows there had been over 20,000 interventions delivered via the Welsh Government's employability services alone, with over 11,000 young people starting on employability programmes since the launch of the YPG in November 2021.
The Minister is launching the report during National Apprenticeship week, with apprenticeships being a key component of the YPG. As part of the plans set out in the Welsh Government's Draft Budget for 2023-24, an extra £18m is being invested in apprenticeships to help address the impact of high inflation.
The Minister is also announcing today the Welsh Government is increasing the support package available for young people taking part in initiatives within the Jobs Growth Wales + programme. This will help young people during the cost-of-living crisis by reducing the financial barriers they may be facing in accessing and remaining in the programme.
The additional support includes:
Doubling the rate of the Training Allowance to £60;
A new free meal allowance;
Temporarily allowing 100% of travel costs to be claimed (if undertaking training)
Extending the eligible age range to 19 years old, for enrolling onto the Programme.
The Economy Minister launched the report during a visit to a Jobs Growth Wales Plus (JGW+) work-based learning provider – ITEC – at their dedicated training facility in Pontypridd, where the Minister saw first-hand its dedicated mental health and wellbeing resilience activities.
Saide Jones, 18, who has received support from ITEC, said:
"Throughout my time in ITEC, I feel as though everyone has supported me so much. I feel ITEC has helped me grow and improve in most aspects in my life, including communication, confidence, and the way I think differently about things. They also provide lessons to help with mental health, which has helped me a lot with my own mental health and self-confidence. I have come very far to where I was at the start of my time here. I feel like I've grown a lot."
Economy Minister, Vaughan Gething said:
"The Welsh Government is fully committed to investing in the lives of young people who need a helping hand to achieve their full potential. Whatever the uncertainties we face, we can be sure of one thing - failing to step up to support young people today, guarantees economic failure tomorrow.

"Today's first annual report confirms we have made strong progress in delivering our Young Person's Guarantee, but that more targeted help is needed for those facing the greatest hurdles. We have acted decisively with practical improvements to enhance how we identify those young people who might need additional support the most.

"We know young people are struggling with the cost-of-living crisis. So, I'm pleased to confirm we have stepped up and increased the support we're providing them. This will help ensure they have the backing they need to access and stay on these vital programmes, which are so important to their future employment prospects and long-term success.

"It is inspiring to hear how young people, particularly from disadvantaged backgrounds, are accessing support and with the help of our partners such as ITEC, are now looking positively towards their futures."
Gareth Matthews, Director of ITEC said:
"We are proud to be part of the Young Person's Guarantee and in particular the Jobs Growth Wales Plus programme.

"The Guarantee and the increased support to the programme show the Welsh Government's ongoing commitment to young people in Wales. The latest announcement brings some really positive changes to the programme.

"We have been seeing an increasing number of 16-19-year-olds with significant mental health and social anxiety issues which have been exacerbated as a result of them being stuck at home or feeling isolated during the Covid pandemic, as well as the emerging cost of living crisis.

"Whether a young person knows what they want to do or needs the support to help them think about taking the next steps, we can build a tailored programme of support that is individual to them. That might be helping them build their qualifications, organising work experience or even offering the support they need to start thinking about career opportunities and what comes next for them."