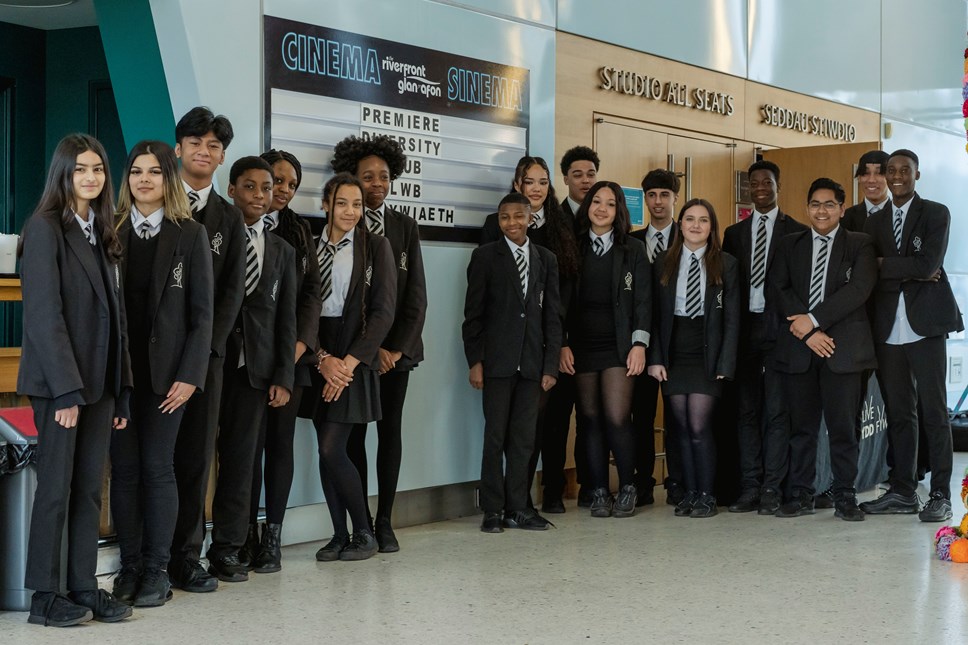 Student filmmakers spotlight diversity in education workforce
The Riverfront in Newport has rolled out the red carpet for young filmmakers from Llanwern High School and Ysgol Glantaf.
The pupils are part of a Diversity Club, which is made up ofpupils from Llanwern High School and Ysgol Gyfun Gymraeg Glantaf shared their experiences, ideas and feelings. The group has become a powerful bridge between pupils and teachers which has developed their curriculum to create an inclusive environment.
Pupils have worked with professional film crews to produce their own films about why Wales needs more Black, Asian and Minority Ethnic teachers. A documentary has also been produced, following the students as they create the 6 short films.
Earlier this year, the Welsh Government announced an incentive to attract a more diverse teaching workforce. The Ethnic Minority Initial Teacher Education Incentive Scheme provides up to £5,000 to eligible individuals looking to become student teachers, to support efforts to ensure the education workforce reflects Wales' . More information on how to apply is available here.
Black, Asian and Minority Ethnic histories and experiences are a mandatory part of the Curriculum for Wales. Last year, the Welsh Government announced new diversity and anti-racist professional learning (DARPL) for education professionals, created by a dynamic coalition of partners with a wide range of expertise and lived experience. DARPL originally launched in schools, but is now extending to childcare, play and early years and further education practitioners.
The Minister for Education and Welsh Language attended the premiere. He said:
"The pupils at Llanwern and Glantaf have been doing excellent work in their Diversity Club. The films they have produced help show us why it's so important that young people can recognise themselves and their own experiences within their teachers and leaders.
"Less than 2% of our teaching workforce are from a Black, Asian or Minority Ethnic background. That simply isn't good enough. I am highly committed to increasing representation within our education workforce."
Gwen who is part of the diversity club said: "It's very important to have role models for children from minority ethnic groups, so that they can see people in places of power and see people like them in important roles within society."