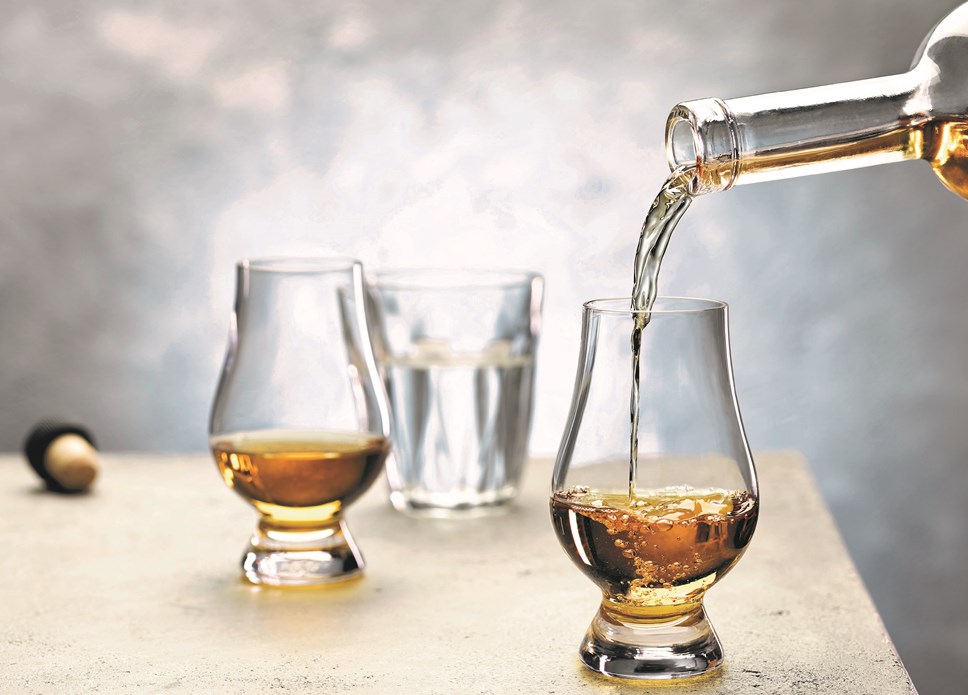 Single Malt Welsh Whisky protected
One of Wales' most popular spirits, the Single Malt Welsh Whisky, is now officially protected after it secured PGI (Protected Geographical Indication) UK GI status.
This is the first new UK spirit to achieve GI status since the UKGI was launched and also becomes Wales's first GI spirit.
Single Malt Welsh Whisky is now the 20th member of the Welsh GI family of products, joining the likes of other great produce such as Anglesey Sea Salt PDO (Protected Designation of Origin), PGI Welsh Lamb, PGI Welsh Beef and Welsh Leeks PGI.
The UK GI scheme was established at the beginning of 2021, following the UK's withdrawal from the EU, and ensures certain food and drink products can continue to receive legal protection against imitation and misuse.
Wales' whisky industry has expanded rapidly in recent years, since the revival and relaunch of a 'Single Malt Welsh Whisky' product by Penderyn distillery on 1 March 2004 and the demand for 'Single Malt Welsh Whisky' is increasing year on year.
The increase in Welsh Whisky producers has led to a collective of four Welsh distilleries being part of the final application for PGI status - Penderyn, In the Welsh Wind, Da Mhile, and Coles.
Welsh Government Minister for Rural Affairs, North Wales and Trefnydd, Lesley Griffiths, said: "It is brilliant news Single Malt Welsh Whisky has joined the Welsh GI family with it's name now protected.
"The Welsh whisky industry continues to go from strength to strength, playing an important role in the food and drink sector here in Wales.
"I am very pleased for all those involved in gaining this prestigious status and ensures this fantastic product gains the recognition and prestige it deserves."
Stephen Davies, Chief Executive at Penderyn said: "The achievement of UKGI status for Single Malt Welsh Whisky is a significant milestone for Penderyn as a producer, and also for the wider Welsh whisky industry. It assists in safeguarding both the quality of the product and also its source of origin.
"It's an exciting step forward and one that puts focus on an industry that has been growing steadily over the last 20 years."
Single Malt Welsh Whisky makes a significant contribution to the food and drink economy of Wales and is now one of Wales' most influential exports, currently being exported to over 45 countries.
It is forecast to generate a revenue of £23 million in the current financial year including domestic, export and travel retail sales.
Single Malt Welsh Whisky combines the long heritage of whisky production with an innovative approach to distilling, offering a broad range of flavours and styles. Welsh whisky production is also important for tourism with all of the current Welsh distilleries open as tourist attractions.
Notes to editors
Welsh GI family
When Single Malt Welsh Whisky is awarded UK GI status on 24 July 2023, Wales will have a 'Welsh GI family' of 20 products.
Single Malt Welsh Whisky will be the first new UK spirit to achieve GI status since the UKGI was launched and Wales's first GI spirit.
1. PGI Welsh Beef
2. PGI Welsh Lamb
3. Pembrokeshire Earlies PGI
4. Anglesey Sea Salt PDO
5. Conwy Mussels PDO
6. Carmarthen Ham PGI
7. Traditionally Reared Pedigree Welsh Pork TSG
8. West Wales Coracle Caught Salmon PGI
9. West Wales Coracle Caught Sewin PGI
10. Welsh Laverbread PDO
11. Traditional Welsh Perry PGI
12. Traditional Welsh Cider PGI
13. Welsh Wine PGI
14. Welsh Wine PDO
15. Traditional Welsh Caerphilly PGI
16. The Vale of Clwyd Denbigh Plum PDO
17. Gower Salt Marsh Lamb PDO
18. Cambrian Mountains Lamb PGI
19. Welsh Leeks PGI
20.Single Malt Welsh Whisky PGI
The Welsh Government provides expert advice on how to qualify and apply for UKGI status and funds support to promote the Welsh GI family.
UK GI scheme
The UK Geographical Indication schemes (UK GI) have been established following the UK's exit from the EU.
The Department for Environment, Food and Rural Affairs is the competent authority for the GI schemes in the UK (including Northern Ireland)
GI products have a geographical connection or are made using traditional methods.GI protection guarantees a product's characteristics or reputation, authenticity, and origin. It protects the product name from misuse or imitation when the product is sold in Great Britain (England, Scotland, and Wales).
There are 4 UK GI schemes.
Food Agricultural Products
Wine
Aromatised wine
Spirit Drinks
And 3 designations which are represented by their own logos
protected designation of origin (PDO)
protected geographical indication (PGI)
traditional speciality guaranteed (TSG)
An individual or business does not own a GI. Any producer can make and sell a product under a registered product name if they:
follow the product's specification; and
are verified to do so