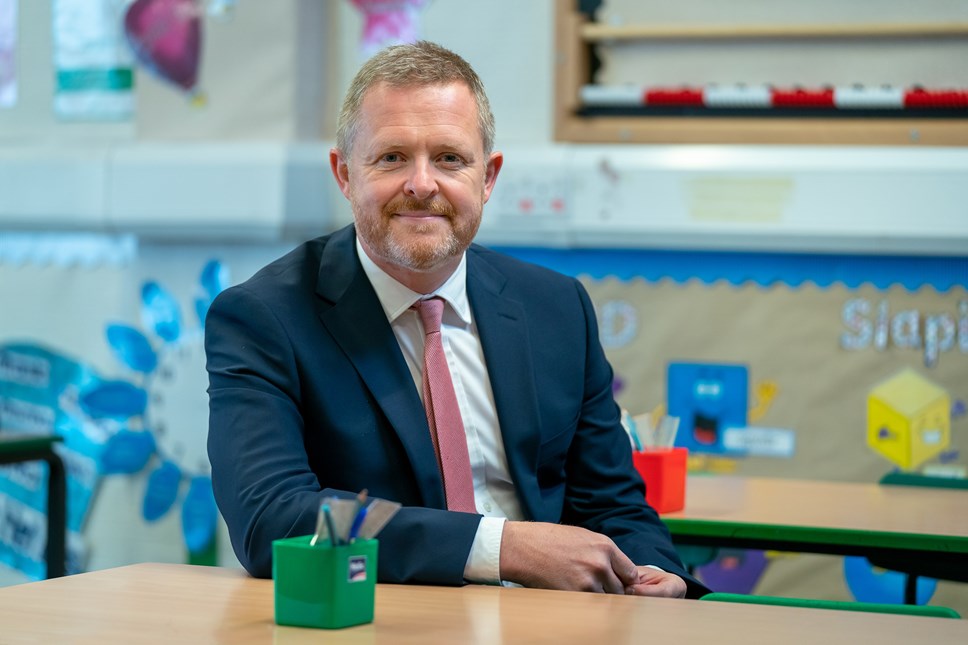 Results day: Education Minister congratulates students after a challenging time
The Minister for Education and Welsh Language, Jeremy Miles, has congratulated learners across Wales as A-level, AS, Advanced Welsh Baccalaureate and vocational qualification learners received their results this morning.
A-level and AS Levels exams and assessments took place this year with extra support being provided including some advance information of exam content and a supportive grading approach.
This year results are broadly midway between the results awarded in 2019 (the last year before the pandemic) and 2022 (the first year that students sat exams following the pandemic).
Many vocational learners also received their Level 3 results today.
This year's GCSE results will be announced next Thursday, 24th August.
The Minister visited Coleg Gwent in Ebbw Vale this morning, where he met students collecting their results. He said:
"I want to wish a big congratulations to everyone receiving their results today. It's a huge day for you, the culmination of years of hard work, and I hope today is a reward for all your efforts.

"We know what a challenging time this has been. Our aim in providing extra support this year was to make sure the exams were fair, despite the difficulties you've faced.

"For anyone who didn't quite get the results you wanted, or you're unsure of your next steps, don't be too disappointed and don't be too hard on yourself. There are lots of options open to you, including university clearing, apprenticeships, maybe starting your own business. Careers Wales is a great place to start for advice and your school or college will be there to support you too.

"Our Young Person's Guarantee provides everyone under the age of 25 with the opportunity to enrol in education or training, find work or become self-employed, so you have lots of choices to pursue the career you want.

"I hope all staff and students are proud of their hard work, enjoy the rest of the summer and look forward to the exciting opportunities you have ahead of you."
Notes to editors
Awarding qualifications in Wales this year
An overview of this year's assessment arrangements from Qualifications Wales: https://qualificationswales.org/information-support/summer-2023-results/
The Young Person's Guarantee
This is the Welsh Government commitment to providing under-25s in Wales with support to gain a place in education or training, find work, or become self-employed: https://workingwales.gov.wales/how-we-can-help/young-persons-guarantee
Apprenticeships
Apprenticeships are open to anyone over the age of 16 in Wales. They combine practical training in a job with study. gov.wales/apprenticeshipswales
Employment Bureaus
Based in FE Colleges, the Employment and Enterprise Bureaus provide a package of opportunities for students, full and part-time, to build essential employability and enterprise skills: https://businesswales.gov.wales/skillsgateway/employment-and-enterprise-bureaus
Power Up Campaign
Support for learners taking exams and assessments during the 2023 season: https://www.gov.wales/power-up-wales
Welsh Government additional financial support 2023
Additional funding for education in 2023-24 includes:
£9m for the Pupil Development Grant which supports children whose families are on lower incomes
£5.5m to further support the workforce in schools through the RRRS programme
a further £4.5m to help children and young people with additional learning needs
£9m to strengthen the further education sector.