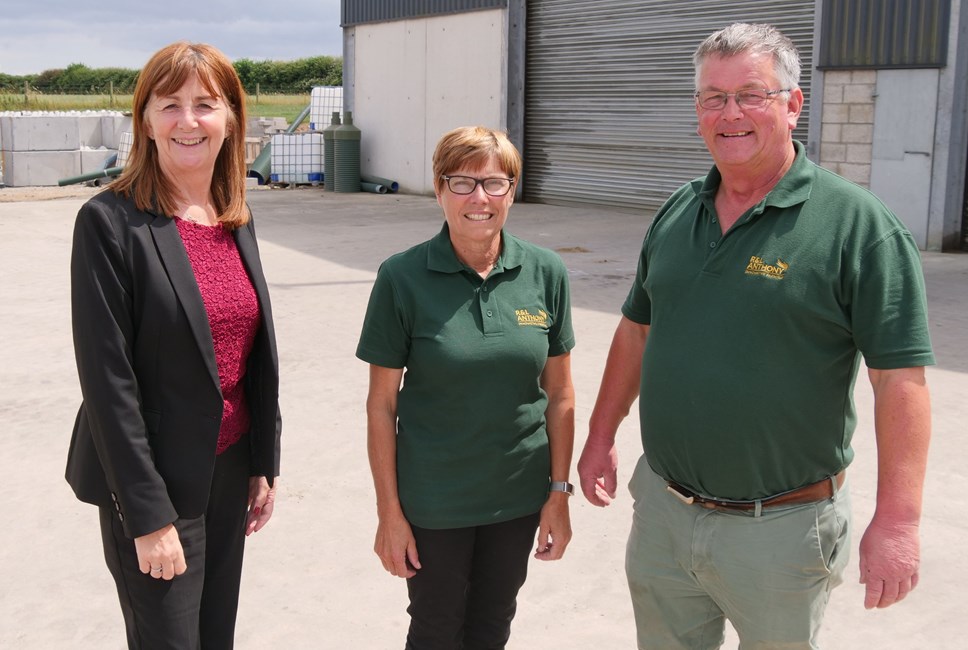 Protecting environment and benefitting business key for Vale of Glamorgan farm
Rural Affairs Minister Lesley Griffiths has visited a farm in the Vale of Glamorgan which is taking action to tackle the climate and nature emergencies and benefit their business.
The Minister met Richard and Lyn Anthony at Sealands Farm in St Brides Major to hear about the work they're doing which aligns with the Welsh Government's Sustainable Land Management objectives.
Sustainable Land Management establishes a policy and legislative framework which is designed to be beneficial for farmers and the environment for generations to come.
Richard and Lyn Anthony are doing this at Sealands Farm in many ways, including increasing the organic matter in their arable soils. This draws down carbon from the atmosphere, and it also means the soil is better able to hold on to moisture in dry weather.
They have also established companion cropping with their arable crops which reduces risks from pests, benefits pollinating insects, and lowers chemical usage.
Extensive crop trials are taking place at the farm to test new crop varieties suitable to grow in the Welsh climate, and renewable energy sources have been installed.
These actions embody the Sustainable Land Management objectives in the first ever made-in-Wales Agriculture Bill as they are a clear demonstration of adapting to climate change and maintaining and enhancing ecosystems while producing food in a sustainable manner.
The visit comes after the Agriculture Bill was passed by Senedd Members last week. At the heart of the Bill lie objectives to support the economic, environmental, and social sustainability of the Welsh agricultural sector. Sustainable Land Management is key to this.
Rural Affairs Minister, Lesley Griffiths said: "It has been great to meet Richard and Lyn and learn more about the impressive work they're doing at Sealands which align with our aims to tackle the climate and nature emergencies and support the sustainability of the farm business.
"They have implemented a number of measures and I have been pleased to hear about how these are having a positive impact on their business and their land.
"Sustainable Land Management is the bedrock of future agriculture policy in Wales and will help ensure our farmers can continue to produce high quality produce and agricultural goods for years to come alongside taking action to protect the environment."
Richard Anthony said: "I believe modern productive agriculture is a big part of the solution to climate change, and we are still learning how to build resilience on our farm which is even more important in dry seasons like we're experiencing currently.
"We like to demonstrate what is practical on the ground, and I think it's valuable for farmers to learn from each other and see what ideas might work at their own farm."