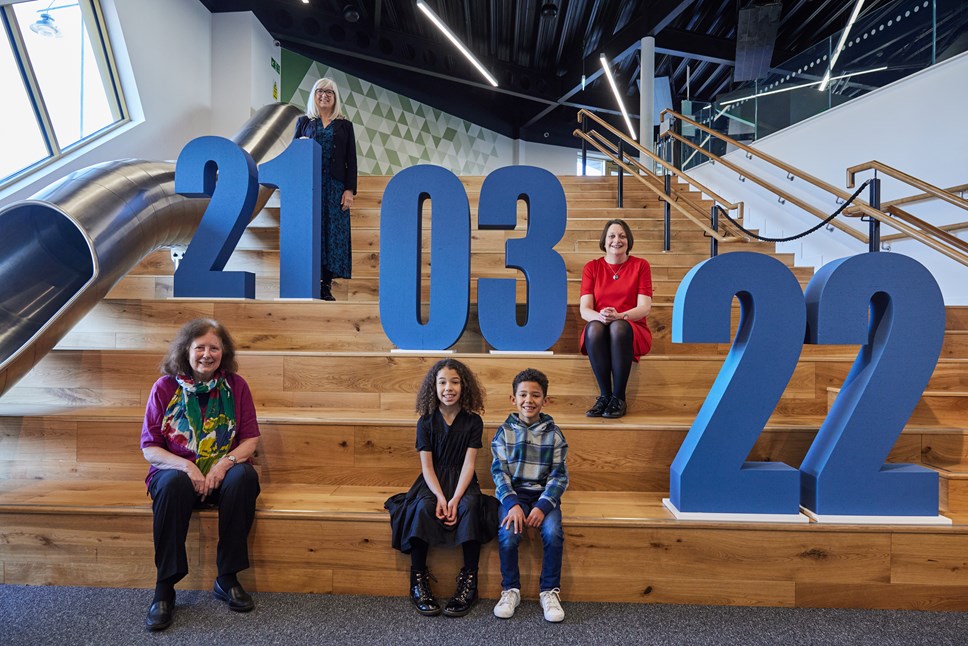 Physically punishing children becomes illegal in Wales
From today [March 21st] physically punishing children will be illegal in Wales as Welsh Government continues to put children's rights at the heart of its policies.
Wales joins more than 60 nations across the world to end the physical punishment of children. This landmark legislation removes the archaic 160-year-old legal defence and provides children the same protection from assault as adults.
Under the Children (Abolition of Defence of Reasonable Punishment) (Wales) Act 2020 all types of physical punishment, such as smacking, hitting, slapping and shaking, are illegal. The new law will apply to everybody in Wales, including visitors, from 21 March 2022.
Welcoming the Act coming into force at a Toddler Takeover event at Techniquest, The Deputy Minister for Social Services, Julie Morgan said:
"Today is a historic moment for children and their rights in Wales as we make physically punishing children a thing of the past. I have campaigned to make physical punishment illegal for more than 20 years. I am thrilled that from today children finally have the same protection from assault as adults.

"The law is now clear - easier for children, parents, professionals and the public to understand. Physical punishment is illegal in Wales and I can't tell you how happy that makes me."

"We want to protect children and their rights and this law will add to the fantastic work we are doing to make sure all children in Wales have the best start in life and to live the lives they want to live."
The First Minister for Wales, Mark Drakeford said:
"I am delighted the physical punishment of children is now illegal in Wales. This is a historic achievement for children and their rights."

"The United Nations Convention on the Rights of the Child makes it clear that children have the right to be protected from harm and from being hurt and this includes physical punishment. That right is now enshrined in Welsh law. No more grey areas. No more 'defence of reasonable punishment.' That is all in the past. There is no place for physical punishment in a modern Wales."
ENDS
Notes to editors
Notes
More images will come following the event on Friday 18th March.
More information on the legislation can be found here: gov.wales/endphysicalpunishment
More information on positive parenting including resources to help parents, is available through Parenting. Give it time: gov.wales/giveittime
Additional Quotes
Rhian Kenny, Headteacher, at Ysgol yr Hendy, Carmarthenshire said: "As a teacher I'm personally committed to delivering the best possible outcomes for children in my care. Physical punishment should never be a way to discipline a child.
"Children have rights. We teach them about these rights. They have the right to be protected from harm and from being hurt. This includes physical punishment. I certainly wasn't aware of the amount of trauma physical punishment can cause children before receiving training.
"Getting parents to understand the impact of their behaviour is key. Children like consistency – hitting is either good or bad – it can't be both, so if mum and dad do it, it must be ok and then they may hit in school.
"But it's not ok, I'm not sure you can ever say any type of violence is acceptable. For those of us working with children and parents, I'm glad it is now crystal clear physical punishment is illegal in Wales."
Dr Bethan McMinn; Consultant in Community Child Health, said, "As a paediatrician my primary concern is to ensure all children have the best possible health and well-being. They should have the right to be protected from all forms of violence. This includes physical punishment in the home.
"Unfortunately, as part of my work I see bruises and marks caused by smacking. Whilst some parents smack their child because they think it will improve behaviour, a recent large scale study found this not to be the case. It found that physically punishing children is not effective and increases behavioural problems. No physical punishment is completely "safe", as there is a risk that incidents can escalate or get out of hand unintentionally."I often hear, 'smacking never did me any harm' – but it doesn't make it right. Smacking children is never reasonable nor defensible and is not a necessary way to discipline a child.
"We should be leading by example and hitting someone is not okay, regardless of age. I'm pleased the law has now changed in Wales as it gives children equal protection from violence as adults."
Kelly-Anne Ward experienced being physically punished as a child and as an inexperienced young mother she used physical punishment. Kelly-Anne, added; "I personally smacked my eldest children when they were younger as I had so many children under my roof under the age of four. It was so stressful. I just didn't have the skills to be able to cope and didn't know there were alternatives to smacking out there. I started to go to parenting classes. I learnt how to manage the children in different ways and how to stay calm.
"Once you stop physically punishing your children you become more aware of it when you see other adults smacking children. You have to ask yourself, is that what I looked like? Watching it happening is not easy as I remember when I couldn't cope. I had a lot of other things going on in my life too, but my attitudes are different now."
Melanie Simmonds, Head of Save the Children in Wales said: "We are pleased to see this law come into effect on the 21 March. Children living in Wales will grow up knowing that they will have the same legal protection from physical punishment as adults and have their rights respected.
"Ever since our founder, Eglantyne Jebb, drafted the first 'Declaration of the Rights of the Child' which informed the UN Convention on the Rights of the Child, we have fought for children – whoever they are, wherever they are – to be able to lead a healthy, happy and fulfilling life.
"Through our work with partners and parents, we know that when parents and caregivers are supported with their own emotions and wellbeing that they feel more confident and equipped to manage their child's behaviour in a more constructive and positive way. A supportive and positive parenting approach, especially during the crucial early years, improves a child's ability to learn and helps to shape the person they grow up to be and their contribution to the wider society."
Viv Laing, Policy and Public Affair manager at NSPCC Cymru Wales said: "The new Act demonstrates that in Wales, as in more than 60 countries around the world, we will no longer tolerate physical violence against children.
"Until now, children were the only group in our society who it was acceptable to strike in certain circumstances. We don't allow the physical punishment of adults or animals, so it is absurd that we have for so long with children. NSPCC Cymru/Wales has long been clear on this, and now, at last, the law is too.
"Positive parenting is based on praising the good things children do, so they learn to repeat that behaviour, as well as setting clear and consistent boundaries.
"We know parenting can be challenging at times, so the NSPCC's Take 5 campaign provides parents, carers, and guardians with tips to help them stay calm in such situations."
Sarah Crawley, Director of Barnardo's Cymru, said: "We are delighted that we will finally have clarity for parents, carers and all of us who work directly with children that physically punishing them benefits nobody, is no longer acceptable and will no longer be allowed under law.
"We are confident this legislation will drive forward the cultural change in parenting that research shows us is already well underway. It is an important opportunity for the wellbeing of children and family relationships to improve, as well as being an investment in the wellbeing of the next generation of parents and carers.
"Now is the right time for change because we, as a society, have changed. Research on parental attitudes to physical punishment in Wales shows that the majority of those surveyed don't think it's ever necessary to smack a child and almost 60% assumed it was already against the law to do so.
"We will continue to work with thousands of parents and carers across Wales supporting them to be great parents."
Children in Wales Policy Director Sean O'Neill said: "Today marks a historic moment as children throughout Wales will now be able to enjoy the same level of protection from assault as adults. We fully support this change in law and have long campaigned for an end to physical punishment. Our country is on a progressive journey towards the full realisation of children's rights, and today's law change is a significant step forward in this direction."
Brigitte Gater, Action for Children's National Director, Wales said: 'This is a really important day for the children of Wales. They can now expect, as a legal right, the same protection from physical punishment as enjoyed by adults. Congratulations to Welsh Government and all those who worked to remove this damaging and outdated defence from Welsh legislation. We at Action for Children are delighted this day has dawned and can only view the prohibiting the use of physical or corporal punishment as a major step forward for children in Wales.'
Dr Rowena Christmas, chair of the Royal College of General Practitioners Wales, said: "The evidence is absolutely compelling that physically punishing a child can be harmful to the wellbeing of both child and parent.
"It offers no benefit that cannot be gained from another method of discipline but is associated with a broad range of harms that can last a lifetime."
Stephen Thomas, headteacher of Ysgol y Bryn Llanelli, said: "In a world where everyone makes mistakes, adults included, it is crucial we support our children and young people through helping, supporting and guiding them to learn from mistakes.
"Physical punishment has no place in raising children. Providing consistency, good routines and being role models for our children in the values we would like them to display creates good people. "
Pam Kelly, Chief Constable of Gwent Police, said: "March 21 2022, will be a historic moment for protecting the rights of children in Wales. From this day on, physically punishing children will be illegal across the country.
"We fully support this new law. Our role as police officers, while working with other safeguarding agencies in Wales, is to provide support and reassurance to families, not to criminalise them. However it is important to recognise that discipline and physical punishment of children are not the same thing.
"The safeguarding of children is paramount and police colleagues across Gwent work closely with partner agencies to ensure that the protection and safety of children is a priority.
"We will continue to work with Welsh Government, key stakeholders, other Welsh police forces, Police and Crime Commissioners and the CPS to implement the changes."
Fôn Roberts, director of social services and head of children and families services at Anglesey Council, said: "Children should be able to enjoy their childhood. There are many more effective ways to parent than resorting to physical punishment and as a social services team we are here to offer advice and support parents and carers looking for alternative means to discipline."
Dewi Rowland Hughes, senior educational and child psychologist and president of the Association of Educational Psychologists, said: "No parent wants to smack their child and there are good reasons not to. Firstly, the negative effect on the carer-child relationship - it damages the bond of trust and causes negative associations. Secondly, it's an abuse of power and a humiliation for the child – to force them to stop doing something you don't like. Thirdly, it's a bad model of how to behave when you're annoyed by something someone is doing, which is not what we want to teach our children.
"Fortunately, there are good, positive alternatives to physical punishment. We can develop positive discipline with our children and so put smacking where it belongs - in the dustbin of history!"
Professor Karen Graham added: "Whether you are a parent or whether you influence parents through providing support, I would strongly recommend that you visit the Parenting. Give it time website (gov.wales/giveittime) to understand fully why positive parenting is the better choice for disciplining children.
"Banning physical punishment is about so much more than preventing smacking; it is about fully supporting more meaningful forms of discipline that build resilience and trust while strengthening your lifelong relationship with your child."