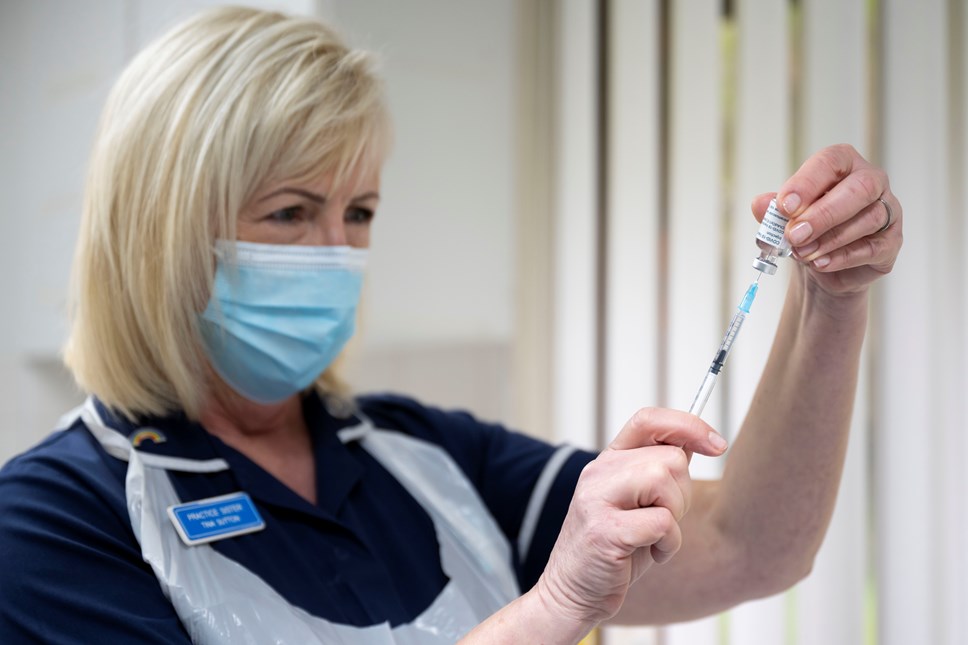 No One Left Behind as Health Boards work to vaccinate all over-16s
Health Minister Eluned Morgan encourages everyone to take up their offer of a Covid vaccine, with confirmation that all 16 and 17 year olds in Wales will have received their offer of a Covid vaccine by the end of this week.
This follows recent guidance from the Joint Committee on Vaccination and Immunisation (JCVI) on vaccinating over 16s.
Walk-in clinics are open throughout Wales, offering the opportunity for those to get the Covid jab at their convenience, and Health Boards in Wales are continuing to use every opportunity to vaccinate the population.
This week, a mobile vaccination unit will be at the Pembrokeshire Show, offering the opportunity for those attending to receive their dose of the Covid vaccine if they have not yet taken up the offer. Although the Pembrokeshire Show is only open to participants this year, organisers are expecting footfall of around 10,000, making this a good opportunity to offer the vaccine to any residents who would like to take up the offer.
This follows examples by Health Boards across Wales who continue to respond to needs and opportunities within their areas through running mobile clinics, engaging with large employees, working with partner organisations to give information on the vaccine, setting up transport to vaccination clinics and working with vulnerable people on a one-to-one basis.
Health Minister Eluned Morgan said:
"Our vaccination programme is world-leading, but we know that there are still some people who have yet to take up the offer of a vaccine. We are particularly keen to ensure that young people, including those over 16s who are now eligible for the vaccine, take up the offer so that they are at lower risk of the effects of coronavirus now that they are able to socialise more.

"The vaccine is our best possible protection against coronavirus, and we want to ensure that there is No one left behind in getting their dose which is why it's so important that we make it as easy and convenient for people to access a vaccine.

"It's not too late to get your vaccine. Please come forward to take up your offer or attend a walk-in clinic to help protect yourselves and your loved ones and to Keep Wales Safe."
Notes to editors
If you think you have been missed, or would like to find out details of walk-in centres in your area, you can find health board contact details here
Each Health Board has responded to need and demand in their area with schemes to encourage take-up of the vaccine:
Swansea Bay University Health Board have run Immbulance Bus walk-in mobile clinics in Swansea and Port Talbot to help reach people in remote communities and those in hard-to-reach groups. 130 refugees, homeless and vulnerable people were vaccinated at the Swansea event in July, and more than half of those who attended were homeless, undocumented migrants or digitally excluded members of the community.
Cwm Taf Morgannwg's five community vaccination centres (CVCs) are located across the health board area to bring the vaccine as close to people's homes as possible and on accessible public transport routes. To make the vaccine even easier to access, Cwm Taf Morgannwg set up a Vaxi Taxis scheme in partnership with Age Connects Morgannwg to dispatch a taxi to those people who would still find it tricky to get to a CVC. The number to arrange a Vaxi Taxi is included on appointment letters.
In North Wales, Betsi Cadwaladr University Health Board have used mobile pop-up clinics that regularly go to high footfall areas such as supermarket car parks at weekends and large industrial estates during the week to make it as easy as possible for people to get the vaccine.
Cardiff has the highest population of people from BAME backgrounds in Wales, and Cardiff and Vale University Health Board have employed a number of schemes to encourage take-up of the vaccine amongst harder-to-reach groups. This includes offering the vaccine at mosques and other faith settings. Cardiff and Vale has also been working in partnership with support groups in familiar settings such as the Oasis Centre to provide information to asylum seekers and refugees about the vaccine.
Powys Teaching Health Board have employed a 1:1 scheme with those who have severe mental health issues and their key health workers to encourage take up of the vaccine. Drop-in vaccination clinics are also now available at Powys vaccination centres in Powys, including at the Royal Welsh Showground in Builth Wells, Bronllys Hospital and Maldwyn Leisure Centre, Newtown. There are also plans to visit a scout hall in Welshpool town centre at the beginning of September to provide a first dose vaccination session.
Aneurin Bevan work in partnership with Gwent Drug and Alcohol Service (GDAS) to provide local and drop-in clinics at GDAS sites across Gwent. Bus services were used in Monmouthshire to take people from rural areas to GDAS sites in Chepstow and Abergavenny.
Hywel Dda partnered with the Fire Service to engage with large employees in rural communities, including Dunbia meat processing plants in Cross Hands and Llanybydder to attend mobile vaccination clinics. Through engagement with Dunbia, workers were given time off to get their vaccine, Many of the workforce are Eastern European, and on-site translators and translation apps were utilised to help with communication.
Newport's Goldie Lookin' Chain are encouraging young people to get the vaccine with their new video Get The Jab Done