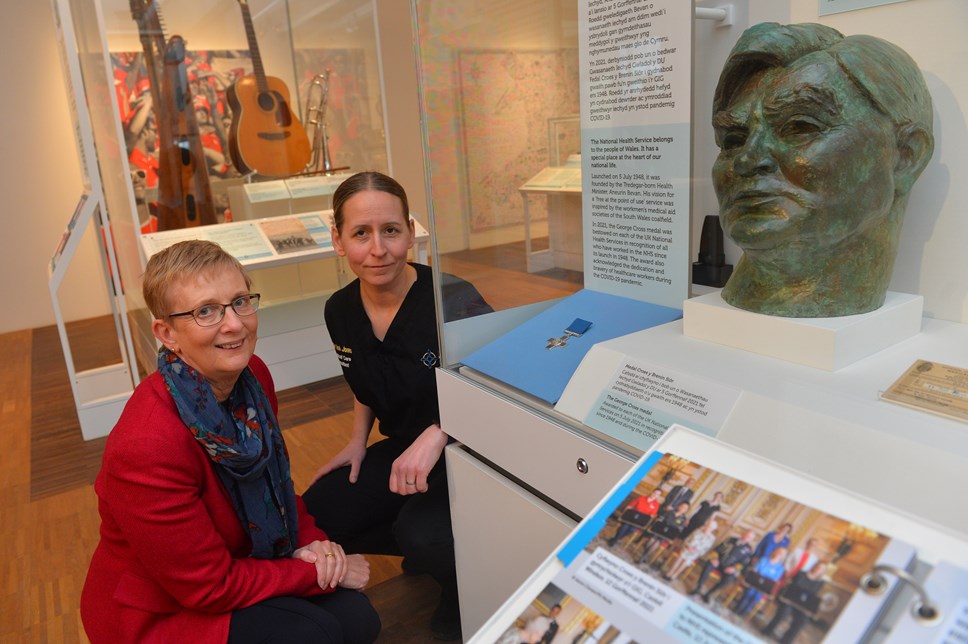 NHS Wales' George Cross takes centre stage at St Fagans
The George Cross presented to the NHS in Wales has gone on display to the nation at the St Fagans National Museum of History.
The Cross, which is the UK's highest civilian gallantry medal, has pride of place in the "Wales is . . .grateful for its NHS" display at St Fagans to mark the 75th anniversary of the NHS.
The Chief Executive of NHS Wales, Judith Paget, and Dr Ami Jones, Intensive Care Consultant at Aneurin Bevan University Health Board, joined Sioned Hughes, Head of History and Archaeology, Amgueddfa Cymru to see the display.
The museum will be the permanent home for the medal, which was presented to Mrs Paget and Dr Jones by the Her Majesty Queen Elizabeth at a ceremony in Windsor Castle last July.
Judith Paget said:

"I'm delighted that the medal has a permanent home as part of the national collection at Amgueddfa where it serves as a proud reminder of the great dedication of the NHS workforce in Wales.

"The medal recognises the service of all those who've worked in the NHS since it was established in 1948, a devotion to duty that shone brightly in the pandemic."

Dr Ami Jones said:

"It was a great honour to receive the medal on behalf of the NHS in Wales last year and I'm pleased the honour can now be shared with my colleagues in all areas of the NHS in Wales.

"I'm very aware of the significance that this medal means to all of us in the NHS who found a new level of courage during the pandemic to provide excellent care and create solutions to the unprecedented situation."

Sioned Hughes, Head of History and Archaeology, Amgueddfa Cymru said:

"We are pleased to display the George Cross medal alongside other objects that tell the story of the NHS in Wales.

"The National Health Service belongs to the people of Wales and has a special place at the heart of our national life. This display ensures that the story of the NHS is represented in the museum during a significant year. Both the NHS and St Fagans National Museum of History celebrate their 75th anniversary this year and so it is fitting that the medal is displayed in the 'Wales is…' gallery for all to see."
The display will continue until 5 March next year. Planning is underway to display the medal across Wales from next year.
Notes to editors
The George Cross has only been awarded collectively on two previous occasions.
The people of Malta were collectively given this honour in recognition of their continuing and heroic struggle against repeated and continuous attacks during the Second World War, while the RUC's award was for the collective and sustained bravery of police officers and their families.
Each of the four nations NHS representatives were presented with a George Cross last year.
More information about the display is available on the Museum's website Wales is...grateful for its NHS | Museum Wales