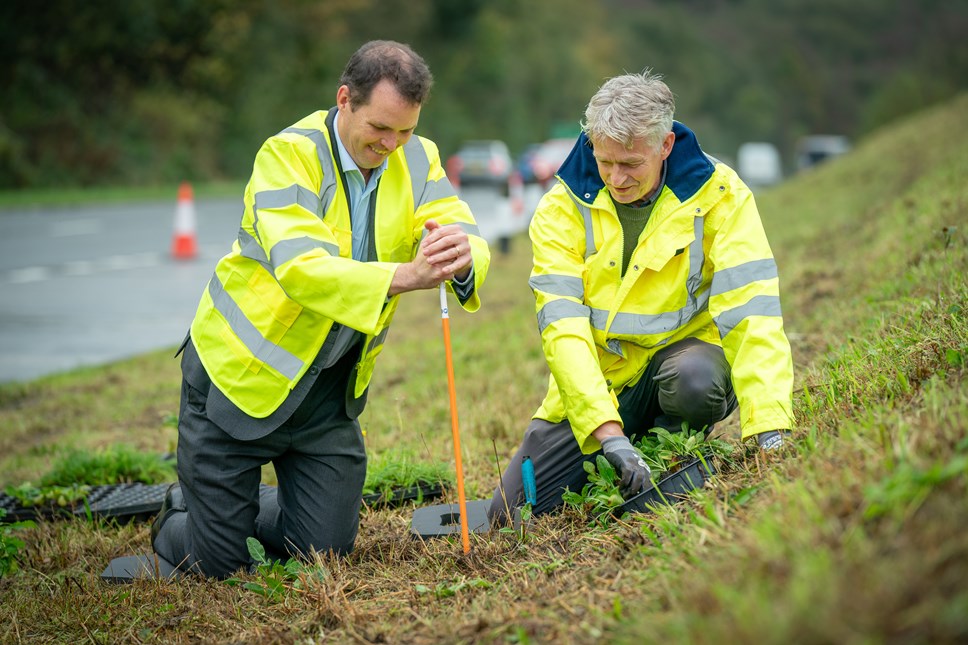 New plan sets out road to recovery as Wales faces nature crisis
"'We need to take every opportunity to support nature and we want to use the land we own around our road network to help it recover."
Those were the words of Deputy Climate Change Minister Lee Waters as he launched a new strategy that will put tacking the nature emergency at the forefront of operating Wales's roads.
Llwybr Newydd i Natur – the Nature Recovery Action Plan for the Strategic Road Network in Wales was launched by the Deputy Minister on a visit to Plas Newydd layby on the A483 near Tycroes.
It is just one of 200 sites across the strategic road network in Wales where biodiversity management takes place.
Over the last ten years, wildflowers such as southern marsh orchid, common spotted orchid, yellow rattle, ragged robin, bugle and oxeye daisy have been seen in increasing numbers on the site as a result of sympathetic management.
It has also been planted with devil's bit scabious to help support one of the last strong populations of the native Marsh Fritillary butterfly which is nearby.
Deputy Minister for Climate Change, Lee Waters, said:

"'We need to take every opportunity to support nature and we want to use the land we own around our road network to help it recover.'

"We have sadly seen a stark decline of our native species in Wales, with an average 20% decrease in the last 30 years alone, and we all need to do something about that.

"The Strategic Road Network in Wales can definitely play its part and this new strategy is an important step in the right direction but we cannot act alone.

"We must build on our work with our partners and together we can deliver for nature in Wales."
The Nature Recovery Action Plan was developed in consultation with key internal and external stakeholders including Nature Policy colleagues, the Welsh Government's Biodiversity Taskforce, the Trunk Road Agents, Transport for Wales, NRW, Wildlife Trusts, Coed Cadw and Plantlife.