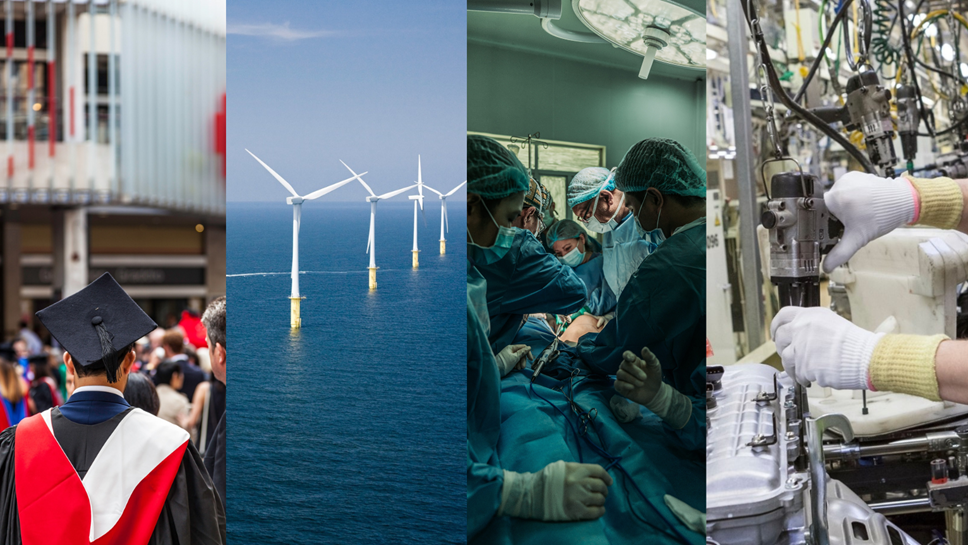 New Innovation Strategy launched for a Stronger, Fairer and Greener Wales
New innovation strategy sets out aspiration for Wales to be a leading, innovation-based nation.
Strategy focuses on ensuring innovative new technologies are developed to help solve the biggest challenges facing communities, ensuring those solutions reach every part of society.
Through collaboration, the aim is to bring about better healthcare, tackling the climate and nature emergencies and creating better jobs and prosperity for businesses, universities, and local communities.
Working together for better jobs, improved health and care services, a greener environment and a more prosperous economy are the missions at the heart of a new innovation strategy for Wales being launched today by the Welsh Government.
The new cross-government vision of innovation for a stronger, fairer, greener Wales points the way to a different approach to innovation in the future; one which adopts a "mission-based" attitude and collaboration into the following four missions:
Education: This mission helps ensure Wales has an education system that supports the development of innovation skills and knowledge throughout people's lives in Wales – ensuring the talent, enthusiasm and incredible potential of our young people who, in the future, will not only benefit the Welsh economy but can make a real impact on people's lives.
Economy: This mission involves driving Wales forward to be a leading, innovation-based nation. This will see a Welsh economy that innovates for growth, collaborates across sectors for solutions to society's challenges, adopts new technologies for efficiency and productivity, uses resources proportionately, and allows citizens to share wealth through fair work.
Health and Wellbeing: Wales' health and care system are facing unprecedented levels of demand. This mission will see the health and social care sector collaborate with industry, academia and the third sector to deliver new ways of working that deliver greater value and impact for citizens. This will involve them working together to use innovation to transform areas such as delayed transfers of care, community-based care provision, cancer and mental health services.
Climate and Nature: This mission will see involve optimising our natural resources for the protection and strengthening of climate and nature resilience. We will focus the innovation efforts of the ecosystem on tackling the climate and nature crises simultaneously, ensuring a just transition to a wellbeing economy.
This strategy sets the foundation for a dynamic future for Wales. The aim is that through working together, entrepreneurship, innovation and new technologies can reach every part of society. Bringing better health, better jobs and greater prosperity for businesses, for universities, and for local communities.
With the winding up of the existing EU programmes this year and uncertainty over Wales' engagement with future EU scientific initiatives, the nature of the research, development and innovation landscape in Wales is changing.
The strategy makes a firm commitment that Welsh Ministers will seek to drive up investment from the UK Government and beyond in Welsh research, development and innovation (RD&I). The Welsh Government will work with UK innovation agencies where shared ambitions exist, aligned to their stated intention to significantly increasing RD&I investment outside London and south-east England.
In addition, the Minister is today confirming the Welsh Government's SMART Flexible Innovation support will no longer be restricted to businesses and research organisations. It will be open to any organisation wishing to engage in RD&I, including third sector, local authorities, and health boards.
The development of an Innovation Strategy is included in both the Programme for Government and the Cooperation Agreement between the Welsh Government and Plaid Cymru.
Launching the Innovation Strategy at Renishaw plc in Miskin, Economy Minister Vaughan Gething said:
"This Innovation Strategy is being launched at a crucial time for our country. As existing EU-funded programmes end this year and uncertainty over our participation in future EU scientific initiatives still in doubt, the research, development, and innovation landscape of Wales will change.

"The UK's departure from the EU means Wales is losing money and control, and now has less say over less money. So, this strategy aims to guide us to a different approach to innovation. We cannot compete on all areas, but we can choose missions that maximise our strengths and create new opportunities for public good.

"Our missions span many sectors and the challenges we face. Innovation is for all of us, everyone in Wales should have the opportunity to participate in innovation, and to benefit from it.

"The Welsh Government is determined and resolute in supporting all stakeholders to deliver genuine innovation and act as a crucible, using its convening power to bring about the collaboration within the ecosystem that's necessary to help us achieve our ambitions."
The Welsh Government will shortly publish a supplementary Action Plan which will include specific and measurable goals, to take forward each of the missions.