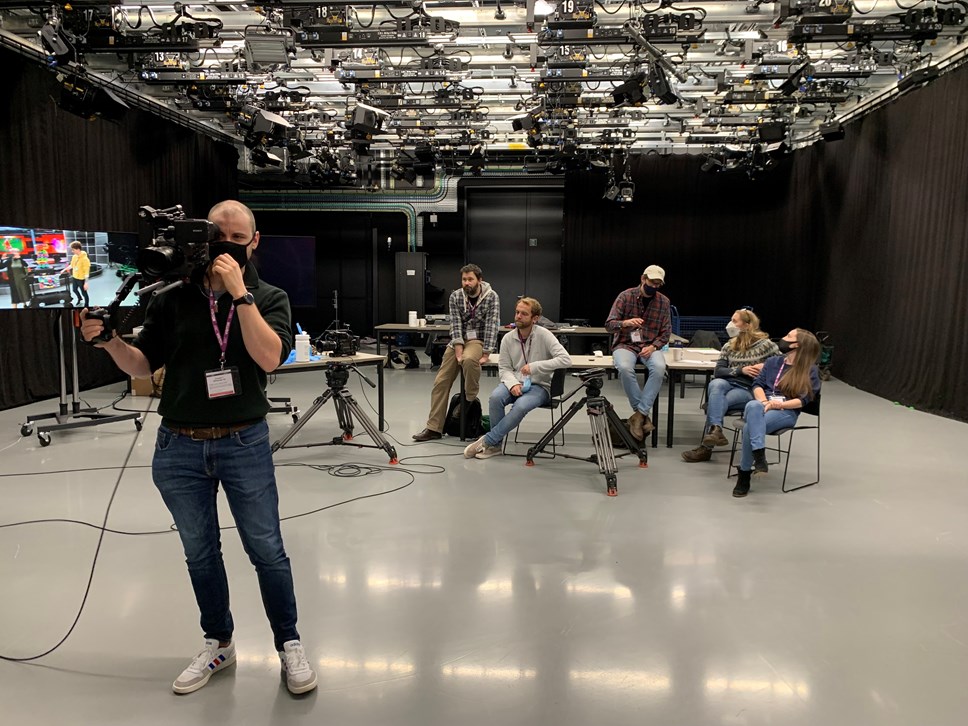 New funding awarded to projects to improve skills in Wales' Creative Sector
£1.5 million to be shared among 17 projects
Projects will help the sector develop the right skills
Funding will ensure Wales continues to have a thriving creative sector
More than £1.5m in Welsh Government funding has been awarded to 17 projects that will deliver high quality skills and training projects within the creative industries in Wales, Deputy Minister for Arts and Sport, Dawn Bowden has announced today.
The Creative Skills Fund was launched in September 2022, with the aim of supporting projects which could deliver against one or more of the 10 identified priorities within the three-year industry led Creative Skills Action Plan.
The Action Plan seeks to address the skills needs of the three priority sectors: music, digital content and screen in the short term, as well as considering the long-term needs which will ensure Wales continues to have a thriving creative sector.
Some of the projects which have been awarded funding include:
Developing the skills, knowledge and networking of Welsh music managers;
Upskilling Welsh grass roots music venue managers;
Equipping leaders, managers and producers working in TV and film in Wales with the skills they need to run a successful creative business with a particular focus on commercialisation, securing funding, exploiting IP, becoming global, recruiting inclusively and succession planning;
A network of new freelance Union Learning Representatives and Mental Health First Aiders will empower creative workers to identify and organise learning activities and support the mental health and wellbeing of their peers at a grass roots level.
New Learning Disability Inclusion training for the screen industry which aims to address the chronic shortfall in representation of learning disabled and/or autistic people on screen and behind the camera;
An entry level Gaming Hub to support the strategic development of training provision for diverse young people which covers entry level requirements at levels 1, 2 and 3 on a BTEC framework.
Support has been provided to a new project led by University of South Wales Film & TV School, Bangor University and Screen Alliance Wales to create three new Screen Academies inside Greatpoint Studios, ,Wolf Studios Wales and Aria Studios to deliver the skills, education and training that can support the next generation of Welsh talent to flourish in the screen industry.
Huw Swayne, Associate Dean Partnerships and Business Development, University of South Wales, said: "Skills Academies Wales is an innovative pan Wales project engaging with Schools, Colleges and Universities to create pathways to enter the booming TV and Film Industry here in Wales. Embedded in Studios in Bangor, Cardiff, Newport and Bridgend it provides real-world experience through workshops, placement and outreach activities. Our aim is to build capacity and longevity in a sustainable workforce that draws upon the very best of Welsh talent and facilities, working and winning in a global market. The University of South Wales, Screen Alliance Wales and Bangor University are proud to be working with Creative Wales to deliver this exciting initiative."
Allison Dowzell, Managing Director, Screen Alliance Wales, said: "We are delighted to be working with our long-term partners USW on this initiative alongside Bangor University and Creative Wales. We are excited to be expanding on the work we already do together by being part of the Skills Academies Wales project and look forward to growing and nurturing the talent in Wales even further."
Professor Ruth McElroy, Head of the School of Arts, Culture and Language at Bangor University said,: "Screen Academies Wales has been set up to directly improve the opportunities on offer to young people in Wales to pursue a career in the film and TV industry. Bangor University is thrilled to be working closely with Anglesey-based Aria Studios, the University of South Wales and Screen Alliance Wales to help build a sustainable and inclusive pipeline for Wales' burgeoning screen industry. Developing the very best talent with appropriate professional skills and providing opportunities in both Welsh and English is core to our mission as a university, and content creation is now an global industry which offers huge opportunities for our students both in Wales and beyond."
Beacons Cymru is a skills, career and business development provider for the Welsh music industry and has been successful in securing funding.
Luke Thomas, Beacons Cymru, said: "We are very grateful to receive the Creative Skills Fund at Beacons Cymru. It will enable us to deliver several exciting new projects this year, all of which have been designed by young, future leaders in the music sector. These projects will all help young people across Wales develop vital skills and confidence to pursue careers in the music industry."
Another successful project which will work across all creative sectors throughout Wales is led by BECTU Cymru. The aim of 'Empowering Freelance Creatives' is to look at innovative ways of re-dressing imbalance around skills and wellbeing which can disadvantage freelance creatives.
Siân Gale from the join union learning programme CULT Cymru said; "Freelance workers are the backbone of Wales' successful creative industries, this bilingual pan Wales programme will provide much needed support to these often vulnerable workers to enable them and the industry to survive and thrive."
Deputy Minister for Arts and Sport, Dawn Bowden said: "The creative industries have been one of the fastest-growing parts of the Welsh economy for nearly a decade, creating jobs and wealth, contributing to a strong national brand and promoting Wales to the world. To keep up with demand, we've highlighted the need to develop the right skills across the sector to support continued growth.
"The purpose of this fund is to continue to support strategic skills partnerships across Wales and I'm delighted that we've been able to award the funding to collaborative projects which will provide excellent opportunities for those working in the sector or seeking to work in the sector from all backgrounds."
Notes to editors
The Welsh Government's Programme for Government includes a commitment to establish a Creative Skills Body. This Body is being delivered internally through Creative Wales, through an enhanced Creative Wales skills and talent function with a new core skills advisory panel to guide its work and report back to the Creative Wales non-executive board.
The Creative Skills Advisory Panel was established in May 2022 and is made up of 10 professionals from the music, digital content and screen sectors as well as union, broadcaster, training, further education and higher education representatives and a diversity and inclusion champion.
Photo Credit - NFTS Cymru Wales