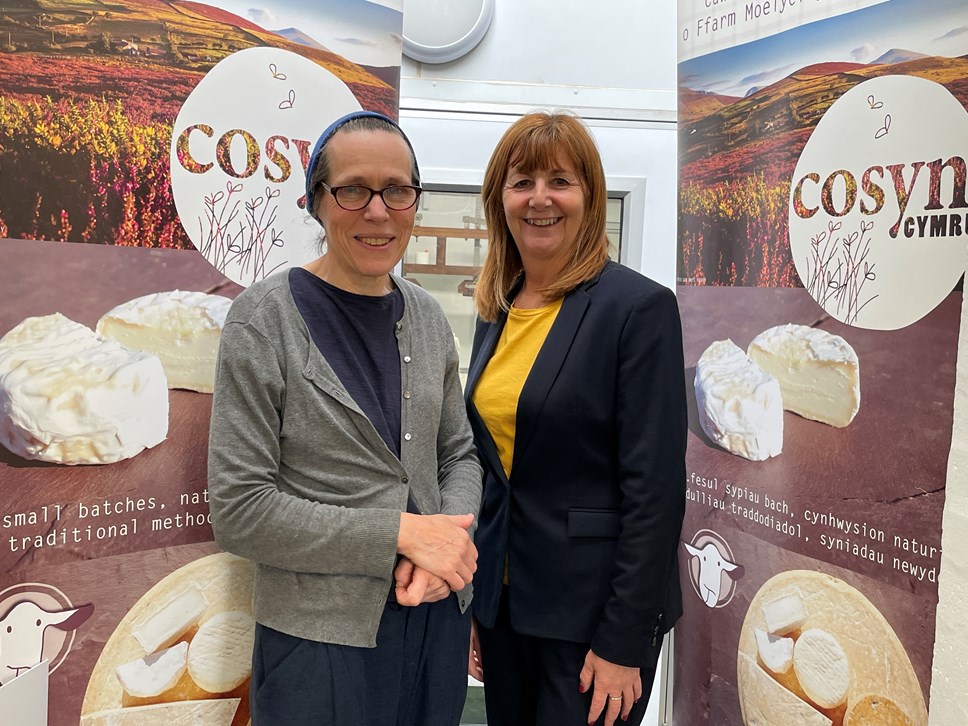 Minister visits Bethesda award-winning ewe's milk dairy
A new purpose-built, award-winning sheep milk dairy in Bethesda, Gwynedd, has been visited by Rural Affairs and North Wales Minister Lesley Griffiths
Llaethdy Gwyn, based at the town's former Catholic church, is the realisation of a dream for former grassland ecologist turned artisan cheese-maker Dr Carrie Rimes, who began making her sheep milk cheese, Cosyn Cymru, in 2015.
Now the owner of a growing dairy enterprise, Carrie plans to make the most of the space afforded by the 1960s building while retaining elements of the property's religious heritage.
Cosyn Cymru's cheese is made by hand in small batches from unpasteurised milk and using traditional methods. Sold at independent shops and delis, cafes and markets, the dairy's Brefu Bach is also stocked by renowned retailer Neal's Yard in London.
The new facility in Bethesda has had support from the Welsh Government's Food Business Investment Scheme and Cyngor Gwynedd Council.
Cosyn Cymru has also benefitted from the support afforded as a member of the Food & Drink Wales Fine Food Cluster, facilitated by Menter a Busnes, receiving business advice and attending events.
Minister for Rural Affairs and North Wales Lesley Griffiths said: "It's been great to see the developments here at Llaethdy Gwyn and to hear about the success of Cosyn Cymru. They have succeeded in growing a market for sheep's milk Products, and it's good to hear how they are using local sheep's milk from North Wales.
"I'm pleased the Welsh Government was able to support this new dairy and wish Carrie the very best of luck for the future."
Dr Carrie Rimes said: "The assistance I've received has enabled me to create the dairy and grow my business – including taking on additional staff as production increases – I would not have managed to expand without such help.
"The Fine Food Cluster has been great. I've had very helpful business advice and went with them to the World Cheese Awards, held in Newport last November, where I met many people and even helped host a delegation from Norway."
"I've also partnered with Cadwyn Ogwen, a local food delivery service and have a range of local products in the shop."
Brought up on her family's farm in Devon, Carrie had always wanted to make cheese and her research in Welsh delis and cheese shops identified a demand for sheep milk cheese.
Carrie said, "I knew what I really wanted to make was ewe's milk cheese, but at that point, no one in North Wales was milking sheep. Initially, I had to collect milk from Lancashire. I now have four local farmers supplying my milk, the ewes are free to graze naturally and produce healthy and nutritious milk. Between them, they milk Lleyn and Friesland ewes, so I have an all-year-round milk supply."
The BBC Food & Farming Awards 2023 have announced the finalists in this year's Awards and Carrie Rimes and Cosyn Cymru are shortlisted in the Best Food Producer category. Presenter of BBC Radio 4's The Food Programme and BBC Food & Farming Awards judge, Sheila Dillon said: "Each year the public nominate the very best producers from across the UK and this year is no exception. Carrie is demonstrating not only exemplary cheese making but also highlighting the key role that small businesses play in keeping rural areas alive & in building a resilient food system."
The winners will be announced at the ceremony in Newport on Wednesday 25 October.