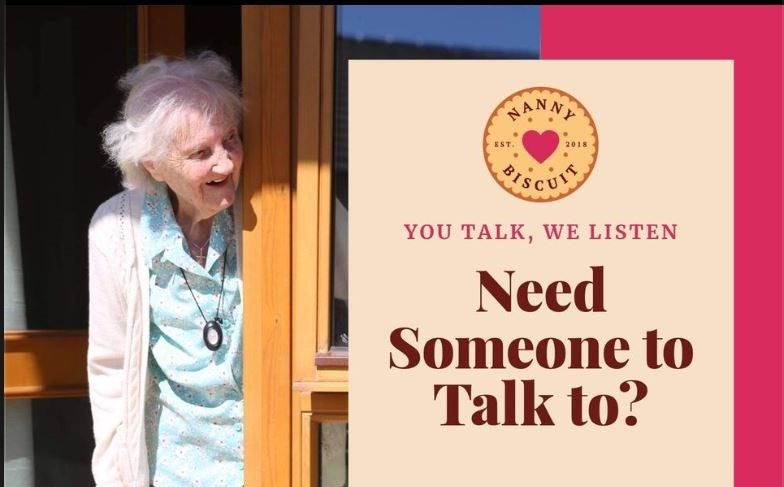 Minister thanks Wales's kind communities on Random Acts of Kindness day
On Random Acts of Kindness Day, the Deputy Minister and Chief Whip, Jane Hutt, sent a message of thanks to the thousands of volunteers and community helpers in Wales who have shown kindness to people in need during the Covid-19 pandemic.
Scientific evidence has shown that doing kind acts for others can have major positive impact on the helper, as well as the helped. Even the smallest act of kindness can change a life.
Jane Hutt, said:
"Right across Wales, throughout the floods and pandemic, people have shown kindness to those most in need of help. The stories of kindness and support that I have heard have been beautiful and heart-warming. Volunteers have given hope to their communities.

"Kind people have stood on doorsteps to speak to neighbours who would otherwise have spent days and weeks alone. Community groups have set up informal internet catch-ups for people whose families live far away. Charities have set up support groups to help care workers who have been working on the front line. Groups of neighbours have found valuable ways to work together, raising funds or making products to help the NHS.

"This kindness and effort has freed up local authorities, health and social care services to enable them to provide vital services to the most vulnerable people.

"I want to thank each and every one of you who has shown kindness to people in your communities in so many different ways. Through your ingenuity, you have made a real difference. Thank you for everything you have done.

"Please carry on exploring the positive ways you can support people in need, and make kindness the norm. Together, we can make our communities kinder, more connected, and stronger. Just remember to stay safe, and follow Welsh Government's Covid-19 guidelines."

Ruth Marks, Chief Executive of Wales Council for Voluntary Action (WCVA) said:

"People who spend any amount of their time doing things for others make a big difference, not just for those they help but for their own wellbeing too. Volunteers do not give their time to be thanked – but recognising how essential kindness is, is an important message for all of us."
Notes to editors
Case studies
Magor and Undy Scrubbers
During the first lockdown, Sara Wall from Magor, Monmouthshire, co-ordinated the Magor and Undy scrubbers.
More than 100 volunteers, aged from 6 to 92, took part in the operation. Jobs ranged from collecting and sorting materials, to cutting out patterns, to sewing on buttons, to making calls to determine the numbers needed, and last but not least drivers to deliver the completed scrubs.
Scrubs and equipment were donated to (among others) hospitals, hospices, prisons, GP surgeries, occupational health therapists, young people's residential homes and care homes.
The group created more than 500 sets of scrubs, 1200+ laundry bags, and 800 ear protectors.
Sara Wall said:
"The community spirit earlier this year was amazing. When we started out, our intentions were entirely and purely to help put #scrubsonbacks. But as things went forwards it became clear that we were doing not just that but more besides: we were supporting ourselves and each other with a sense of purpose and community.
"I made real friends. For some of our sewing volunteers, the delivery person waving through the window was the only contact all day. Volunteering not only has a very real benefit for our community, but is also important to our own health and happiness. It gives us not just a sense of control, but a sense of being a part of the reality of it all.
"The local volunteers moved mountains, gave hope and help where it was lacking, and showed our heroes on the front line that their community was behind them. In a time of darkness and fear, community spirit shone out in a beacon of love. Thank you to all our helpers – you are and were amazing.
"If anyone feels frustrated and in need of useful work to do, there is a wealth of good voluntary work that you can do, online and offline. Local volunteering groups keep track of jobs that need doing; you can join in the efforts to keep in contact with the isolated and vulnerable, and there are volunteering craft efforts online. There's lots more that can be done, just reach out with an open mind and heart."
Twyn Community hub, Twynyrodyn, near Merthyr Tydfil
Twyn Community hub, based in Twynyrodyn, near Merthyr Tydfil town centre, was awarded funding through the Welsh Government's Voluntary Sector Emergency Fund.
Louise Goodman, project co-ordinator of the hub, said:
"We provided those who were shielding, and vulnerable and elderly people in the community, with food care packages and hot meals. We delivered prescriptions, provided a listening service through telephone and video reassurance, reached out to the isolated, and made sure we helped as many people as possible.
"A lot of people in the community have lived here since the houses were built in the 1960s. We are a community of around 7000 people, with around a third aged under 15 or over 65. We wanted to support the community, take the pressure off other services, and make sure we were here for people to turn to when they needed help.
"The funding from Welsh Government enabled us to update our equipment to reach the community more efficiently through lockdown, and operate as an emergency response hub. As a result, we were able to:
provide over 270 weekly parcels of food/ household goods, including cleaning products, toiletries, fruit, vegetables, cereals, dairy, meat, juices & breads, to households of between 1-4 people
liaise with multiple local pharmacies to collect prescriptions for those who were shielding
create an information and activity booklet for adults which was given to hundreds of households
provide weekly live and pre-recorded links to online exercise sessions and healthy eating recipes with the help of a local NHS dietician
provide (at peak) 182 hot meals daily to elderly and vulnerable people (over 900 meals a week)
recruit volunteers to deliver to the community
answer hundreds of calls a week from concerned neighbours and vulnerable people suffering from a myriad of conditions
refer people to other organisations operating inside and outside the borough for help with specific queries
work with organisations to link people to free online courses
create an activity booklet for the young people of the community; hold online youth chat sessions via zoom; create science activity videos; send out regular activity packs delivered by volunteers which included seeds for planting, baking bags, colouring and craft equipment, personal care packages etc
"We know that our work had a huge impact on the community. We eased the burden on pharmacies. Our online fitness and healthy eating posts helped people stay fit and active, and our community became more connected than ever, with neighbours helping and referring local people, and making sure that no-one went without, regardless of their home location or circumstances. We encouraged new learning, including mindfulness, not only online but also within our activity booklet for those without internet.
"The community feedback we've received has helped us to tailor future activities to meet the needs of as many people as possible. It has been incredibly moving to be a part of this community support group. To have someone tell you that it lifts their spirits to know they are being thought about, makes every second worthwhile."
Abertillery Bowls Club
During lockdown, Abertillery Bowls Club was awarded funds from Welsh Government's Voluntary Services Emergency Fund (VSEF) to help and encourage older members to use and access new technology and stay connected with the outside world.
Richard Cook of Abertillery Bowls Club said: "To begin with, we regularly contacted isolated older members of our Bowls club by telephone, to check on their wellbeing and make sure they had food, supplies, and everything they needed.
"There was a wider issue though of keeping connected with the outside world. We started off by using old smart devices which members kindly donated, but buying new tablets made it possible for us to keep in touch with even more elderly members. It made a huge difference for all of us – knowing we could keep in touch, making sure everyone was ok, and staying connected."
Tredegar Community Task Force
Cymru Creations recently formed a new project – Tredegar Community Task Force, which has to date made over 10,000 deliveries to those in need across Blaenau Gwent, including free school meals and thousands of bags of free food. Task Force volunteers are continuing to deliver food, and up to 60-100 medications for local pharmacies every day.
Kevin Phillips of Cymru Creations said: "Our dedicated, professional volunteers have done an amazing job. Communities throughout Blaenau Gwent have faced huge challenges, and we are proud of the support we've been able to give. Families and vulnerable people are still facing difficult times, so we're going to carry on supporting them, to give our community some much-needed respite."
The Tredegar Community Task Force story:
Tredegar Community Task Force was established by Cymru Creations in the very early stages of the outbreak. At the beginning of March 2020 two staff members were attending a children's film festival in Seattle on behalf of the Blaenau Gwent Film Academy when the virus started to take effect.
Two days later, upon their return on the 10th March, they had conceived a plan. The decision by the four staff members of Cymru Creations were unanimous; they would try and support the 160 members of their over 60's club who would now be in self isolation during the Covid-19 crisis.
As a film and media company, the usual business model of different departments fulfilling different tasks, was implemented to great effect. A food distribution network, medical deliveries, and personal shopping service for those in self-isolation were quickly initiated. Weeks ahead of many official organisations and governing bodies, Cymru Creations became the go-to company for all types of support, and established itself as the forerunner of many organisations in Blaenau Gwent.
The company's office, based in 'The Little Theatre', Tredegar, proved invaluable as the Headquarters for the operation, and it was transformed into a fully functioning base of operations, complete with social distancing markers, notice boards, and personal protective equipment for all the volunteers.
As word spread, during the first week it was clear that many other people in the community also needed vital support, and the task force would be needed on a much bigger scale than anticipated.
Soon the team were delivering: all the free school meals for Tredegar Comprehensive, medicines and prescriptions for two of the local dispensing chemists, personal shopping for self isolating families, educational supplies, and providing families who were facing financial difficulties with free food parcels.
Deliveries numbered up to 750 per week, with volunteers staff working up to 15 hours a day.
The project grew from just a handful of staff members, to a group of 35-45 volunteers, taking over 200 calls a day. While Cymru Creations staff organised the logistics of the task force, volunteers supported at all levels.
Referrals for food deliveries came in from social services, housing associations, schools, and vulnerable families, and many people who had seen the service advertised rang for help. Volunteers in full PPE even assisted a Cancer patient reach their hospital for their treatment. The task force were described by Blaenau Gwent authorities as a 'life line for many families'.
The service was promoted throughout Tredegar thanks to Tredegar Sorting Office and postal workers who delivered Task Force leaflets to every household in the area. Organisations such as Morrisons, Tesco, McDonalds, and local chapels began donating food, while Braces bread delivers over 300 loaves each week to the task force to further the cause.
Tredegar's Moose Lodge and the little theatre became the food distribution centre, where hundreds of bags of food are carefully packed and distributed.
After the borough took over the distribution of free school meals, the Community Task Force continued to deliver educational packs and sanitary products for the school. The number of free food parcels increased, and pharmacies requested extra morning deliveries to complement the afternoon deliveries. They were supporting more families than ever before.
This team of film makers, ex-teachers, steel industry workers, and self-employed volunteers, have all risen to the challenge in a time of uncertainty and crisis, going above and beyond what was expected of them. From performing a socially distanced pantomime in the garden of a disabled child for his birthday, to supporting other community groups in need to ensure everyone was cared for, the volunteers of the Tredegar Community Task Force are everyday people who stood up in unusual circumstances, putting the well-being of the community, before their own.
To date the group has received hundreds of cards of thanks from families around the Blaenau Gwent area, and the team continues to serve the community, and will do so until the pandemic is over. By then, they will have completed well over 10,000 deliveries.
As one of the grateful residents stated "The spirit of Aneurin Bevan lives on in the Tredegar Community Task Force."
Video about the Task Force here.
Young volunteers
Young volunteer stories
Naomi, age 21, set up Project Hope to tackle feelings of loneliness and isolation in young people during Covid-19. It's a cross-UK project, run by groups of young volunteers who hose online sessions for young people three times a week focusing on wellbeing and co-ordinating activities including crafts, learning languages, quizzes, and game nights.
Naomi also does a weekly shift for Childline in Cardiff, where she provides online support to children and young people, and takes part in online Girlguiding video calls, which give the girls a space to talk and get together.
Tom, aged 18 and from Llanbadarn Fawr, Aberystwyth, is a volunteer with the Ceredigion Association of Voluntary Organisations (CAVO), where he coordinates a 'micro volunteering' team in the Aberystwyth area. They shop and collect prescriptions for people who are shielding. When they make deliveries, they also stop to chat and 'check in' with the individuals they are supporting.
Manon, from Bethesda, has set up a food sharing project and is distributing food parcels to families in the community who are experiencing financial pressure due to COVID-19. She is fundraising to make sure that the project is sustainable long term.
Shaista, from Cardiff, has been delivering food items to families in need through Ramadan, as well as taking time to 'check in' with those who are isolated and lonely.
The Hygiene Bank Wales
The Hygiene Bank Wales is a grassroots, people powered charity and social movement, grounded in community. The coordinator in Wales, Caroline Volrath, is based near Cardiff, and runs a network of 'hygiene banks' to make sure those living in poverty who can't afford personal hygiene products have access to the basics.
Caroline said: "There is a scene in the film 'I, Daniel Blake' where the female lead steals feminine hygiene products and shampoo, because her benefit payment hasn't arrived and she can't afford to pay.
"In my working life in the Advice Service for RNIB I see in action the way the people in Wales experience benefit challenges. I don't think hygiene poverty should happen to anyone. I was impressed with the concept of the Hygiene Bank, which already existed in England, so I decided to set up the Hygiene Bank Wales.
"We've got volunteer- led projects throughout Wales, and we're expanding all the time.
"Many of our drop off and collection points are within local communities, in shops and offices. During the current coronavirus pandemic, most of these places are now closed, so we're finding different ways to keep working.
"We've built partnerships with manufacturing, including Soap & Glory and Boots, and created wish-lists on Amazon and EASHO where supporters can buy and donate items for delivery. Supporters can also donate money to buy the hygiene products people need, using our new text giving service."