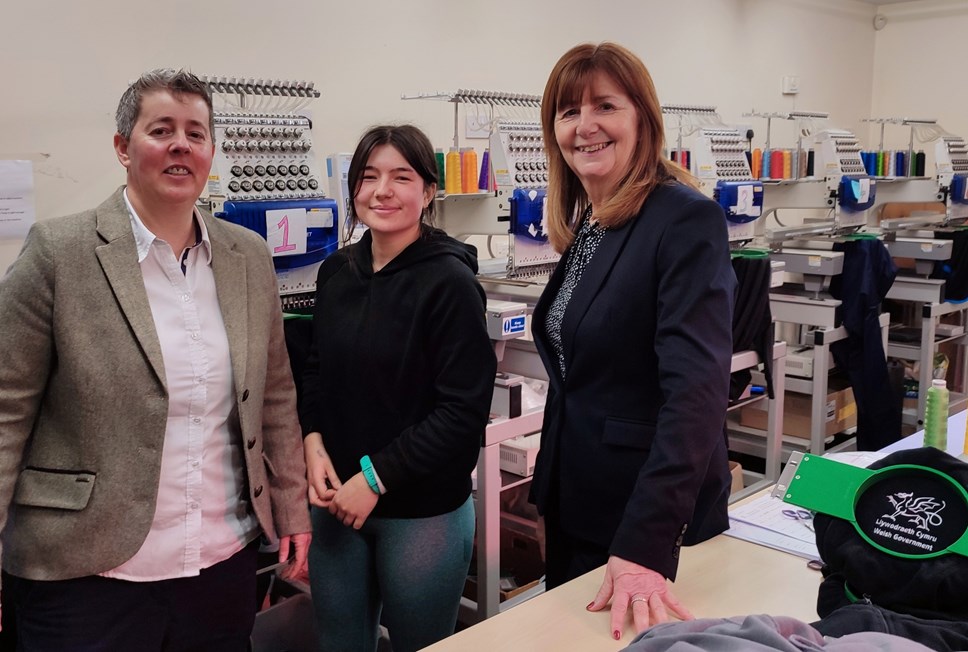 Minister sees Denbighshire businesses and projects making a positive impact
North Wales Minister Lesley Griffiths has taken a first-hand look at how growing businesses and new developments are making a difference in Denbighshire.
The Minister met companies in Ruthin and Denbigh as well as visiting the Ellis family at their farm in Trefnant.
At Henllan Bakery, Lesley Griffiths was shown the extended Bakery 1 site and the new Bakery 2 facility. Both have received support from the Welsh Government. The business has expanded significantly over the years and now employs 125 people, predominantly from the local area.
Visiting nearby Emyr Evans's agri machinery, the Minister heard about the successful growth of the business which is headed by Emyr Evans and his wife Gwenda and their sons Gwynedd and Berwyn.
There was also an opportunity to see the progress of the former North Wales Hospital site where a housing development and regeneration project is taking place, providing 300 new homes, with local company Jones Bros Civil Engineering UK part of the scheme.
In Ruthin, the Minister met Rhian Parry and the team at Workplace Worksafe, which is a leading supplier of workplace personal protective equipment, branded workwear and corporate wear, as well as a site-specific procurement service and items for blue-chip companies.
The Minister said: "It was great to see and hear how businesses in the area are growing.

"Henllan Bakery, Emyr Evans and Workplace Worksafe are important employers in Denbighshire and are striving for further success now and in the future.

"Regeneration of the former North Wales Hospital continues and presents an opportunity for jobs and apprenticeships in the local community. I am pleased funding from the North Wales Growth Deal will help bring forward this project."
The North Wales Growth Deal is a £1 billion investment to the region's economy, £240m of which is funded by the Welsh Government and UK Government.
Angharad and Rhodri Ellis, and landowner Antony Griffiths, took the Minister on a tour of their farm in Trefnant. They discussed their business model and the partnership with the landowner, as well as being shown the cows, calves, and goats.
The Minister added: "I always enjoy meeting farmers and seeing the impressive work they do on their land and discussing the issues at hand.

"I was especially pleased to see the kid goats on the farm and want to thank Angharad, Rhodri, the family, and Antony, for welcoming me."

Councillor Jason McLellan, Leader of Denbighshire County Council said: "We were delighted to welcome the Minister to Denbighshire to visit some of our thriving businesses and see some fantastic projects in the County.

"During her visit, the Minister saw a reflection of our communities here in Denbighshire, from agriculture to home grown businesses providing invaluable employment as well as a project to regenerate the historic former North Wales Hospital which will meet the housing needs of the local community.

"We welcome the Welsh Government's funding, and the Council looks forward to working on these projects for the benefit of businesses and residents alike."