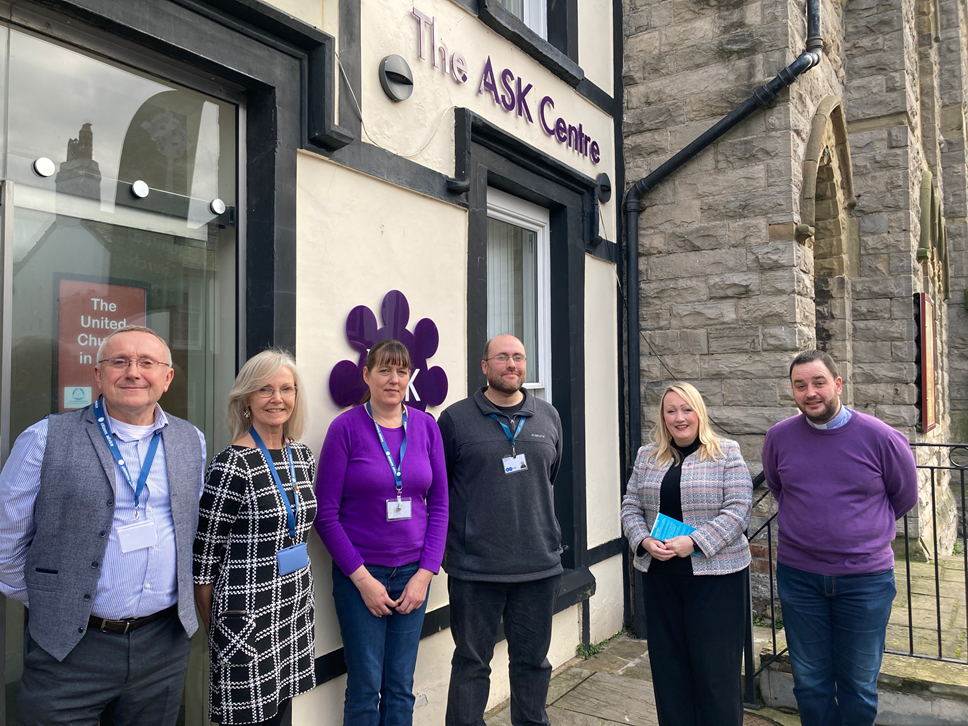 Minister encourages those struggling with bills to make use of vital advice services available in North Wales
The Finance Minister Rebecca Evans visited the ASK Centre in Rhyl yesterday and is urging people in North Wales to take advantage of the support available to them during the cost of living crisis.
The Ask Centre, based at the United Church, serves its community through offering food, advice, access to online services and warm spaces for numerous groups and activities.
The Centre also houses Citizens Advice Denbighshire's offices, one of the advice partners in the North Wales Single Advice Fund (SAF) regional service. Problems with welfare benefits claims, especially Personal Independence Payment and Universal Credit, are the main reasons why people are seeking advice and the SAF services in North Wales helped their clients to claim over £17million of extra welfare benefit income over the last financial year.
Since the Welsh Government's Single Advice Fund was introduced in January 2020 it has helped 144,000 people deal with over 660,000 social welfare problems. It has helped people to claim £83m of additional income, writing off debts worth more than £23m. The Minister for Social Justice has agreed to continue the funding for the Single Advice Fund until March 2024.
Rebecca Evans, Minister for Finance and Local Government, said:

"I know the advice services we support are a lifeline for people struggling with the cost of living crisis, helping them to maximise their income and manage their debts. It's great to see this vital work in action at projects like the ASK Centre.

"I would urge those who are unsure about what support is available to them to visit centres such as this one, or to call Advicelink Cymru to make sure they don't miss out on money they may be entitled to."
The Minister for Finance and Local Government also attended the Cabinet Sub-committee for North Wales meeting in Llandudno Junction, which includes cabinet members and local authority leaders.