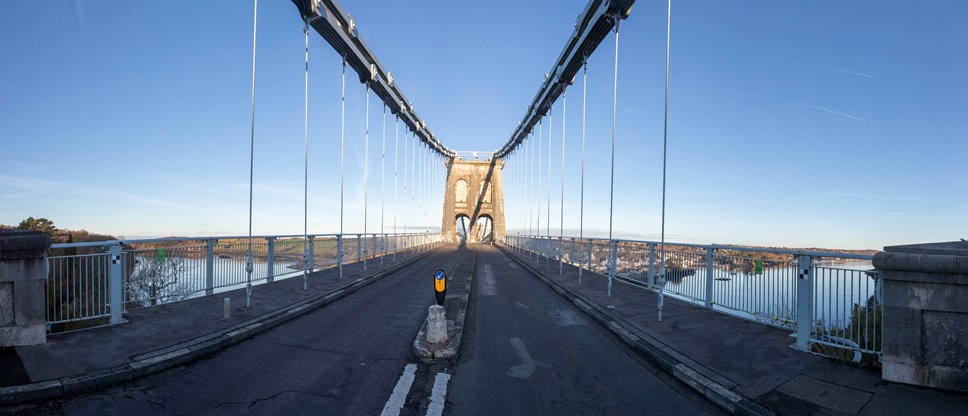 Menai Suspension Bridge works to resolve safety issues commence
Today, 5th January 2023, the programme of works to re-open the Menai Suspension Bridge begin. The programme is scheduled to be complete within 4 weeks, subject to adverse weather conditions.
The Welsh Government and UK Highways A55 Ltd, alongside engineering firms Spencer Group and COWI, worked together to codevelop the emergency programme. The emergency works required a bespoke design and procurement strategy, which was developed at pace following the unexpected closure of the Menai Suspension Bridge on 21 October 2022, due to a structural issue that posed a risk to public safety.
The programme will begin with the installation of the emergency works to the west side of the bridge before completing the works on the eastern side. While the emergency programme was being developed, additional maintenance works, including the resurfacing of the road, were brought forward to minimise future disruption for residents and businesses of Ynys Mon and North Wales.
While the emergency hanger works are carried out this month, the Welsh Government package of support put together in partnership with UK Highways A55 Ltd, Gwynedd Council and Isle of Anglesey County Council to mitigate the impacts to local businesses is still available. Free parking will remain available at car parks in Menai Bridge town and at the two park and share sites throughout January. To assist with the loss of bus services on the island following the closure of the bridge, the council has provided additional stops closer to the Menai Suspension Bridge.
The Deputy Minister for Climate Change with responsibility for Transport, Lee Waters said;
"I am pleased that together with our partners, we have been able to press ahead at pace with this extremely important and complex piece of work on the Menai Suspension Bridge. In the meantime, the package of support to ease the transport pressures on people travelling to and from Ynys Mon remains in place and I am grateful to residents in the area for their patience as work on the Menai Suspension bridge continues."
A spokesperson from UK Highways A55 Ltd said:
"We recognise the disruption and difficult circumstances that the closure of the Menai Suspension Bridge has caused for the local community. We appreciate everyone's patience while an emergency solution was developed to resolve this unprecedented issue. We want to thank everyone for their hard work to deliver this solution so quickly, especially the resiliency of the residents of Ynys Mon and North Wales."

"Finding a solution to this very unique problem posed a number of complex engineering challenges. We worked extremely closely with UK Highways, the Welsh Government, and the wider project team of engineers to fully understand the issues and constraints, to allow us to develop a solution that is safe and robust for bridge users, and the structure itself, in the fastest possible timescale."