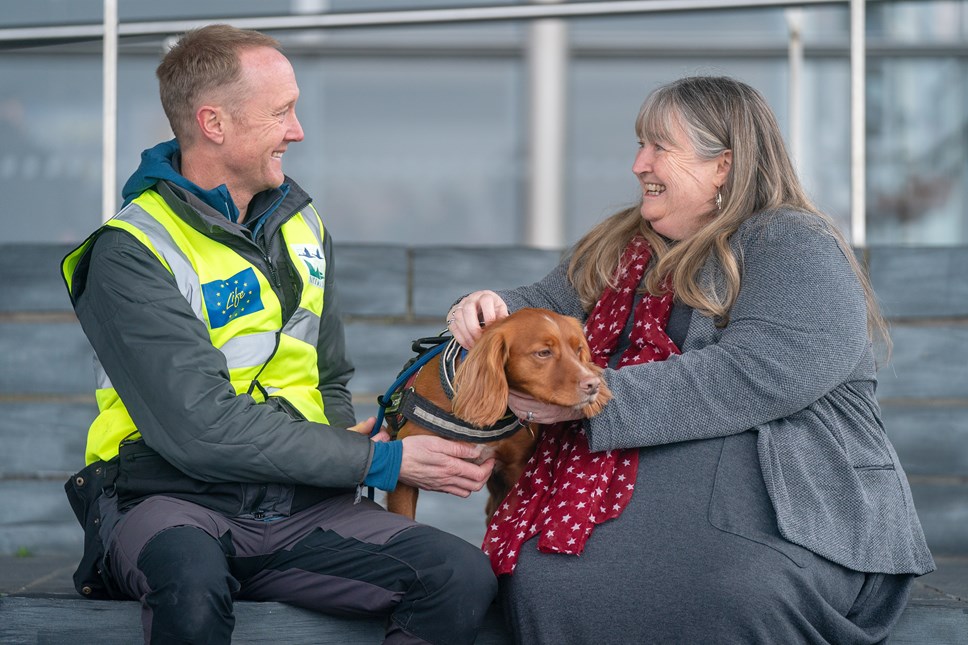 Meet Jinx, the biosecurity dog on a mission to protect Wales' endangered seabirds
Minister for Climate Change Julie James met Jinx the biosecurity dog today, whom she has tasked with a special mission to protect Wales' seabirds.
Welsh Government has provided £250,000 as part of a new project which will expand biosecurity for Wales and includes using Jinx, a three-year-old working cocker spaniel who is the UK's first conservation detection dog. He has been in training with RSPB for the last two years to sniff out rats. When left undisturbed, invasive species can cause devastation to already threatened seabird species.
That's why Jinx' job is so important. A single pregnant rat can produce a colony of over 300 in just eight months. Rats are expert hunters and would quickly eat eggs, chicks and even adult birds.
Wales' coastline is globally important for breeding seabirds. More than half of the world's manx shearwater nest underground in burrows on islands that dot our shores. However, the seabirds are in trouble. A recent Birds of Conservation Concern in Wales report highlighted how vital it is to protect Puffins, Kittiwakes, Black-headed Gulls, and Common, Arctic and Sandwich Terns. Though the iconic puffin has achieved a population boom in Wales in recent years thanks to conservation efforts, globally, their unstable numbers put them on the IUCN Red List.
Climate change, invasive species, unsustainable fisheries, marine development and pandemics- such as the recent Highly Pathogenic Avian Flu (HPAI) which killed more than 5000 gannets on Grassholm Island last year- all threaten the survival of these birds.
Minister for Climate Change Julie James said:
"I was delighted to meet Jinx today who I have no doubt will deliver the mission we have tasked him with – to protect Wales' seabirds from rats and other mammalian predators. Thanks to the intense training he completed with his expert handler, Greg, we are confident that the biosecurity on our islands will be greatly improved under his service.
"Protecting our seabirds and balancing our precious ecosystems is all of our responsibility as we face the climate and nature emergencies. We can help Jinx do his job properly by being vigilant to critters on our clothes, invasive species in our rucksacks or mammalian hunters who hitchhike a lift when we visit these islands. Please report anything suspicious immediately. Thank you to RSPB for your vital work in protecting our seabirds and all our partners who have worked together to make Jinx the UK's first biosecurity dog."
Senior Marine Policy Officer, RSPB Cymru, Emily Williams said: "We are delighted that Jinx will be continuing his work on biosecurity through this new project, which builds upon the work of Biosecurity for LIFE. Biosecurity is a vital element of seabird conservation, at a time when seabirds need our help more than ever. Coupled with the developing welsh seabird conservation strategy and marine environmental planning, we can turn the tide for seabirds in Wales."
Notes to editors
Notes to editors:
Over half the world's population of Manx shearwater nest underground in burrows on Skomer (Ynys Sgomer), Skokholm (Ynys Sgogwm), Middleholm (Midland, Ynys Ganol), Bardsey (Ynys Enlli) and Ramsey (Ynys Dewi), with over 350,000 pairs on Skomer alone. Meanwhile, the third largest gannetry in the world can be found off the Pembrokeshire coast on Grassholm (Ynys Gwales). Razorbills and guillemots nest on our islands' towering cliffs, whilst the largest Arctic tern colony in the UK can be found on the lower-lying Skerries (Ynysoedd y Moelrhoniaid) off Anglesey (Ynys Môn). Puffin Island (Ynys Seiriol) is confusingly more important for its breeding cormorants, but puffins are the most popular seabird to attract visitors to the Welsh islands.
Just before Christmas, a fishing vessel grounded off Skomer island, managed by the Wildlife Trust of South and West Wales. Vessels are a key route through which invasive mammalian predators can get onto islands.
Skomer is home to internationally important seabird populations, which would not nest there if rats were present.
Jinx and Greg were quickly on site helping the Wildlife Trust to check that nothing had come ashore onto the island – keeping the island safe for the seabirds that will return in spring.
Link to the Biosecurity for Wales project
The Biosecurity for Wales project is a two-year project funded via the Nature Networks fund.
This will build upon the fantastic work of the Biosecurity for LIFE project.
The project will continue building a partnership across Wales to ensure the biosecurity of our amazing seabird islands and find a long-term solution to maintain biosecurity into the future
We are planning to work with even more islands across Wales to support biosecurity best-practice.
This will ensure seabird colonies on islands are protected from invasive non-native mammalian predators. These could rapidly decimate the internationally important populations of seabirds that breed in Wales by eating eggs, chicks and even adults of some seabirds.
Biosecurity is therefore vital to prevent these predators getting to the islands and to take early action in the event of an incursion by:

o checking high risk cargo before it is loaded onto vessels
o carrying out routine surveillance for any signs of rodents on the islands and
o responding to any incidents (such as vessels running aground)

Jinx the detection dog is our special "rat detector" who will help keep our island seabird colonies safe.
Working with his handler, Greg Morgan (RSPB Site Manager for Ramsey Island and Grassholm), Jinx has been trained to sniff out any sign of brown rats. We are delighted that he will be continuing his work on biosecurity through this new project
Biosecurity for LIFE project
The Biosecurity for LIFE project is nearing completion
Biosecurity for LIFE project is a partnership between RSPB, National Trust and National Trust for Scotland.
The project is funded by EU LIFE with support from statutory agencies.
It's focused on implementing and improving biosecurity measures on all 42 island Special Protection Area's designated for breeding seabirds in the UK.
This new project is specifically for Wales and shall expand this work onto new islands.
Safeguarding seabirds long-term
For biosecurity to be effective, it needs to be carried out in perpetuity.
Alongside this, the Welsh Government is developing a Welsh Seabird Conservation Strategy which we hope will be consulted upon in 2023. RSPB Cymru sit on the working group supporting the delivery of this.
Welsh Government's efforts to address Avian Flu and deliver effective marine spatial planning are also essential to support Welsh seabirds.