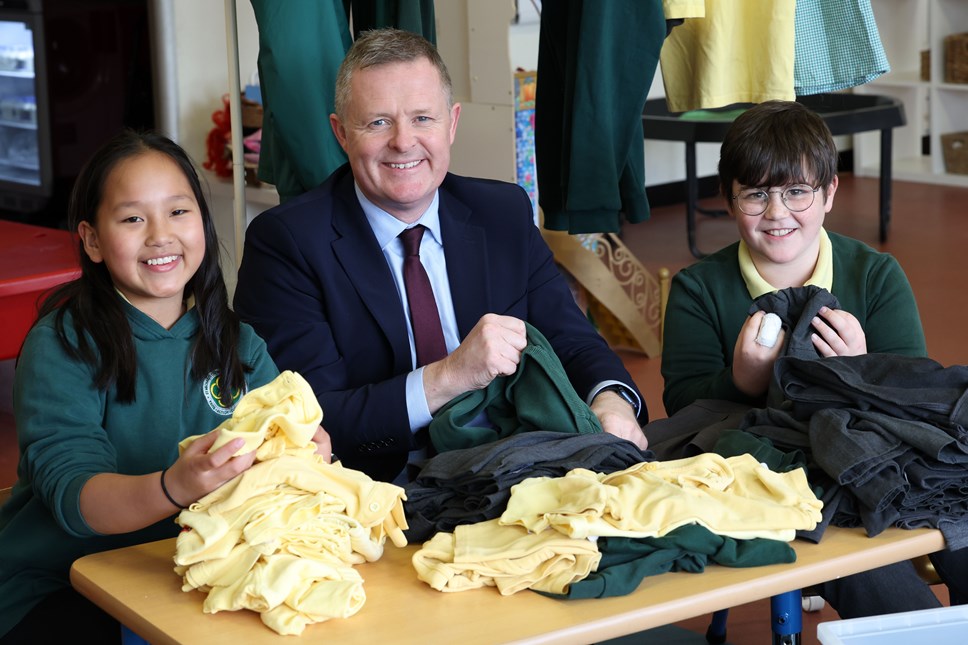 "Make uniforms cheaper" says Education Minister
School logos should not be compulsory, the Education and Welsh Language Minister Jeremy Miles has announced as he publishes new statutory guidance today (Tuesday May 2nd)
The Minister, said: "School uniforms are an important part of identify for a school, but it is absolutely vital that uniforms are affordable. This is why I am asking schools to prioritise making school uniforms cheaper for families, who continue to feel the pressure of rising costs."
The announcement follows a public consultation on school uniform guidance, which sought opinions on affordability in order to support families through the cost-of-living crisis.
56% of those who responded agreed that logos should not be required on school uniforms in comparison to 27% who disagreed.
Nearly 90% of respondents also felt that schools should avoid single supplier agreements.
There was almost universal consensus that schools should operate uniform exchange or recycling schemes. The new guidance calls for arrangements to be in place so that second-hand school uniforms are available for parents and carers.
The Minister recently visited St Michael's Catholic Primary School in Pontypridd to see a school recycling/exchange scheme in operation.
Parents and carers within the school community have responded positively to donating school uniform that no longer fits their child/children.
'The Uniform Exchange' initiative at St Michael's provides pupils, families and the community with affordable uniform opportunities during an economic crisis.
The Minister added: "We know that branded school wear can be a lot more expensive for families – that is why schools shouldn't make them mandatory. There certainly should not be a requirement for multiple items to be branded.

"I know that most schools are doing everything they can to keep costs down for families. But we have still seen too many cases where families have had to purchase expensive uniforms. The guidance we are publishing today will support schools in reducing these costs.

"In Wales we are doing everything we can to support families, with many lower income families eligible for the School Essentials Grant. This is the most generous scheme of its kind in the UK, providing families with up to £300 to purchase school uniform and equipment.

"I am calling on school governing bodies to review their current school uniform policies with affordability being the priority. Any changes to uniform policy should be fed back to families before the end of the current school term."
The consultation received an extremely high response rate. Parents, carers, learners, governing bodies, headteachers, teachers and school staff, uniform suppliers and other key stakeholders were invited to share their views.
Notes to editors
Images of Minister at St Michael's Catholic Primary School