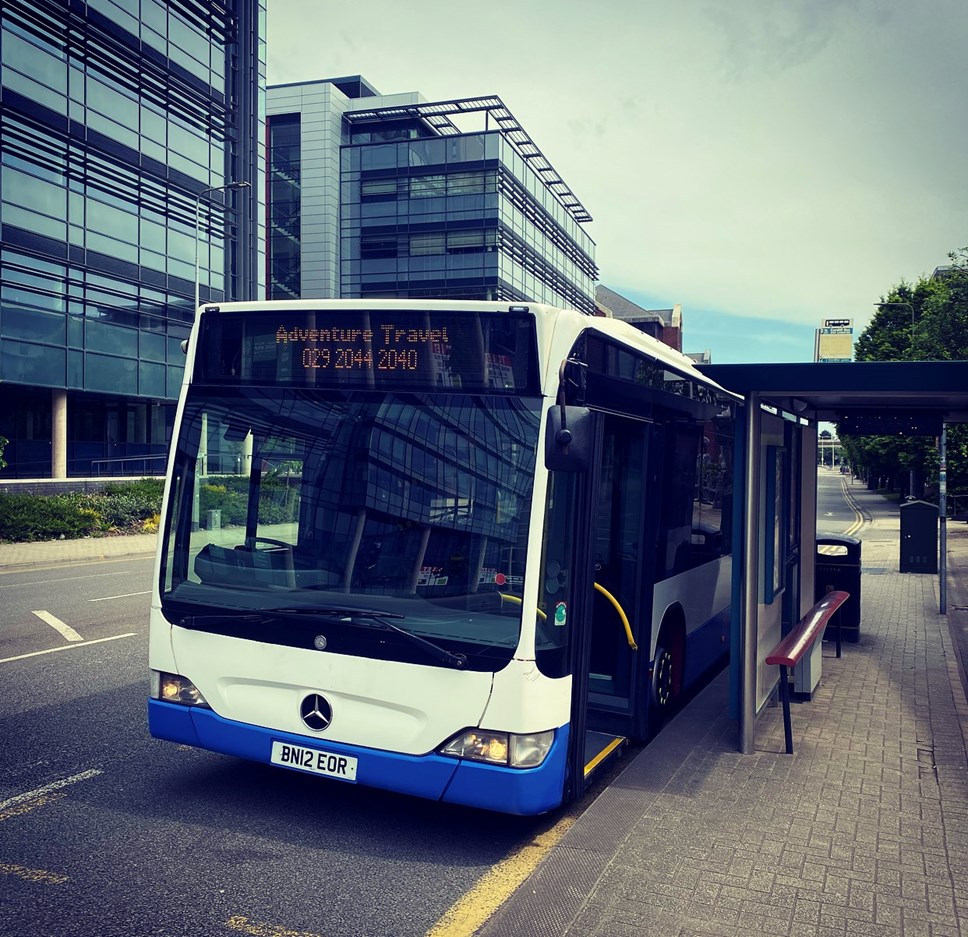 Key local bus service to be maintained until December
A bus service linking Chepstow and Bristol is being maintained until December 2020, after the Welsh Government and Monmouthshire Council agreed a short-term solution following the removal of a commercial service.
New Adventure Travel will operate an hourly service, called the Traws Hafren X7, in place of the Severn Express service.
Stagecoach West recently announced it was withdrawing their commercial X14 Severn Express bus service linking Chepstow – Cribbs Causeway and Bristol City Centre, with effect from 13 June 2020. The service was used by over 244,000 passengers in 2018-19 and has proved popular with commuters, students and shoppers.
The Welsh Government has now agreed a short-term solution with Monmouthshire Council, incurring no additional cost. New Adventure Travel, who currently operate the Welsh Government funded T9 Cardiff Airport Express service, will take over the service from 15 June for a period of 6 months.
Monmouthshire Council and the Welsh Government will continue to assess and make decisions on the long-term viability of the service.
This week the Welsh Government recommended that passengers on public transport use three layer face coverings on public transport in Wales. People should also continue to follow travel restrictions in place as a result of coronavirus.
Barclay Davies, Director for Cymru/Wales said "We had been contacted by a number of users who were concerned that this link would be lost and the detrimental effect it would have on their employment in the Bristol area. We are extremely pleased that Welsh Government has stepped in to ensure that this important cross border service has been retained. It provides a great opportunity for the communities of SE Wales to link with the University and the city of Bristol."

"Cabinet Member for Infrastructure and Neighbourhood Services, Cllr Jane Pratt said: "Preserving vital services has and will always be a top priority for Monmouthshire County Council, especially during this difficult time. Keeping our towns and cities connected will be extremely important going forward, as we work to get our economy back up and running. I'm pleased we have been able to work with the Welsh Government to find a solution to saving this route."

Ken Skates, Minister for Economy, Transport and North Wales said:

"I am relieved we have been able to step in and help maintain this well-established bus service linking Chepstow – Cribbs Causeway and Bristol city centre. It's popular with students, commuters and shoppers and we know many passengers were concerned they would lose this vital service.

"By working in partnership with NAT Group, Bus Users Cymru and Monmouthshire County Council, we reallocated vehicles to create the new Traws Hafren X7 bus service for no additional cost. We will now work with Monmouthshire County Council to look at the viability of this service and whether it can be maintained in the longer term."
Notes to editors
The new Traws Hafren X7 service will operate hourly from Monday – Saturday, with a journey time of 50 minutes between Chepstow and Bristol city centre. Some journeys will stop in Magor and Caldicot. Passengers will also have the option of booking their seat in advance.
Further information will be made available at: www.trawscymru.info