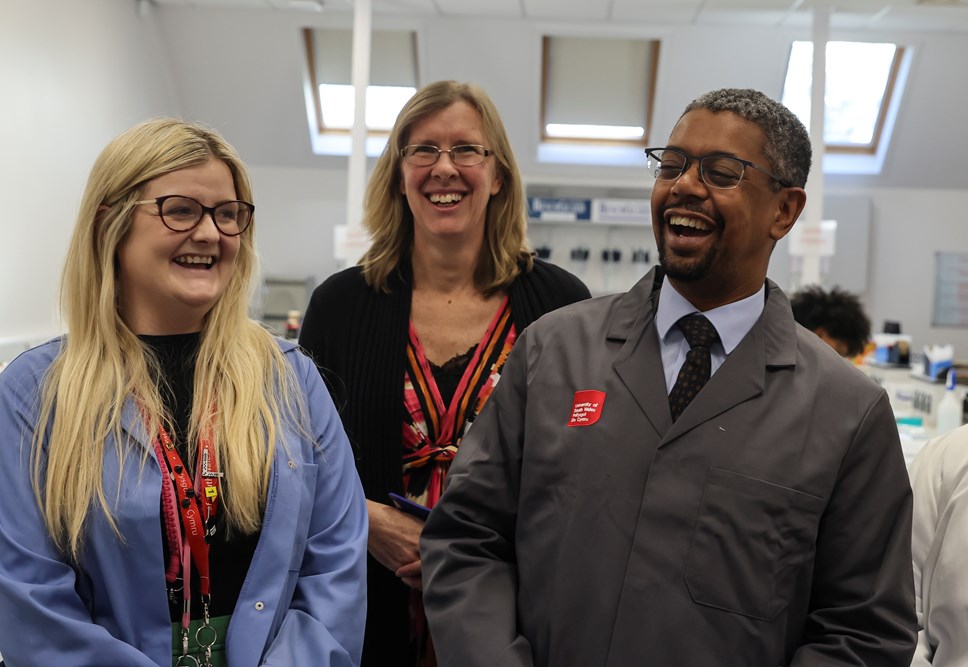 International Day of Women and Girls in Science: Economy Minister visits University of South Wales to meet the growing numbers of women leaders in science [copy]
Economy Minister Vaughan Gething has marked International Day of Women and Girls in Science with visit to the University of South Wales (USW) forensic laboratory to meet with a growing number of women working in science, engineering, and maths (STEM) and to encourage more women and girls to consider a career in the sciences.
The facility at USW enables the simulation of a variety of realistic crime scenes – from domestic burglaries and break-ins to more complex scenes such as homicides and fatal fires.
The Forensic Sciences department boasts many staff who are current or former practitioners. Having either worked in forensic laboratories within the sector, or as crime scene investigators or crime scene managers with the police, the female leads bring a wealth of shared experience to the student learning focus.
Research shows that diversity fuels innovation, increases productivity, profitability and stability and has never been more important. But as long as women remain unrepresented from entry-level to the boardroom, this innovation is stifled.
The Welsh Government is committed to improving the career prospects of women and girls across the country to achieve Wales' full economic potential, drive innovation and become a truly globally responsible nation.
Careers in science, technology, engineering, and maths have never been more important to finding the solutions to major global problems facing society.
Inspirational women across Wales have played key roles in tackling fundamental challenges faced by our society, from recovering from Covid-19 to combatting climate change.
To mark the annual International Day of Women and Girls in Science, the Minister said encouraging far more women and girls to follow paths into careers in STEM is now more crucial than ever.
Minister for Economy, Vaughan Gething, who has Cabinet-level responsibility for science in the Welsh Government, said:
"I'm delighted to visit the University of South Wales today to see the progress being made on encouraging more women and girls into careers in science.

"The Welsh Government recognises that women are still underrepresented in science, technology, engineering and mathematics and is determined to increase the number of women working in these vitally important sectors, because it's good for our society and for our economy. Evidence tells us a diverse workforce increases profitability, productivity, and creativity across industry.

"As we progress on our goal of a stronger, fairer, greener Wales, we're embedding STEM subjects into education, forming an integral part of the Curriculum for Wales, and preparing learners for study, employment and life in the 21st century."
Minister for Social Justice, Jane Hutt said:
"The action we are taking to support women and girls into STEM is an example of how we are working across Welsh Government to tackle gender stereotyping and inequality. The diverse and rewarding careers offered through STEM are enabling women and girls to aspire, achieve and fulfil their potential here in Wales.

"The pandemic highlighted the brilliance of women's contribution to the scientific and clinical response and illustrated to the next generation what is possible and what can be achieved.

"Today is an opportunity to showcase the exciting opportunities for women and girls as we continue to work towards a gender equal Wales"
Dr Louise Bright, Director of Research and Business Engagement at USW, said:
"It was great to welcome the Minister to USW and show him the sector-leading facilities that we have available for students who attend USW.

"One of our core aims is to help with the development of women in STEM, who, from school learners right the way through to professors and leaders in businesses, are poorly represented.

"By showcasing the work we are doing to address this issue, and giving the Minister a first-hand look at those endeavours, we were able to highlight our commitment to improving the prospects of women and girls in Wales, and support the Welsh Government's aim to tap into the potential of all of those who live and work here."
ENDS
Notes to editors
On 22 December 2015, the United Nations (UN) General Assembly established an annual international day to recognise the critical role women and girls play in science and technology.
Gender equality is a key goal in the UN Sustainable Development Goals and its universal value of "leaving no one behind" means that it is incumbent on institutions like the Welsh Government to make progress on gender equality.
The Well-Being of Future Generations Act puts a further responsibility on the government to achieve a more equal Wales, a more prosperous Wales and a globally responsible Wales.
The Equality in STEM Board provides strategic direction to improve equality in STEM-related study and careers in Wales. Chaired by the Minister for Social Justice, the Board also includes the Minister for Economy and the Minister for Education and Welsh Language, together with a variety of key stakeholders and supported by a range of WG policy representatives e.g. education, social justice, innovation and business.
The Wales Women in STEM Network aims to expose and address the barriers that face women working in Science, Technology, Engineering and Maths. Led by Dr Louise Bright, Director of Research and Business Engagement at USW, it brings together those who implement change within the sector, and those who work to create a positive environment where women and girls can thrive throughout their careers.
The Network provides support, events, and networking opportunities to facilitate female participation in STEM at all career stages, from school learners to industry professionals and research leaders.
More information on the Wales Women in STEM Network may be found here: https://www.waleswomenstem.org/inspirational-women.html
Facilities at USW
USW Crime Scene House
The Professor Bernard Knight building is home to our crime scene investigation facilities. The house contains a number of realistic crime scene simulations, from domestic burglaries and break-ins, to more complex scenes such as homicides and fatal fires.
Our students learn practical skills in:
securing and preserving a crime scene
gain skills in forensic record keeping
briefing and debriefing
handling and transporting evidence
forensic report writing
forensic tools and techniques such as DNA analysis
fingerprints, footprints and blood splatter.
This gives forensic science students experience in crime scene examination and allows them to learn about potential issues that may arise at crime scenes such as a contamination and how to avoid it.
Our students learn about the identification, documentation, recovery and packaging of evidence and the chain of custody principles.
In this video, current student Abigail takes you on a personal tour of the amazing Crime Scene Training Facility. https://youtu.be/sub5-WNlkl4.
Crime Scene Laboratories
Our crime scene laboratories are used by forensic science and police sciences students to learn more about particular types of evidence such as fingerprints, footwear marks, tyre treads and blood spatter patterns.
The correct evaluation of these evidence types is crucial to the success of a forensic investigation, and our students will learn how to do so using methodical, technical approaches.
In our evidence handling laboratories, our students search for a whole range of evidence types such as hairs, fibres and blood on items such as clothing and weapons that you will have recovered from a simulated crime scene.
Hydra Simulation Centre (Glyntaff Campus)
Hydra is a sophisticated of piece of technology that is used to teach police officers to use specific skills and develop their understanding of the law in a variety of policing situations. It is also used for scenario-based teaching in other areas such as social work, nursing and global governance.
It works by presenting a scenario to the students via a mix of video clips, audio clips and written tasks. The system then tests the student's ability to take decisions and action. Problems can be varied according to your responses. It also shows you the consequences of your decisions.
You can find further details about our Hydra Simulation Centre here.