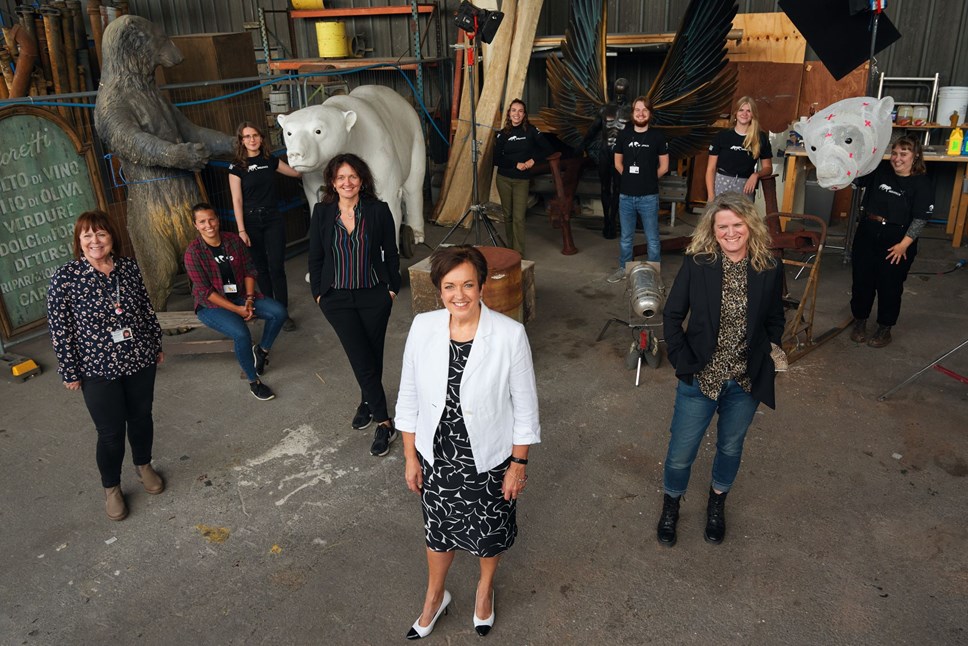 "I'm passionate about ensuring that the next generation views the creative industries as an accessible and rewarding career choice" – Deputy Minister for Arts and Sport, Dawn Bowden.
The Creative Industries make a significant contribution to the culture and economy of Wales, with pre-COVID turnover and employment levels of £2.2billion and 56,000 people.
As the Economy Minister, Vaughan Gething sets out his vision to move the Welsh economy forward, with an approach geared towards creating an economy where more young people feel confident about planning their future in Wales, Deputy Minister for Arts and Sport, Dawn Bowden outlines the value of the creative sector as an accessible and rewarding career choice – and sector which is booming.
Wales has recently seen the busiest period of TV and Film Production activity ever, with over 24 productions shooting across Wales between May to October.
This increase in production activity has seen an unprecedented demand for a skilled workforce. Creative Wales has been working with the sector to help address immediate skills shortages and ensure our workforce have the right skills for the future - to ensure that Wales can continue to provide high quality crew for both home grown productions and those seeking to film here.
Creative Wales has worked with funded productions to guarantee a commitment to providing trainee opportunities in the form of paid placements.
These placements are monitored to help ensure future careers pathways for all trainees. More than 120 trainees have benefitted from paid placements on Creative Wales-supported productions in the past two years. These include the Netflix drama Havoc, starring Tom Hardy and Forest Whitaker, His Dark Materials Series 3 for BBC One and brand new Lucasfilm production Willow which will air on Disney Plus.
The Deputy Minister recently visited the set of His Dark Materials 3 at Wolf Studios Wales, where she met with trainees from the programme created by Screen Alliance Wales. She, said: "The training programmes are a way of making sure that we foster the talent and skills that this growing sector will need in the future. The trainees on the production of His Dark Materials 3 today will be the directors, producers and creatives for BBC, S4C, Sky, HBO, Netflix, Amazon and Disney for years to come."
Hester Haslett-Venus studied at the Royal Welsh College of Music and Drama and obtained a degree in Design for Performance. She is now on Screen Alliance Wales traineeship on His Dark Materials 3 at Bad Wolf, which has enabled her to stay in Wales. She is now a workshop trainee in Creature FX and is working towards becoming a skilled model maker, hopefully within Stop Frame animation. Hester, said; "Creative Wales-supported opportunities like this help people progress after university and open doors and to know that these creative opportunities exist in film and television and that's a positive thing for Wales and young creative people."
After graduating, Cardiff-based Amelia Beer travelled, worked in schools and hospitality and as a lifeguard. She is currently back in Wales and is a Health and Safety Trainee and completing her NEBOSH qualification. She assists with risk assessments, office and studio inspections and Covid-19 administration, she said: "These schemes are brilliant at getting people the start they need in the industry. People may often feel that they need experience or know someone in order to start in the industry, but with the help of these schemes people will be more inclined to get into the industry and then learn as they go – and that's a great way of helping people to develop while growing the Welsh film and TV industry."
Creative Wales has worked with all our partners in Wales and at a UK level to support projects across the creative sectors. These activities include;
Culture Connect Wales, a 12 month pilot which aims to increase opportunities for diverse communities in film and TV in Wales.
Partnering with the University of South Wales to conduct Screen Survey Wales 2021, a pan-Wales mapping of the screen sector, its workforce and training provision.
Working with the University of South Wales, to map the music sector in Wales
Creative skills activity is aligned to the Welsh Government's Programme for Government commitment to deliver the Young Persons Guarantee. Creative Wales is also working with colleagues in Skills Higher Education and Lifelong Learning on the delivery of Criw, a new production apprenticeship model which has just launched in North Wales following a very successful two years in South Wales.
The Deputy Minister concluded: "I am passionate about ensuring that the next generation views the creative industries as an accessible and rewarding career choice, providing our young people in Wales with future employment opportunities. In a sector providing valued content, serving all audiences, and which is key to supporting our future economic growth."